Generosity pours in for Panida Century Fund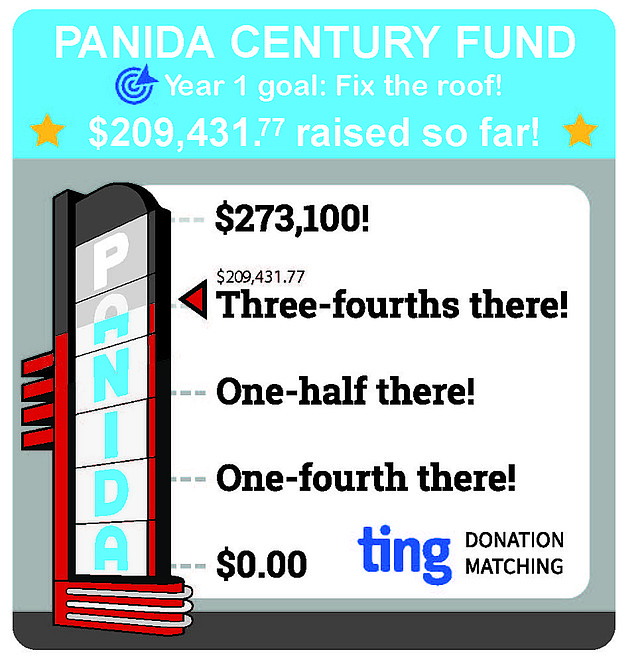 |
December 3, 2022 1:00 AM
With a couple of significant happenings that inspired generosity the past week, the Panida Century Fund took a big jump ahead in the fund drive to replace the theater's leaking roof. Individuals donated $7,402.82 – which Ting Internet will match, to yield a total of $14,805.64 collected this week.
That means the Century Fund drive has now passed the three-quarters-there mark, with a total of $209,431.77 raised toward the first-year goal of $273,100.
"We want to give a shout out to the Shook Twins, who passed the hat during their Giving Thanks concert on Saturday and collected more than $1,600 for the Panida that night," Panida board chair Jim Healey said. "But of course, big thanks go to the individuals who contributed there, as well as all the others who donated this week. The Giving Tuesday this week was a big part of it as well."
Healey noted that "it feels as if we're on the home stretch" but with almost $64,000 left to reach the goal and fully fund the theater roof replacement there is still a good ways to go, he said.
"The Panida holds such a dear place in people's hearts, we're hopeful we will make it. This week's snowfall makes replacing the roof even more immediate and important," Healey said. "And of course, if you can donate, the Ting match will double your donation. Major thanks again to Ting!"
The Century Fund has a five-year goal broken out in annual phases, to raise a total $1.9 million to address long-deferred maintenance needs leading up to the Panida's 100th anniversary in November 2027.
The campaign has gotten a huge boost from Ting, which has pledged to match individual donations of $5,000 and under, up to a total of $200,000 over the five-year campaign.
To donate, or see detailed plans for the campaign itemizing expenses, click to www.panida.org.
Recent Headlines
---