Uniform exhibit highlights Farragut's history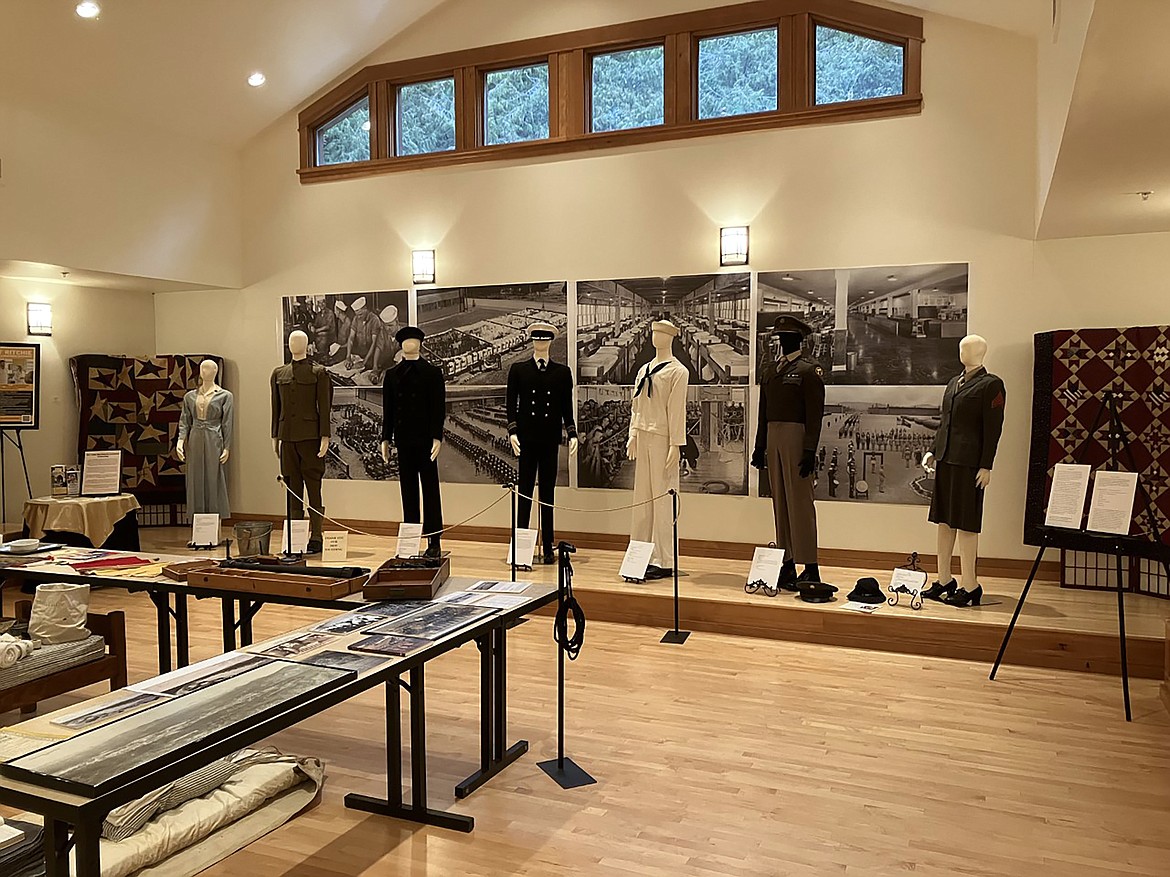 A radiator leak provided the inspiration for the recent display of World War I- and World War II-era military uniforms at University of Idaho's Sandpoint Organic Agriculture Center.
(Courtesy photo)
A radiator leak provided the inspiration for the recent display of World War I- and World War II-era military uniforms at University of Idaho's Sandpoint Organic Agriculture Center. 
The faulty radiator spewed steam and water into a storage room housing menswear items from the Margaret Ritchie School of Family and Consumer Sciences' Leila Old Historic Costume Collection. Sonya Meyer, a professor of textiles, apparel and design who curates the collection, had to clear the room in a hurry, drawing her attention to the impressive assortment of uniforms.  
Meyer displayed the best of the collection's military uniforms in the second-floor classroom of the Sandpoint facility's main building from early October through Nov. 28.  
"That gave us the opportunity to start looking at things that were stored in there," Meyer said. "We realized all of the uniforms we had in our collection." 
They also discovered a box of postcards originating from the Farragut Naval Training Station, which was located on Lake Pend Oreille near Sandpoint during World War II. Lori Wahl, a senior instructor in apparel technology and design, produced posters from the postcards to include as a backdrop. The display features three Navy uniforms from the costume collection, as well as an Army officer's uniform from WWII, a WWI Army uniform and a Lady Marine uniform.  
A World War I Red Cross uniform on display came with a recipe for oatmeal cookies. A note with the recipe explains the Red Cross Canteen in Sandpoint made the cookies for recruits who passed through by train. The recipe makes an exceptionally large batch, calling for a pint of eggs and 5 pounds of flour.  
"I don't care where you're from, what your background is, what your income is or what your education is. Clothing is a common denominator for all cultures," Meyer said. "It becomes a universal language, and it's a great way to start telling a story." 
Local historian Ken Conger, who volunteers as a military specialist for the Bonner County Historical Society and Museum, drew from both his personal collection and the museum's collection, providing uniforms and military artifacts — including photographs, mess trays, compasses and other gear. 
"Artifacts are always fun because people forget a story and they see an artifact and the memories come pouring back," Conger said.  
One of the Navy uniforms originating from the museum once belonged to Donald Samuelson, who was Idaho's 25th governor. 
Conger is writing a book on the history of the base, which opened in August of 1942 to help the Navy undertake a dramatic expansion in support of the war effort. The base was named for David Glasgow Farragut, a U.S. Navy flag officer during the Civil War who became the Navy's first admiral. At the base's height, about 30,000 sailors underwent bootcamp there. Most of the base property was sold after the war, but the Navy retains an underwater acoustic research facility within Lake Pond Oreille.  
Prior to hosting displays in Sandpoint, Meyer had just two small display cases on campus available for showing off collection items. She's been especially pleased by collaborations forged with the Sandpoint community in planning exhibits. For example, the local Bosom Buddies Quilt Group and Pend Oreille Arts Council aided in developing a display on sack quilts — made with fabric from old feed or sugar sacks. Kyle Nagy, superintendent and orchard operations manager at the Sandpoint facility, has introduced Meyer and her colleagues to several leaders of local organizations.  
"That is the essence of the land-grant system — you teach, you research, you do outreach and you take the information out to the people, but it's important to get those in the community involved, as well," Meyer said. "We're fortunate to have groups in Sandpoint that are willing to do that." 
The first Sandpoint display, which opened in July 2021, featured garments from the most influential women in the school's history. The display included the iconic red suit worn by Margaret Ritchie, head of the university's former Department of Home Economics from 1938-1959. The display also included garments from Sara Annette Bowman, who was one of the first two women hired to teach at U of I, and Belle Sweet, U of I's first trained librarian who sought donations and funding to rebuild the library after it was destroyed by fire.
Recent Headlines
---