Lea M. (Montgomery) Newcomb, 89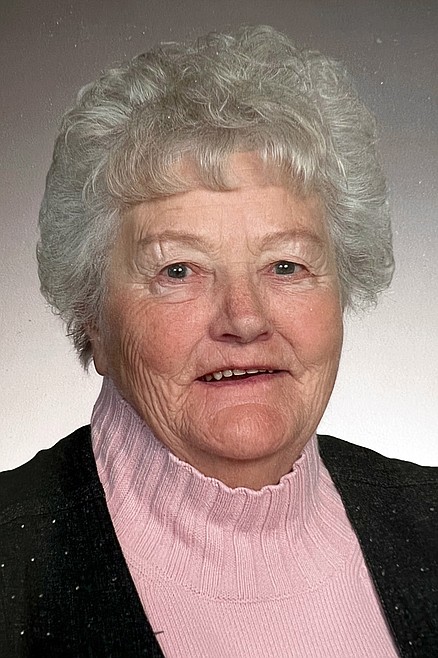 |
December 7, 2022 1:00 AM
Lea M. (Montgomery) Newcomb, 89, of Priest River, Idaho, passed away peacefully Nov. 26, 2022.
Lea was born April 20, 1933, at home in Elmira, Idaho, to Harry and Melba Montgomery. Fourth in line of six girls, she spent her early years helping on her family's ranch, learning the homesteading arts and skills that followed her for the rest of her life. She met and married the guy that always made her smile, Allan "Bud" Newcomb, and spent the next 52 years with him. They had four children; Mike, Pat, Melonee and Kelly.
Lea was an avid gardener; her flowerbeds were admired by all. She never met a begonia she didn't love. Many an hour was spent with family and friends canning and preparing the fruits of her labor. She enjoyed sewing and crocheting and many of the projects are now in the homes of her children and grandchildren. A good game of cards was always hard for her to pass up.
After retirement, Lea and Bud spent time traveling and exploring. They loved their many adventures. When asked where they were going, the answer was invariably "bug hunting." She lived a long life, spending many years in Alaska before heading south to rumored "warmer" weather. In her later years, chatting on the phone kept her in touch with many friends and family members. Her sister, Jerry, shared daily calls that she sorely missed after her passing. She kept and nurtured a number of friends that she enjoyed up until the day she died. As a resource, she had a wealth of knowledge that she generously shared. She was always answering questions concerning those skills she honed during her childhood at her mother's side.
Lea was preceded in death by her parents and four of her sisters; the love of her life, Bud Newcomb; grandson Eric Lunde; and great-grandson Weston N. LaBarbera
She is survived by her children, Mike Newcomb, Pat Newcomb, Melonee Long and Kelly Newcomb (Pete LaBarbera); grandchildren Michelle, Christina, Dabre, Danette, Devin, Kate and Tayler; many great-grandchildren; sister Nedra Halsted; brother Wayne Newcomb; many nieces and nephews and a sisterhood of women that enriched her life.
The family would like to thank all of her friends for making her life that much better.
Recent Headlines
---