Love's drive to help others earns honors
|
December 7, 2022 1:00 AM
SANDPOINT — A local woman was recently honored as the November Idaho Human for all her hard work in the community that has touched many lives.
Debbie Love, executive director of the Bonner Community Food Bank, has been active in various organizations over the years, including the Girl Scouts, YMCA, and Pend Oreille Arts Council. However, it is her work of helping others that means the most, Love said.
Growing up in Boise, Love spent her childhood outdoors with her family, who also instilled in her the importance of hard work and service to others.

"My grandparents really influenced me as a kid," Love said. "I think having that older generation and growing up [with their values] gave me a different perspective and outlook on helping people and really being there for others."
Watching her grandmother work with elders as a nurse at Treasure Valley Manor, Love said she would spend her afternoons helping the residents "wrap their little pets," which were actually stuffed animals.
"Those little caregiving things were very inspirational to me as a child," Love said.
Taking that inspiration with her through high school and on to college, Love became a volunteer through the Agency for New Americans. An organization that aids refugee families from other countries in acclimating to their new lives through education and other resources, Love became the lifeline for a Bosnian family.
With the help of another volunteer, Love taught the family to use the Treasure Valley public transportation system. She also helped them buy groceries and other supplies. Love said the language barrier became a non-issue thanks to food.
"Food brought us together," Love said.
That experience was enough, Love said she knew exactly what she wanted to do with her life.
"I just knew that's what I wanted to do," Love said. "I'm meant to help people."
Love met her husband in college, and they stayed in the Boise area until the pull north grew too great. Together they moved to Spokane, where her husband, Will, had a job offer. Through a series of twists and turns in their lives, Love and her husband found their way to Sandpoint, her husband's hometown. With a job opportunity for both of them, the move made sense, Love said.
In 2013, Love was hired by the Pend Oreille Arts Council as its executive director. She worked for POAC for nearly three years until she was recruited by the Bonner Community Food Bank to become a director in 2016.
Even after spending much of her life helping others, Love said the position opened her eyes even wider. This awakening came from the plight of the hungry, homeless, and many families lacking basic necessities in Bonner County. Love said she has found that people are generally surprised when she speaks about Bonner County's homeless population. She said she attributes this to the community's homeless being mostly invisible, unlike major metropolitan areas where the houseless often congregate in particular locations.
"I remember being at a meeting and someone asked me, "We have a homeless population here?'…and I said, 'Well, let me tell you, actually, we do.'" Love said.
Through Love's position with the food bank and her work helping others, Love caught the eye of Humans of Idaho, an organization that puts the spotlight on folks like Love. The group gives those who selflessly help others a chance to tell their story and gain support for their cause. The organization recently featured Love on their website and set up a donation campaign in her name. All funds donated will benefit the Bonner Community Food Bank in the form of a grant that will be given to Love.
To read more about Love or to donate, visit the Humans of Idaho website at bit.ly/3P6fvVc.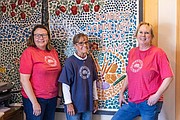 Recent Headlines
---