Robert Roop, 82
|
December 7, 2022 1:00 AM
Robert "Dink" Roop was born in Hanford, Calif., on Aug. 13, 1940, to Ermer Roop and Hazel Bratton Roop.
The second child, Dink was precocious and would do anything for a laugh. His mother nicknamed him Bob-a Dink, and "Dinky" stuck with him. Within his family, he was known as Dinky. In school, he was Bob or Bobby. Dink grew up in the San Joaquin Valley and attended elementary school in Kettleman City. Dink shared many stories of his loving family that included his siblings, Dusty, Jerry, Pat and Frank. The family moved to Santa Cruz, where he graduated from Santa Cruz High School.
Dink married Connie Vance in October of 1961 and they had a son, Bucky, then twins, Beau and baby boy Roop. Dink moved his family to North Idaho to the "end of the earth" (Cocolalla) with his parents and siblings. Dink and Connie raised three more children, Mike, Jake and Becky up on Roop Road and created many memories with the extended family and friends. Dink's home hosted many square dances and the kids gathered for weenie roasts and kick-the-can!
Dink married Gloria Susan Thatcher in September 1987, whom he met in the sawmill. They shared 35 years together, making many memories with their adult children, many grandchildren and extended family. They also raised their granddaughter, Savannah King, in the home Dink built. Dink was also proud of his vegetable garden and loved to share his bounty. Dink and Susan created a loving home that was always open to their children and grandchildren.
Dink was most proud of his long career in sawmills, where he performed every role except one. He was well-known in North Idaho as he worked in many different mills. He often talked about his experiences in the sawmills and the camaraderie that he shared with his crews. He told people that his last boss said to him, "I knew I hired a hand with experience, but I didn't know I hired a legend!"
Dink also loved to play the ukulele and sing songs. He would play at parties and in the living room for his friends and families. His songs live on and are shared with his great-grandchildren. He was a very talented artist and created many beautiful items from gazebos to kitchen cabinet doors, to cradles and rocking horses. He loved to share stories, poems and jokes with anyone who had a minute to listen. He loved to make people smile.
Dink never lost his sense of humor or his smile. He was able to spend his last days with his family and friends and wife Susan. Dink was preceded in death by his sons, Baby Boy and Beau; his parents, Ermer and Hazel; his brother, Dusty; his stepson, Brad and two grandchildren, Tom and Nicole. He is survived by his wife, Susan; his brothers, Jerry (Barbara) and Frank (Patty); sister Patricia; and his four children, Buck, Mike, Jake and Becky and stepchildren Dale, Debbie and Dan. He is also survived by many nieces, nephews and grandchildren and great-grandchildren.
Services will be held Saturday, Dec. 10, at 11 a.m. at the Westmond Ward of The Church of Jesus Christ of Latter-day Saints, 331 Westmond Road, Cocolalla, ID 83813.
Family and friends are invited to sign Dink's online guest book at www.coffeltfuneral.com.
Arrangements are under the care of Coffelt Funeral Service.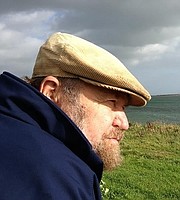 Recent Headlines
---