Sandpoint Nordic Club holds winter welcome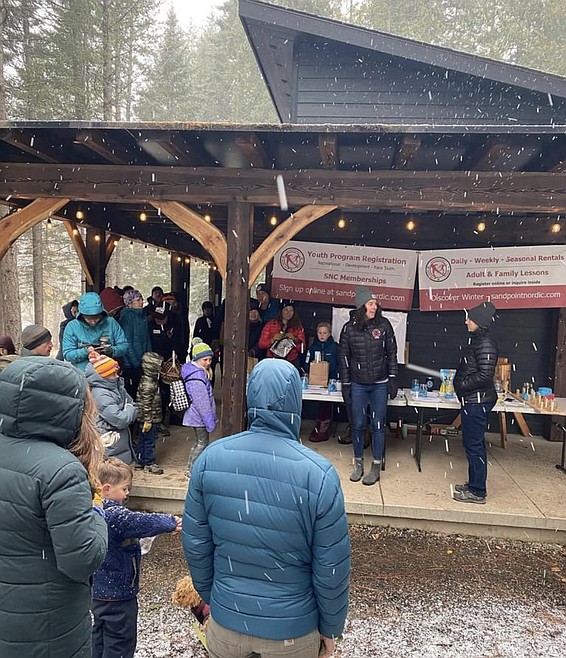 Community members attending Sandpoint Nordic Club's Winter Welcome—Annual Fundraiser and Membership Drive in Pine Street Woods. So far this year the Nordic club has raised $2500 with 100+ memberships.
Sandpoint area residents visited Pine Street Woods in early November to enjoy the Sandpoint Nordic Club's Winter Welcome — its annual fundraiser and membership drive.
Attendees enjoyed treats from Jupiter Jane's Traveling Cafe and beverages from Powder Hound Pizza. Participants enjoyed socializing by the bonfires and learning about the clinics and programs SNC offers to the community including ski rentals at its Outdoor Recreation Center.
The club was grateful to all the amazing Sandpoint businesses that donated raffle and auctions items. Huge thanks to the following businesses for your donations: Outdoor Experience, Finan McDonald, Pend d'Oreille Winery, Pickled kitchen, Panhandle Cone and Coffee, Jalapenos, Bellissima, MickDuffs, Azaleas, Eichardts, SPUDS, Whiskey Jack's, Zwazo Nich birdNest, Refined Aesthetics Med Spa, Alpine Shop, Thunders Catch, 7B Board Shop, Sugar Tooth, I saw something Shiny, 219 Lounge, City Beach Organics, Uniquely Sandpoint, Carousel Emporium, Bella Terra Boutique, Style Bar Beauty Bar, Creative Edge, Schweitzer Mountain Resort, Greg Smith, LMT Mountain Lake Therapy, Rossignol and Syringa Cyclery. Please support these great companies! We had such great support, many attendees walked away with items.
The nordic club raised $2,500 with 100-plus memberships so far, which is up from last season. Members get to enjoy discounts at Syringa Cyclery, The Shed, Heart Bowls, Outdoor Experience, Evans Brothers and Sandpoint Medial Massage and Bodyworks. It's not too late to register for your 2022-23 season membership. Visit www.sandpointnordic.com.
Membership dues go to grooming the tails in Pine Street Woods for all to use plus supporting SNC's amazing programs. Programs include their School Program, a cross-country skiing field trip for elementary school kids, their Youth Ski League and after-school program for youth aged 6-18, their Adult Clinics with lessons for beginners to advanced skiers and their affordable ski rental program operated through the Outdoor Recreation Center in Pine Street Woods. SNC provides scholarships for families in need. Visit its website to learn more.
With the recent snow, we are hopeful to have our trails ready to ski soon, fingers crossed!

Recent Headlines
---