NIC hosting Sounds of Christmas concert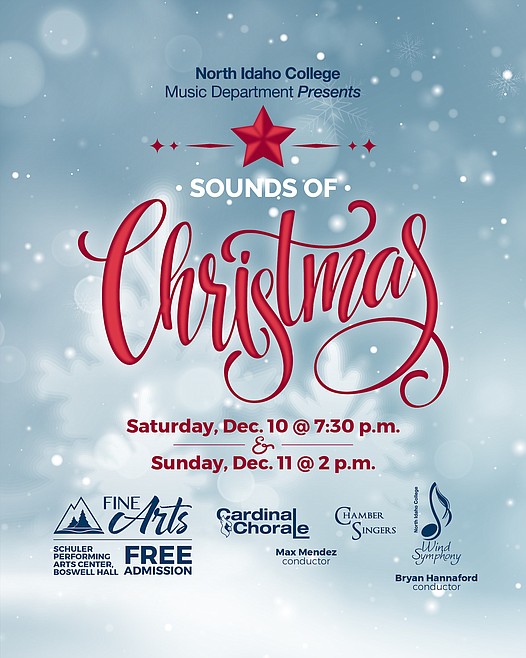 |
December 9, 2022 1:00 AM
North Idaho College will host its annual Sounds of Christmas concert featuring performances by the NIC Wind Symphony, NIC Cardinal Chorale and NIC Chamber Singers.
There are two performances at 7:30 p.m. Saturday, Dec. 10 and at 2 p.m. Sunday, Dec. 11 at Boswell Hall Schuler Performing Arts Center on NIC's main campus in Coeur d'Alene. The concert is free and open to the public.
"The singers of the NIC choirs are always excited to showcase the best in holiday selections, and this year is no exception" says NIC Director of Choirs Max Mendez.
The choirs will perform Christmas classics, in addition to many lesser-known songs and arrangements. Highlighting this year's program will be "Dance of the Sugar Plum Fairy," "Various Themes on 'Fa la-la,'" "A Charlie Brown Christmas" and "Personent Hodie."
"Creating a program with a diversity of traditions is a way for our audience to experience Christmas through a different, yet beautiful lens," Mendez said. "Our hope is that the texts and sounds of this year's program will surely put the audience in the Christmas spirit."
NIC Wind Symphony will perform holiday-inspired music with a twist including "Secret Agent Santa" arranged by Jeff Simmons and "Christmas in Spain" by Kevin Day.
"I'm so excited to conduct the NIC Wind Symphony at this concert because the crowd is usually so happy and excited for the season," said NIC Director of Bands Bryan Hannaford.
The NIC Wind Symphony will perform new music like "Toboggan" by JaRod Hall and music of the Hannukah season with "Eight Nights of Light" by Jonathan Leshnoff. The symphony performance culminates with a holiday sing-along of familiar holiday songs.
"We are so fortunate to have local composer Tom Tucker arranging a brand-new sing-along for Sounds of Christmas 2022," said Hannaford. "The NIC Wind Symphony, Cardinal Chorale and Chamber Singers hope you will bring your singing voices for our traditional holiday sing-along to close out the show!" For more information, contact NIC Director of Choirs Max Mendez at 208-769-3275 or max.mendez@nic.edu; or NIC Director of Bands Bryan Hannaford at 208-769-3258 or bryan.hannaford@nic.edu.    
Recent Headlines
---