Bigger Brain fundraising drive continues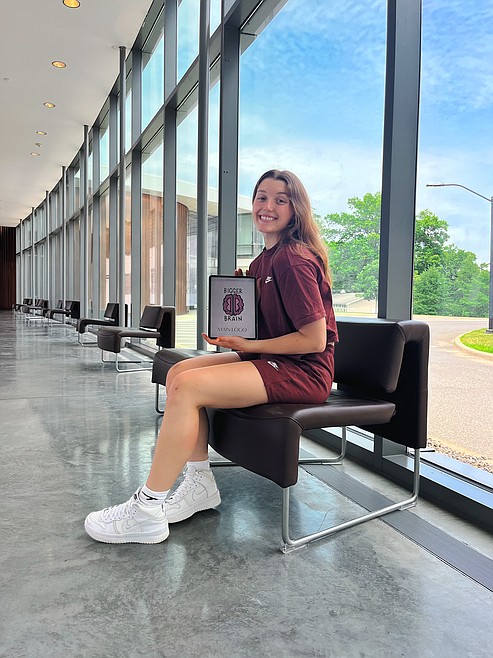 Bigger Brain LLC founder, Sage Saccomanno poses with the brand logo at Bard College.
(Photo courtesy SAGE SACCOMANNO)
|
December 11, 2022 1:00 AM
SANDPOINT — A funding deadline is approaching for a Sandpoint High School graduate's launch of a new clothing line designed to spread the message that "school is cool."
A junior at Bard College, Sage Saccomanno is a biochemistry set to graduate in 2024. This spring, Saccomanno launched Bigger Brain, LLC, clothing line and has until the end of the month to raise the money through Kickstarter, an online crowdfunding platform.
"The goal is to encourage youth to be proud of their intelligence, not just hide it to be cool," Saccomanno said in a fundraiser letter shared with the community. "[The] first step in doing this is [the] Smart in Style collection of high quality, ethically-made, and sustainable streetwear sporting five chemicals in the brain. The shirts come with educational information about each chemical also."
Not only has Saccomanno launched the business, she has created the brand, researched, built the website, hired an accountant, lawyer and more. The designs, photography and video featured on Bigger Brain's website were created by a fellow students.
"The T-shirts are just the start," Saccomanno said in the letter. "[The] ultimate goal is to create a world where youth don't feel pressure or stress to be someone else and to also get recognized for their accomplishments as much as athletes do."
But to do that, Saccomanno needs contributors to get a campaign going on Kickstarter. However, the online fundraising platform is all or nothing. If Saccomanno's $27,300 goal is not met by Dec. 30, then all funds are returned to investors.
To back the project, go online to kck.st/3WRMS1F; and to find out more about Bigger Brain, LLC., go online to MyBiggerBrain.com or instagram.com/biggerbrain.co.
Recent Headlines
---