Santa plans visit to Ponderay, Kootenai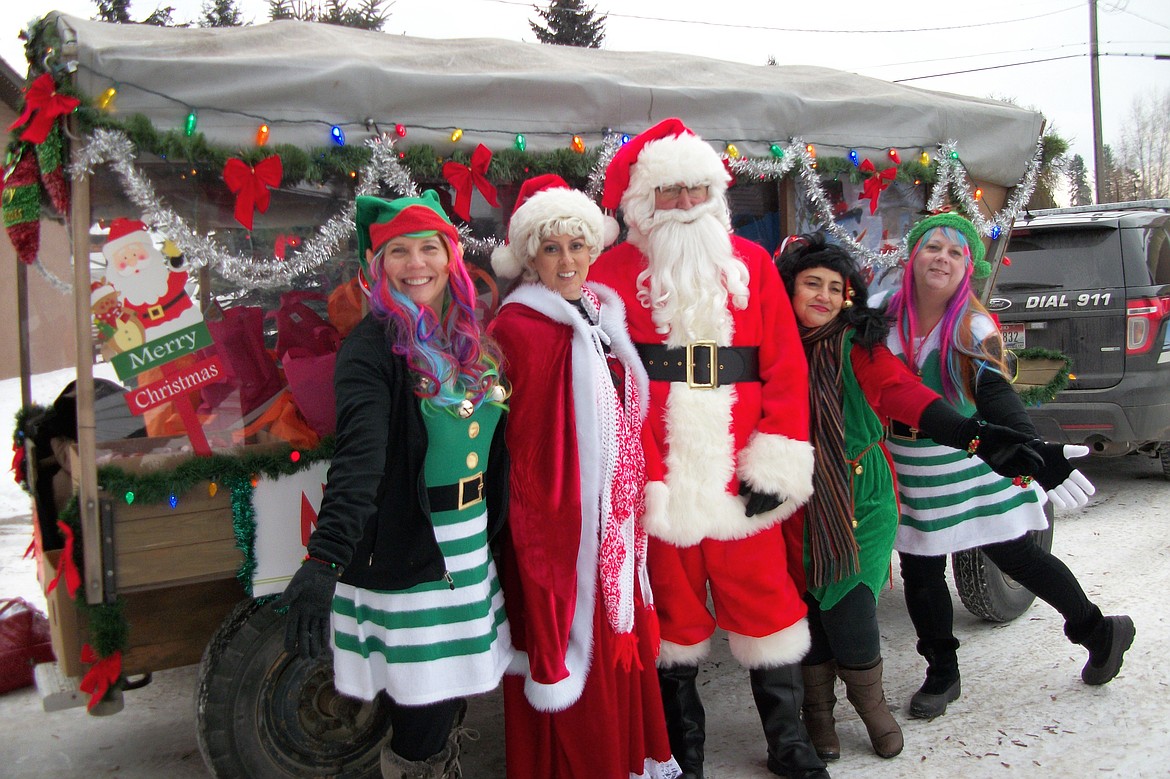 Santa, Mrs. Claus and their elves deliver bags filled with essentials and goodies to kids and seniors in the Ponderay and Kootenai areas during a past Santa Sack event.
(Courtesy photo)
|
December 13, 2022 1:00 AM
PONDERAY — Santa Claus is coming to town.
Santa, Mrs. Claus and a few of his elves will be visiting Ponderay and Kootenai on Saturday to spread Christmas cheer to youngsters in the two communities.
As part of his annual visit, Santa will be delivering "Santa Sacks" to boys, girls and senior citizens in Ponderay and Kootenai. Each year, about 575 sacks are filled with essentials and goodies thanks to donations from the community and local businesses.
Growing from a simple bag of candy, the Santa Sack project has turned into an amazing community event, Ponderay officials said in a press release posted to social media.
"Children all bundled up, anxiously stand by the curb waiting to see Santa, Mrs. Claus and the elves who arrive on the Ponderay Express trolley," they said. "There are so many in need in our community. It is truly heartwarming to see the smiles and hear the appreciative thanks."
Santa and his helpers will begin their journey at Ponderay City Hall at 9 a.m. Saturday. They next travel to the Jasper Loop area and Carnelian Avenue at about 10:45 a.m., Ponderay Mobile Home Park at 11:45 a.m., Mt. Baldy Apartments at 12 p.m., Woodland Crossing Apartments at 12:20 p.m., Mountainview townhomes and Mountain View Apartments at 1:30 p.m., Starr Lane and Dustarr area at 2:55 p.m. and Kootenai Elementary at 3:45 p.m.
Donations are welcome and can be made at Ponderay City Hall or by mail to City of Ponderay, P.O. Box 500, Ponderay, ID 83852. Make checks payable to the City of Ponderay and write "Santa Sack" in the memo line."
Recent Headlines
---