Sandpoint Chamber honors Jacey's Race volunteers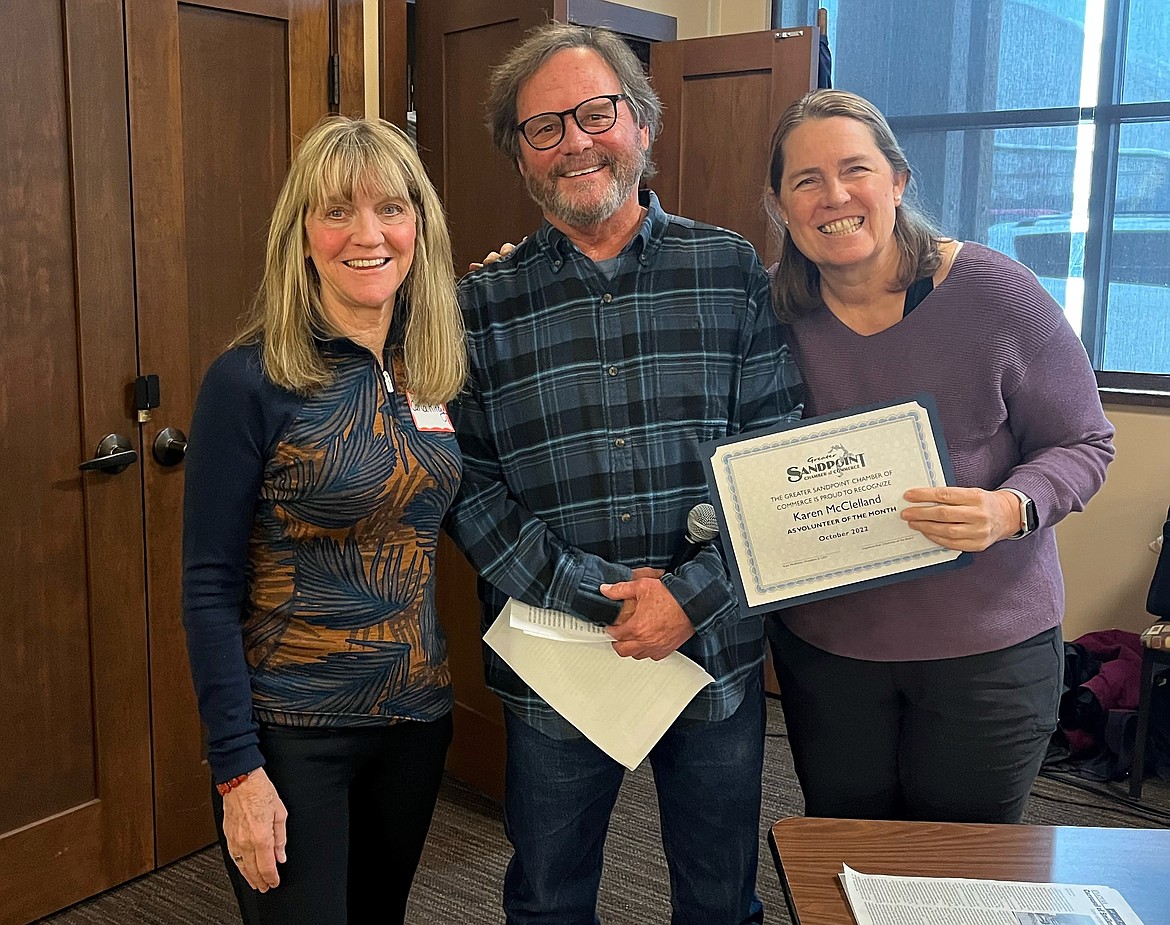 Carla Kirby, left, and Karen McClelland, right, are presented with Volunteers of the Month Award by Bob Witte of the Greater Sandpoint Chamber of Commerce board of directors. The pair were among the Jacey's Race volunteers who were honored by the chamber for their role in the community event.
(Photo courtesy GREATER SANDPOINT CHAMBER OF COMMERCE)
|
December 14, 2022 1:00 AM
SANDPOINT — Volunteers from Jacey's Race honored as the Greater Sandpoint Chamber of Commerce's Volunteers of the Month for December 2022.
Jacey's Race was a 20-year tradition, beginning in Colorado for the first four years, then the next 16 in Sandpoint. The community event and benefit fun run began in 2001, when Jacelyn Lawson was diagnosed with kidney cancer at age 4. Jacey endured several surgeries, three chemotherapy agents and total lung radiation treatments. Incredibly, her cancer was no longer detectable by the end of the first year of treatment. Before the end of that first year, a close group of friends decided they wanted to do something to help support Jacey, so they put together a fun run. It was an event to celebrate Jacey and show her how much the community cares. Not only did she survive her cancer, but she flourished with the love and support of a caring community. Jacey and her family continued the race the following year for two children they had met at the children's hospital.
In 2005, Jacey and her family moved to Sandpoint, and when some friends heard her story, they decided they wanted to keep the event going in North Idaho. In 2007, Jacey's Race was held for the first time in Sandpoint, with the mission to assist local kids with cancer and also expanded to include kids with other types of illness.
The total number of beneficiaries to date is 66, including 57 kids and nine organizations that support beneficiary kids and families.
Jacey is now a happy, healthy 26-year-old after surviving a second primary cancer diagnosis that required two additional surgeries in 2018.
Jacey's race has become much more than a family fun run. It became THE family fun event of the season. It takes the hard work and dedication of all the volunteers to put on such an event, chamber officials said.
Even though Jacey's Race board decided to end the event after 20 successful years, they said in announcing their decision that they will cherish all the memories made. Toward that, chamber officials said they could think of no better recipients of the chamber's volunteerism award than the volunteers who were involved with Jacey's Race.
Recent Headlines
---