Are you up for the RESET challenge?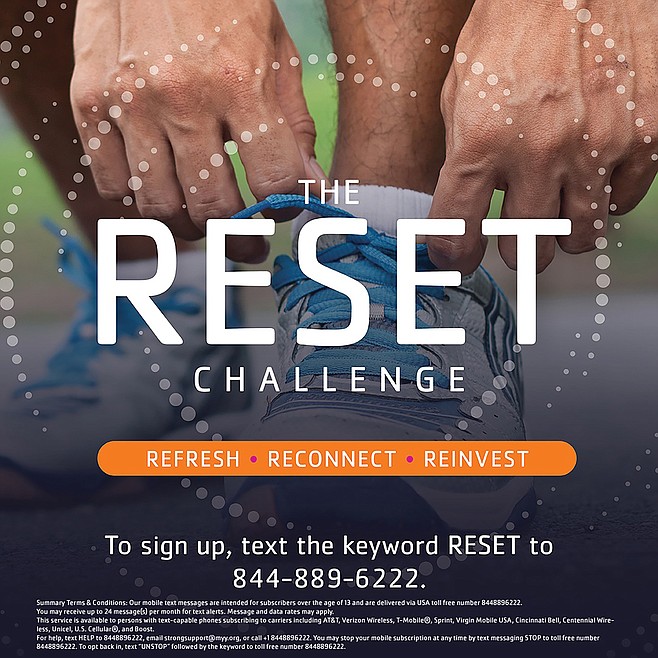 The YMCA of the Inland Northwest is kicking off a 21-day wellness challenge.
(Courtesy illustration)
by
CAROLINE LOBSINGER
Staff Writer
|
February 3, 2022 1:00 AM
Are you up for the challenge?
The Y's 21-day wellness challenge, that is.
"At a time when we all need a bit of a kick to restart our minds and bodies to tackle the challenges of a new year, the YMCA of the Inland Northwest invites the whole community to take part in the 21-day RESET Challenge," said Mary Berry, communications and m marketing director for the organization.
The free challenge is open to anyone 18 years and older. Those interested can join at anytime.
This challenge is designed to get people up and moving at least 30 minutes a day and to help them develop at least one healthy habit.
"The idea is to get everyone up and moving for 30-minutes a day with the help of bingo card ideas, online health coaches, a supportive nationwide community and the incentive of pretty cool weekly prizes for those who successfully complete a row of activities on the bingo card," Berry said.
While the challenge begins Monday, Feb. 7, Berry said registration is open now. All anyone who is interested in participating needs to do is text "RESET" to 844-889-9622 and then follow the prompts to sign-up for the free challenge.
The focus the first week will be "refresh," and "reconnect" for the second, and for the third week, it will be "reinvest."
In addition, participants will be able to go online to the StrongLife Community Facebook group to get extra motivation and inspiration.
Participants will receive two texts a week filled with motivation, challenges, virtual workouts and more, Berry said. They will also receive the weekly bingo cards to help them on their journey and hopefully toward the goal of adopting one new healthy habit for 2022.
As an added bonus, participants who score a bingo, can text bingo to the number for a chance to win a weekly prize, which range from an activity tracker watch the first week, wireless earphones the second and a $200 gift certificate to Dick's Sporting Goods. The grand prize includes a workout/training duffle bag, a hydro-flask water bottle, a workout log notebook and a $150 Dick's Sporting Goods gift card.
Information: ymcainw.org/reset-challenge
Recent Headlines
---