Local disc golf course named one of world's best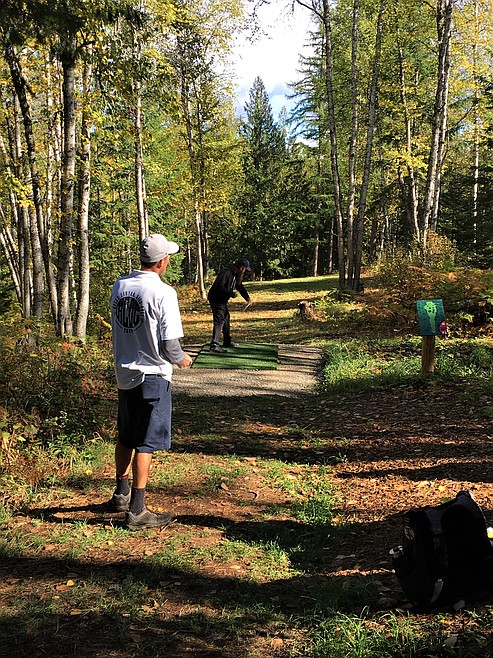 Disc golfers enjoying the Caliber disc golf course.
(Courtesy photo Caliber DGC)
by
EMILY BONSANT
Hagadone News Network
|
February 5, 2022 1:00 AM
SANDPOINT — Caliber Disc Golf Course has been named one of the world's best courses, coming in at No. 8.
The course just south of Samuels, was selected for the honor by users of the app, UDisc. The app, which helps disc golfers keep score, also helps disc golfers find their next course. The rankings were based on a system of recent course ratings by disc golfers using the app. There are over 13,000 disc golf courses tracked by the app and can be found in 80 countries.
"Disc golf is growing and I saw the need to build the best course possible on property that the professionals would be into," said Paul Stiller, Caliber owner and operator.
Having a great disc golf course takes the right piece of land, Stiller said, adding the elevation changes and variety of forest flora and fauna at Caliber are ideal.
When Stiller purchased the 40 acres in 2016, he said he immediately saw the potential for a disc golf course. A unique piece of property that was in transition, he said the site had been logged years before and re-planted with an arboretum of trees like birch.
While Stiller originally planned for the location to be limited to himself and his friends, he ultimately decided he wanted to make a course that was challenging. Since it is a longer course with par four and five holes, it provides more options for a dynamic round and the player can play to their own strengths, said Stiller.
"I named it Caliber, because this course takes a certain skill level," he said. "The par four and five practices accuracy and grows a better risk and reward type course."
In the last few years, Stiller said disc golf has exploded as a sport and the Caliber's user base has expanded as well as players from throughout the country have discovered the course. Stiller said that last year the parking lot was filled with license plates from the East Coast as people were on disc golf tours.
Some people will fly into Spokane and drive to Seattle, hitting disc golf courses along the way, Stiller said. The tourists coming to play disc golf are good for local businesses as they stay in hotels and eat at local restaurants and cafes.
Stiller said when it comes to professional disc golfers they are tired of going to the same 30-year-old courses where they always get a birdie. When it came to designing Caliber, he wanted it to be fun, fair and challenging — and a course that will help prove who is the best competitor.
Stiller said in the future he would like to add more parking and amenities to the course. He also wants to add another top rated course to the area.
Caliber will be open to the public in the spring once the snow melts and the soil firms up.
Recent Headlines
---