Firm welcomes new partner, announce name change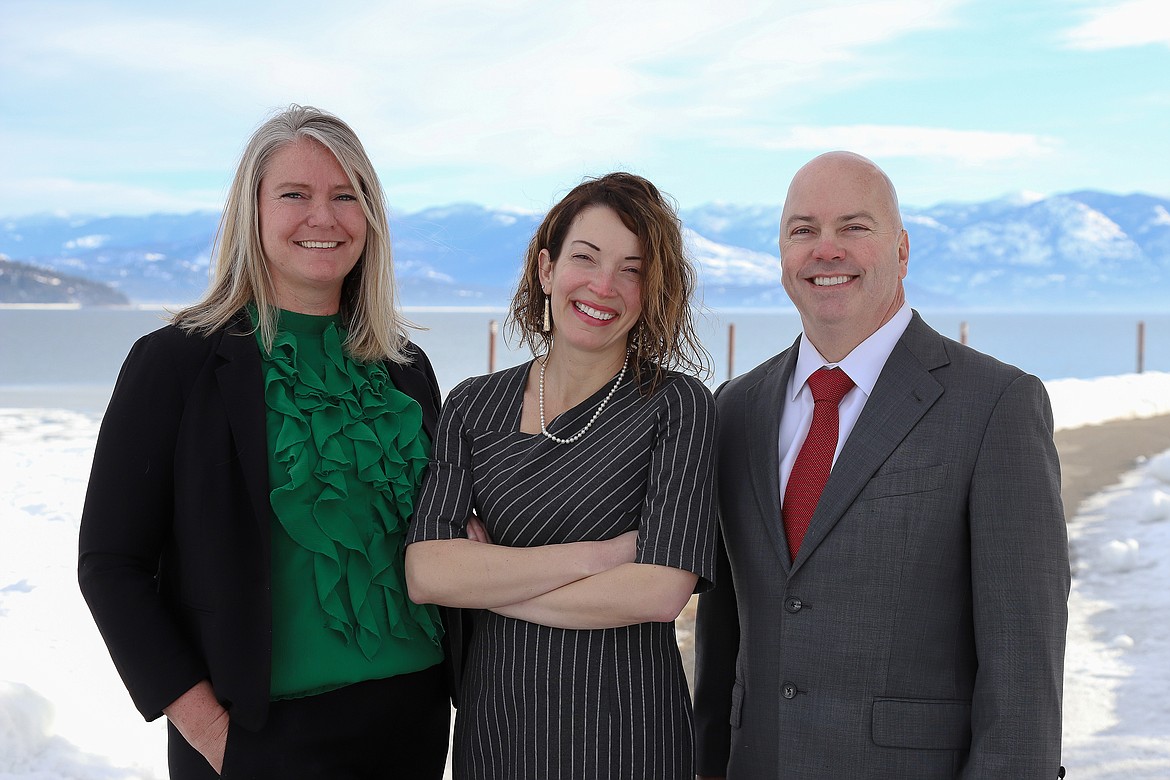 Berg, McLaughlin & Nelson recently announced Lisa Moline as partner and announced it new name — Sandpoint Law. Pictured are Lisa Moline, Andra Nelson and Toby McLaughlin.
(Photo courtesy TINA JOHNSON/THE VALLEY STUDIO)
When attorney Bill Berg moved to Sandpoint in 2001, he began as a solo practitioner focusing on estate planning, real estate and business law.
Five years later, he partnered with Attorney Toby McLaughlin and together they grew a firm that now has a total of eight attorneys. With that growth also came an expansion of services while always maintaining the same high quality of service for which they have always been known. Bill Berg offered to pass the torch of his ownership to Andra Nelson in late 2016.
Andra Nelson became partner in 2017 and focuses on estate plans and probates. When Nelson joined the firm in 2013, her practice was solely family law including divorces, child custody, minor and adult guardianships, and adoptions. Her favorite part of divorce and custody litigation was attending mediations as the process seemed more effective and dignified than going to trial. Nelson became certified to mediate in 2021 and is open to scheduling mediations for family law disputes.
Recently, the firm of Berg, McLaughlin and Nelson announced the addition of a new partner, attorney Lisa Moline who joined the firm in June of 2020. Moline specializes in real estate law and contracts while also having a focus on estate planning.
Prior to attending law school at the University of Idaho, Lisa worked in the legal field for many years serving as a clerk at Bonner County Courthouse, an in-court clerk for several of the area judges and as a legal secretary and paralegal for the firm of Elsaesser and Anderson in Sandpoint. A Sandpoint native, Moline also was a successful real estate title and escrow officer for several years.
"Working at Berg, McLaughlin and Nelson is a perfect fit for me," said Moline. "I share many of the same values with the attorneys and staff, and many of us are Sandpoint natives with close ties to the community. Our clients are our neighbors and friends, which holds us accountable to providing excellent customer service."
Moline shares that becoming a partner is an important step in her career as it provides her with an opportunity to bring her experience and different perspectives to influence decisions and growth.
"We are extremely fortunate to add Lisa as a partner to our practice," said Toby McLaughlin. "Lisa has a very rare combination of experience and skills. First and foremost, she is a Sandpoint native who loves North Idaho. Lisa worked for over a decade in the title industry, for the local court system, and in private practice as a legal assistant — a range of work experiences that gives her a unique blend of skills that are ideal for a practice in civil law."
McLaughlin adds that Moline is extremely dedicated. "Since joining our firm, Lisa has demonstrated professionalism, excellent judgment, and a keen mind. The addition of Lisa as a partner strengthens our firm's services that we provide to our clients," he said.
Along with the announcement of Lisa Moline's partnership, the firm has also announced its change of name from Berg, McLaughlin and Nelson to Sandpoint Law, a move that encompasses its goal of becoming a firm for all of Sandpoint.
"With the retirement of our founding partner, Bill Berg, and the addition of Lisa Moline as partner, it felt like the perfect time to change our name to Sandpoint Law," said McLaughlin.
"The new name reflects our commitment as a law firm to service residents and businesses located in or near Sandpoint, and all of North Idaho.  Sandpoint Law offers a wide array of legal services including business law, estate planning, real estate, personal injury, employment law, civil litigation and many other areas of the law.  We believe that our new firm's name better reflects our firm's identity than does a list of the last names of the partners."
As for Lisa Moline, she feels privileged to be part of such an amazing team of attorneys.
"I've grown a great deal as an attorney during my time with Berg, McLaughlin and Nelson," said Moline. "I'm looking forward to a long and successful career here and serving the clients of Sandpoint for many years to come."
To learn more about Sandpoint Law, its attorneys and services, go online to SandpointLaw.com or call them at 208-263-4748.
Recent Headlines
---