Robert A Murray Jr., 88
|
January 7, 2022 1:00 AM
Robert A. Murray Jr. passed away peacefully on December 14, 2021 with his loving wife Virginia and a couple of family members at his side. Dad was 88 and he and mom had been married 67 years.
Robert was born in Blythe, California in April 1933. He had an older sister, Mildred, and two younger sisters, Betty and Valerie Jean. He and his family grew up in Blythe. They spent a lot of their free time fishing in the nearby Colorado River. He got his first motorcycle at age 16 and he and a few friends enjoyed riding out in the desert. He joined the Air Force at 18, but a knee injury led to his discharge two months after enlistment. A short time after discharge he met Virginia Ruth Byers and they were married in January 1954 in Salome, Arizona.
They lived for a couple years in Blythe. Their first son, Jim, was born there in 1955. Robert was working for the California Division of Highways in Amboy when their second son, Kenneth, was born in the nearby hospital at Needles, California. Shortly after that, they moved to Northern California. Robert continued working for the highway department in various small towns including Palga, Quincy and Chester.
It was in Quincy that Robert was able to take flying lessons. From Chester they moved to Sierraville where Robert applied to the California Highway Patrol. He was accepted, so the family moved to Sacramento where he attended the highway patrol academy. His first assignment upon graduation was in Lee Vining. A short time later, he transferred to Colleville and his third son, Tom, was born in the nearby hospital of Bridgeport. Around a year later, the family moved back to the desert in Holtville. A short time later they moved up to Lancaster where their fourth son, Bill, was born. Another transfer took the family to Inyokern for a year, then to Hanford.
Around this time, after several years with the highway patrol he had about had his fill of people. Robert and Virginia checked the encyclopedia, looking for places that might have good hunting and fishing and the fewest people. They checked out Sandpoint, Idaho and loved it. They family moved to Sandpoint in October 1965 and have lived here since.
They moved into their current house on Christmas Day in 1965. At their farm on Selle Road, the family raised cows, horses, chickens and pigs. The boys were active in 4-H and baseball. Robert realized his dream of owning a Cessna 180 and flying out of his own airstrip on the farm. Robert and Virginia had many camping trips flying into backcountry airstrips. The 1970s and 1980s were filled with many good hunting trips into the upper St. Joe River country and many good years of snowmobiling.
Robert worked in Jim Spring's Cut Shop and various odd jobs until he started at Northern Lights, where he worked for 21 years. Most of those were as a lineman, but the last few were as the line superintendent. After retiring from Northern Lights, he took at job in Naknek, Alaska, with Naknek Electric as the line foreman. He flew his 180 up there and was able to spend time flying into some great fishing spots. He and Virginia lived there for about two years until he retired for good.
After retirement, Robert and Virginia bought a fifth-wheel travel trailer and spent quite a few winters back in Blythe. They really enjoyed attending bluegrass festivals. Another of Robert's things was listening to his sons Ken and Tom play music. They both picked up the guitar pretty well.
Robert is preceded in death by his parents, Robert Andrew and Willie Irene; and his three sisters, Mildred, Betty and Jean.
He is survived by his wife, Virginia; and his sons, Jim (Lynn), Ken (Tralyn), Tom (Leanna) and Bill (Jenn); six grandsons, five granddaughters, eight great-grandsons, and six great-granddaughters.
Family and friends are invited to sign Robert's online guestbook at coffeltfuneral.com.
Final arrangements have been entrusted to Coffelt Funeral Service.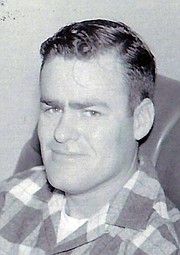 Recent Headlines
---