Bonners Ferry takes down Sandpoint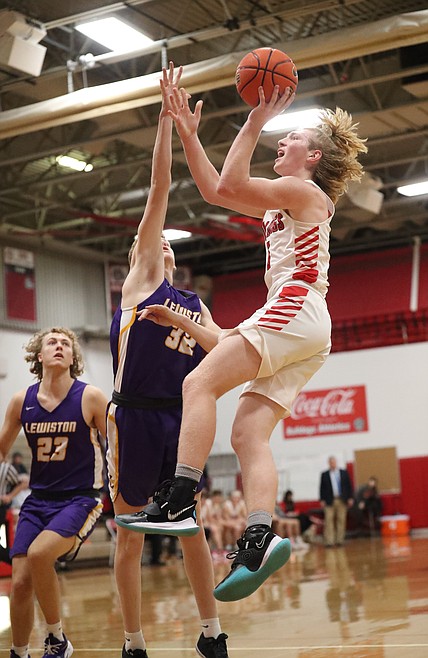 Jacob Eldridge converts a floater during a game against Lewiston on Dec. 16 at Les Rogers Court.
(File photo by DYLAN GREENE)
|
January 11, 2022 11:54 PM
BONNERS FERRY — Sandpoint boys basketball was outscored 38-28 in the second half of a 64-59 loss at Bonners Ferry on Tuesday night.
The Bulldogs were without Arie VanDenBerg for the second straight game and starter Randy Lane was unable to suit up as well.
"We were in a position to win," head coach Brian Childs said, "but given the circumstances I thought we competed pretty well tonight."
Childs said it was a back-and-forth affair all night and neither team could get much separation.
"I thought we kind of got off to a slow start in the first quarter," he said, "and then we kind of adjusted to the speed they were playing at and just how physical it was."
The Badgers were to pull away in the final moments. Childs said the Bulldogs just need to execute better late in games.
"Down the stretch we took a couple quick shots and we had a couple turnovers ... but I really can't complain at all about the effort," he said. "It was just some of the little things."
Jacob Eldridge led the team with 14 points, and Rusty Lee, Parker Childs and Ethan Butler each scored 12.
Childs said Evan Dickinson and Lasse Kuehn both stepped up and contributed solid minutes for the Bulldogs.
Sandpoint (4-7) hosts Lakeland at 3 p.m. Saturday to open 4A Inland Empire League play.
Sandpoint 11 20 18 10 — 59
Bonners Ferry 13 13 24 14 — 64
SANDPOINT — Lee 12, Eldridge 14, Dickinson 8, Childs 12, Kuehn 3, Butler 12.
BONNERS FERRY — R. Williams 13, Henslee 4, A. Williams 9, Bateman 2, Hubbard 16, Mai 4, Blackmore 15.
Recent Headlines
---