Bulldogs stave off Badgers to complete season sweep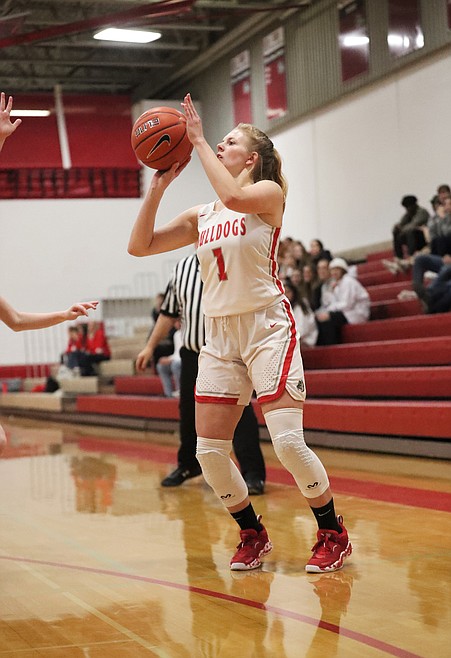 Kelsey Cessna attempts a 3-pointer during a game against St. Maries on Nov. 30 at Les Rogers Court.
(File photo by DYLAN GREENE)
|
January 11, 2022 11:48 PM
BONNERS FERRY — Sandpoint girls basketball escaped Bonners Ferry with a 47-40 victory Tuesday night.
The Bulldogs came up clutch down the stretch, knocking down 11 of their 14 free-throw attempts.
"We've been struggling at the free-throw line, but tonight that was our saving grace," head coach Will Love said. "The kids did a good job of stepping up and hitting some free throws throughout the game. It was something we obviously needed to focus on, so we've been working on that a lot in practice."
In their first meeting at Les Rogers Court on Nov. 23, the Bulldogs beat the Badgers 50-34.
"Bonners has improved quite a lot since the last time that we played them," Love said. "They are young and you can see them coming along and they are going to be a pretty tough team, so they offered some challenges to us that we had to work hard to contain."
Bonners Ferry trailed 26-15 at the half, but battled back to make things interesting down the stretch.
Daylee Driggs finished with a team-high 14 points. Kelsey Cessna scored 12 points and went 6 of 6 from the free-throw line in the fourth quarter. Aliya Strock had 6 points, and Anna Reinink and Sofia Platte each added 5.
Asha Abubakari led the Badgers with 15 points.
The Bulldogs (7-6) travel to Timberlake at 7 p.m. Thursday.
"We struggled a bit with our close outs on 3-point shooters," Love said, "so I know with Timberlake coming up that's something that we are really going to have to focus on in practice [Wednesday]."
Sandpoint 14 12 6 15 — 47
Bonners Ferry 9 6 9 16 — 40
SANDPOINT — Cessna 12, Driggs 14, Reinink 5, Tomco 1, Owens 0, Strock 6, Lyons 4, Platte 5.
BONNERS FERRY — Burt 0, Villaluz 2, Pluid 8, Blackmore 4, Abubakari 15, Shottanana-Ponce 0, B. Bayer 8, Sumpter 0, A. Bayer 3.

Recent Headlines
---