William M. (Bill) Wright Sr.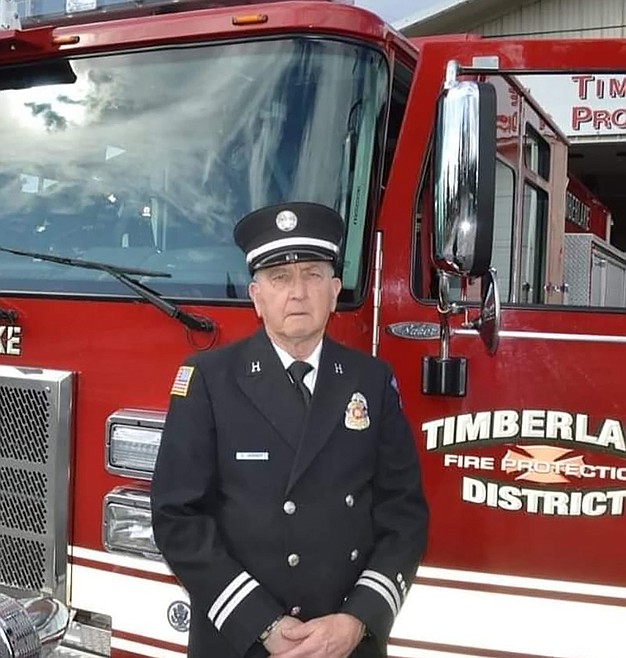 |
January 11, 2022 1:00 AM
William M. (Bill) Wright Sr., division chief with Timberlake Fire Protection District, passed away on December 24, 2021, peacefully, with his daughters by his side. Chief Wright's passing is deemed a line of duty death.
Bill was born in Hattiesburg, Mississippi, on September 24, 1942, to his parents Leland R. and Annie L. (Johnson) Wright. He was the youngest of three brothers and was harassed by both Douglas and Robert, which helped him develop his tough, can-do attitude that saw him through his 79 years on this earth. Once married, he moved his growing family all over the country following "the jobs" as a journeyman electrician and lifelong IBEW member.
Bill and his wife Margaret C. Wright (Clark) landed in North Idaho and finally found the place they could settle down on in the backwoods of Athol on a piece of land surrounded by trees. He was a fierce protector and provider for his children.
His children, daughter Angela K. and her husband David A. Riggsby live in Buckley, Washington, son (Mike) William M. Wright, Jr. (deceased), daughter Stacie S. and her husband Al L. Ramsay live in Sandpoint, Idaho, and son Benjamin N. Wright (deceased), love him beyond measure. When he became a grandparent, he was renamed "Papaw" and is loved and adored by his grandchildren, Matthew (deceased), Michael and Aubree, Jonathon and Abbie, Natalie and Candice, Caitlin and Dustin, Jordan, Mark and Justina, Mariah, Tanner, Hannah and Nick, Mikayla and Preston, Weston, Britain, Cheyenne, Nea; and 16 great-grandchildren.

Margaret was the love of his life and when she passed away, he focused his full attention on the second love of his life, the fire service. He started as a volunteer firefighter, then added EMT and inadvertently worked his way up to division chief. Bill was a humble, kind and giving servant in the community both in and out of the fire department. He could always be counted on to respond, at all hours of the day or night, except on Sunday while he attended the Church of Jesus Christ of Latter-day Saints meetings and on Wednesday mornings when he went to Spokane to the temple. His religious beliefs, high moral and ethical standards, abounding faith, and confidence in the power of prayer were the standard by which he lived his life.
He believed in God, family, and country. He deeply understood the Constitution and Bill of Rights and the freedoms they line out. He was not afraid to share his views. He felt everyone needed to laugh, every day, of which he was a great example. He welcomed people into his tribe, into his family, and treated them as one of his own for as long as they wanted to stay. His example, service, compassion, and influence are spread far and wide, although he wouldn't have acknowledged he "did much" to deserve any recognition.
The family would like to thank Timberlake Fire Protection District for their love and support during this difficult time. We appreciate and recognize the men and women who he considered his Fire Family. In lieu of flowers, donations in his memory may be made to the "Bill Wright Training Center" fund c/o Timberlake Fire Protection District. Public memorial services will be held on January 15, 2022 at the Boswell Hall/Schuler Performing Arts Center at North Idaho College, 880 W. Garden Ave, Coeur d'Alene, ID 83814 starting at 11 a.m. Any fire, EMS law departments wishing to participate should contact Timberlake Fire for instructions on processional, honor guards, etc. Following the memorial, a private graveside service will be held.
Family and friends are invited to sign William's online guestbook at coffeltfuneral.com.
Funeral arrangements are under the direction of Coffelt Funeral Service.
Recent Headlines
---