Sandpoint survives late surge by Timberlake to grab 8th win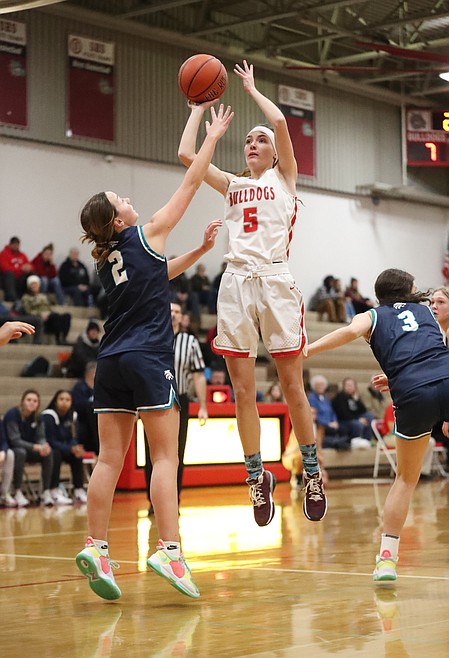 Junior Anna Reinink hits a jumper over a Lake City defender during a game Dec. 14 at Les Rogers Court.
(File photo by DYLAN GREENE)
by
DYLAN GREENE
Sports Editor
|
January 13, 2022 11:01 PM
SPIRIT LAKE — The Bulldogs nearly let a win slip away Thursday night at Timberlake.
With 45.4 seconds left, the Tigers were fouled on a 3-point attempt and knocked down three free throws to pull within 3 points.
But Sandpoint girls basketball was able to do just enough down the stretch to secure a 43-38 victory over Timberlake.
"I knew Timberlake wasn't just going to roll over," head coach Will Love said. "They're too good of a program and Matt [Miller] does such a great job with those kids that I knew we weren't going to have a comfortable final minute."
This is Sandpoint's first win at Timberlake since Nov. 21, 2013.
"That was kind of something we talked about at the beginning of the game is we have the opportunity to do something that hasn't been done for a while," Love said, "so I was pretty pleased the girls were able to accomplish that."
In Tuesday's win at Bonners Ferry, free throws were the Bulldogs' best friend. On Thursday, their struggles from the charity stripe nearly cost them.
SHS was 3 of 10 from the free-throw line in the final quarter.
Despite the late scare, the Bulldogs led from start to finish.
"We ran some really good offense I thought, especially in that fourth quarter," Love said. "To beat a program like Timberlake is a pretty good feat."
The Bulldogs pounced on the Tigers, the two-time defending 3A state champions, in the first quarter. SHS knocked down three 3s and forced nine Timberlake turnovers to build a 12-3 lead heading into the second quarter.
Sandpoint carried a 7-point advantage into halftime, but Timberlake cut that lead to 22-21 just over three minutes into the second half. Love called a timeout with 4:48 left in the third quarter to try and get his team back on track.
"Timberlake punched us," Love said, "and we suspected they were going to come out and try to cut that lead, and sure enough they did. In the timeout, we talked about how we just got to calm down and execute some stuff, and it will be a lot like the first half."
Well whatever Love said worked because the Bulldogs went on a 10-3 run following the timeout. After that, Sandpoint maintained a comfortable advantage until Timberlake made its late attempt at a comeback.
Kelsey Cessna led the team with 11 points and three steals. Daylee Driggs finished with 10 points and six rebounds, and Sofia Platte grabbed 6 points and six rebounds.
"Sofia was just a beast down [in the post] that they couldn't handle," Love said.
Tru Tomco scored 6 points and Aliya Strock had 4. Anna Reinink added 3 points, 10 rebounds and five assists.
After starting the season 2-5, Sandpoint has won six of its last seven games.
"The kids are learning how to win," Love said, "and I hope we still have kind of that magic in some of these upcoming games."
The Bulldogs (8-6) host Moscow open 4A Inland Empire League play at 7 p.m. Tuesday.
Sandpoint 12 8 12 11 — 43
Timberlake 3 10 13 12 — 38
SANDPOINT — Cessna 11, Driggs 10, Reinink 3, Tomco 6, Richardson 0, Owens 2, Strock 4, Lyons 1, Platte 6.
TIMBERLAKE — Soumas 3, Kronenberg 12, MacArthur 2, Wall 0, Needs 7, Patrick 5, Chase 9.
Recent Headlines
---