Wampus Cats thump Warriors on Senior Night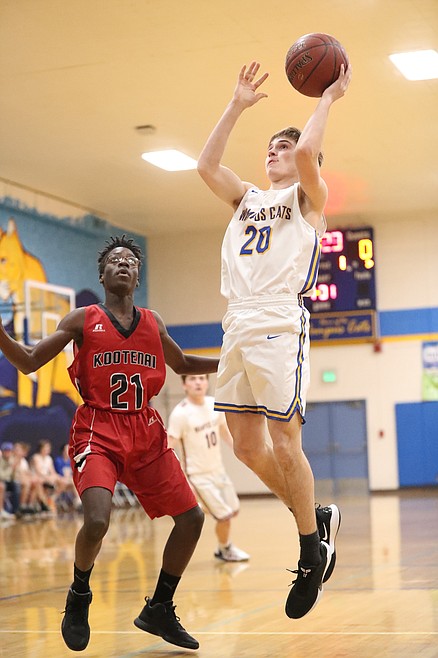 Senior Sam Barnett converts a layup against Kootenai.
(Photo by DYLAN GREENE)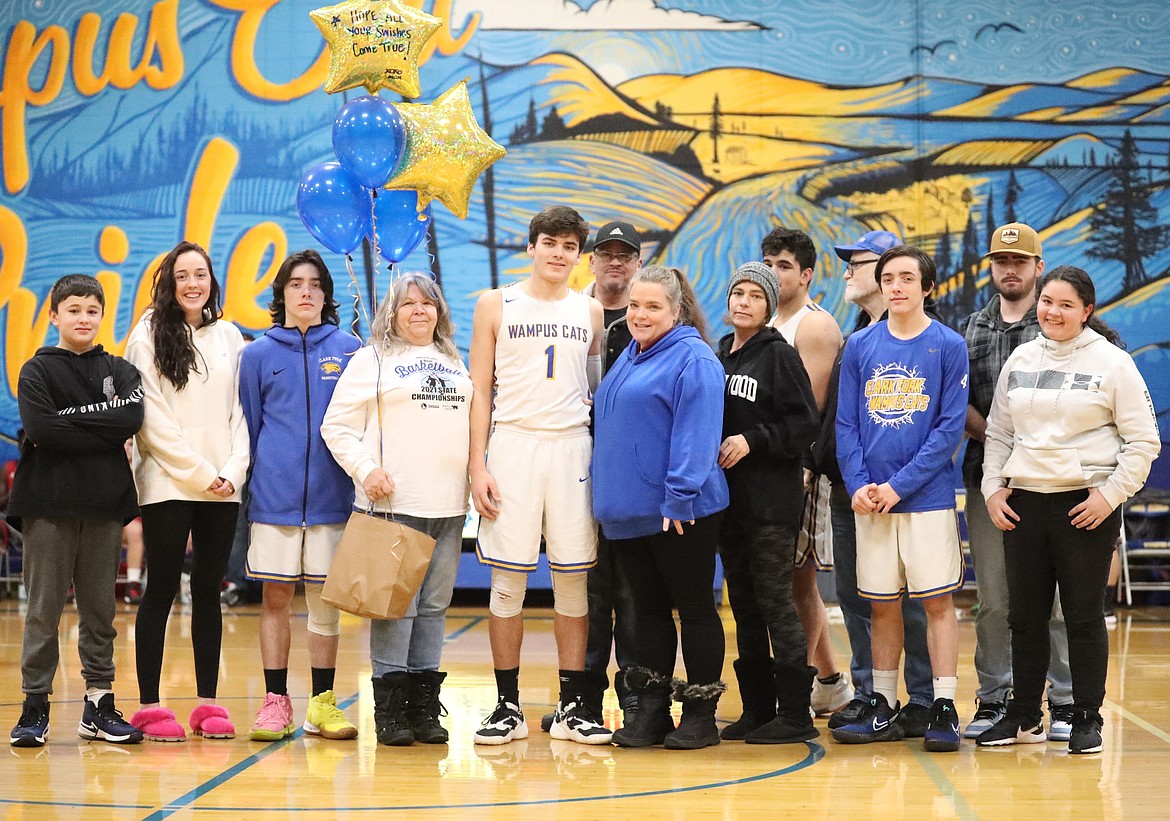 Carter Sanroman celebrates Senior Night with his family.
(Photo by DYLAN GREENE)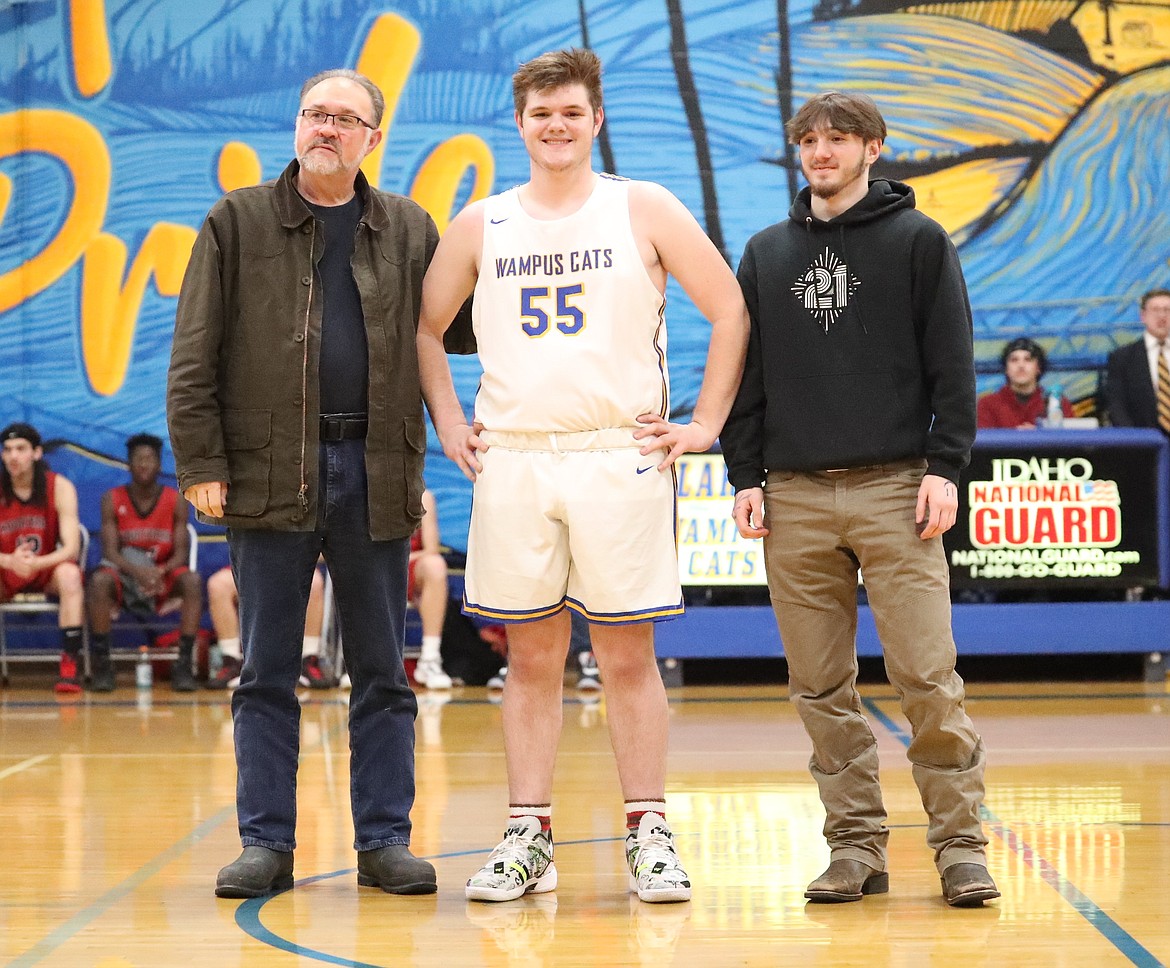 Zach Mueller celebrates Senior Night with his family.
(Photo by DYLAN GREENE)
Sam Barnett celebrates Senior Night with his family.
(Photo by DYLAN GREENE)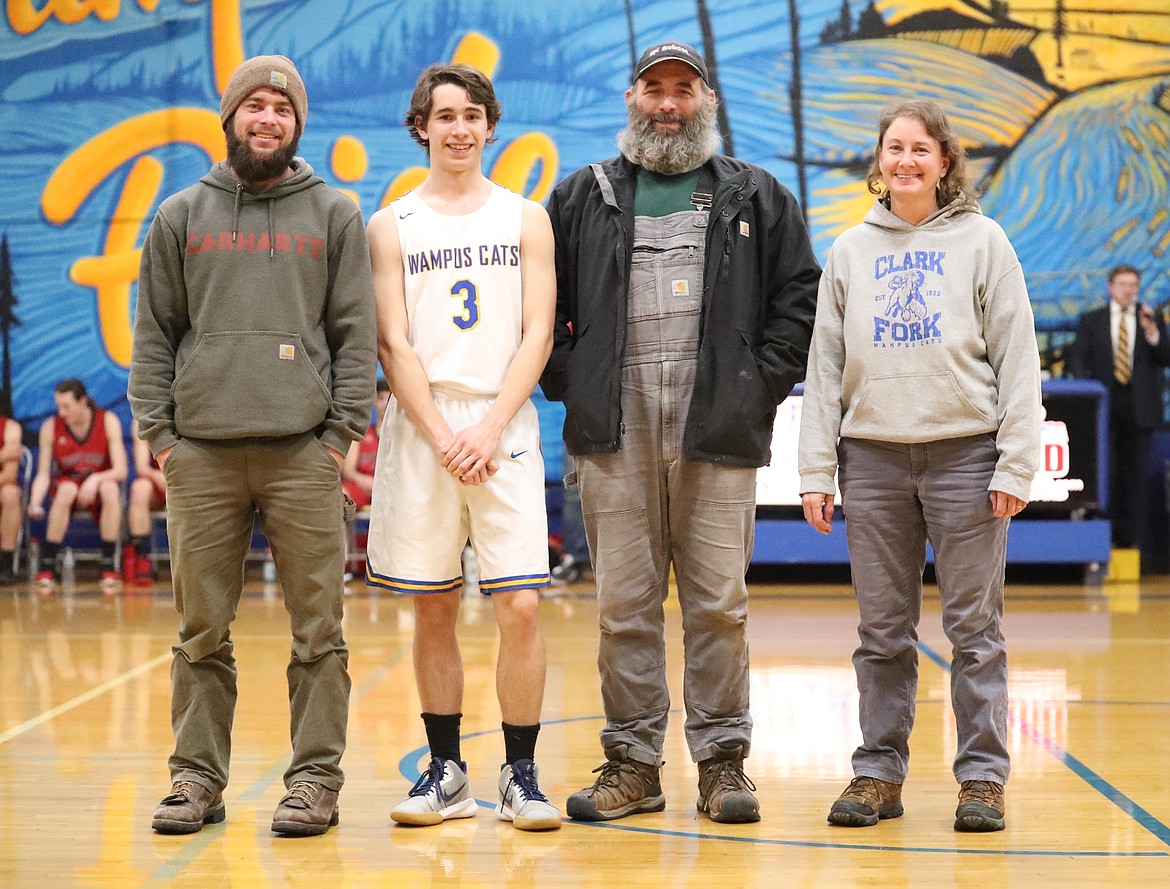 Joe Bopp celebrates Senior Night with his family.
(Photo by DYLAN GREENE)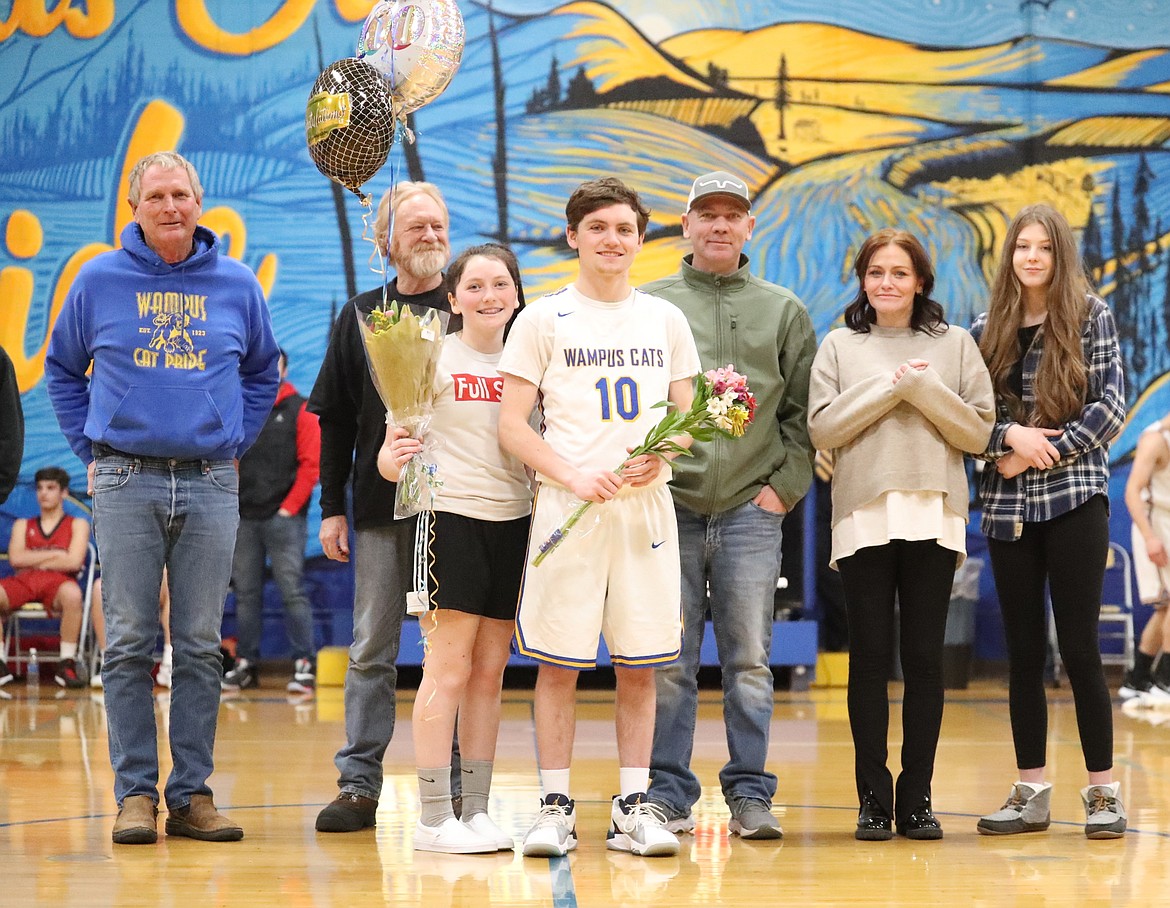 Cole Reuter celebrates Senior Night with his family.
(Photo by DYLAN GREENE)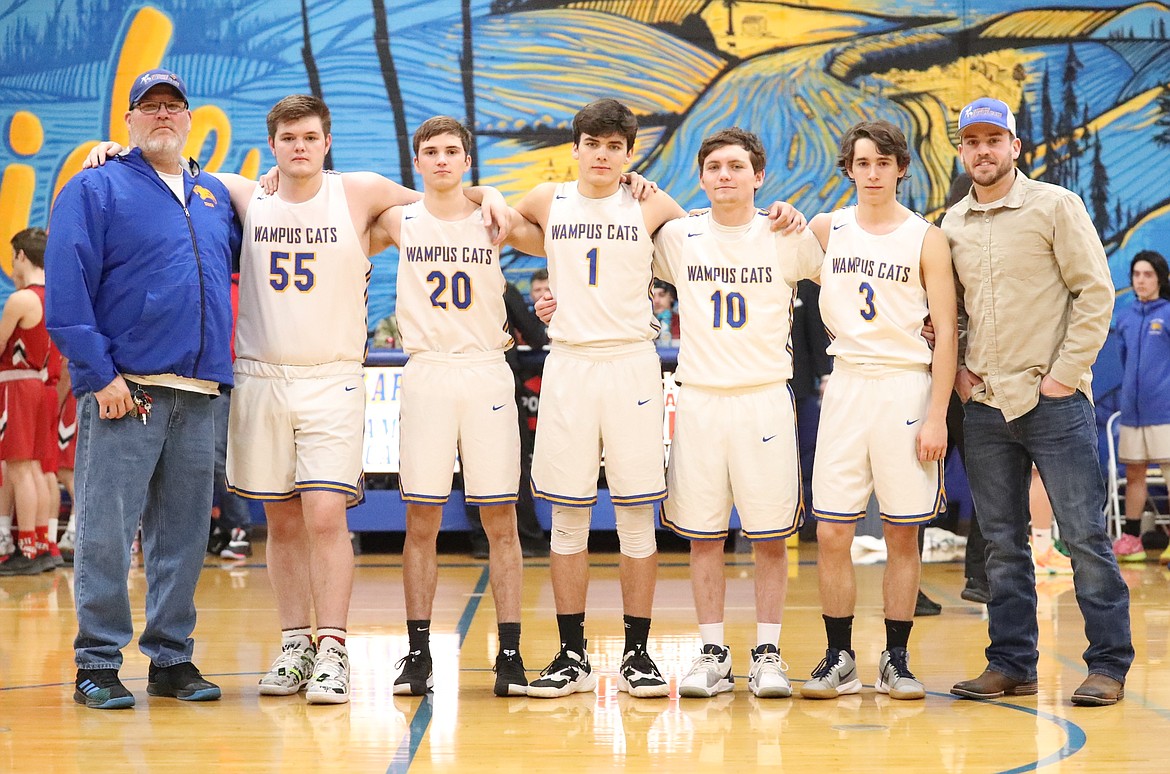 Clark Fork honored its five seniors prior to Friday's game. Pictured (from left): head coach Heath Beason, Zach Mueller, Sam Barnett, Carter Sanroman, Cole Reuter, Joe Bopp and assistant coach Stillman Berkley.
(Photo by DYLAN GREENE)
Previous
Next
|
January 14, 2022 11:51 PM
CLARK FORK — A victory for the Clark Fork boys basketball team was never in doubt Friday night.
The Wampus Cats throttled Kootenai 76-9 to improve to 2-0 in North Star League play.
It was a special night as Clark Fork honored its five seniors prior to the game — Carter Sanroman, Sam Barnett, Cole Reuter, Joe Bopp and Zach Mueller.
They were all in the starting lineup and the team did everything they could to get all five a basket — and they did.
"It was all about the seniors," head coach Heath Beason said. "I wanted to make sure that they were able to play together to start and finish the game. They were able to play with their friends and family members ... and they got to pick the players they wanted to play with for the final time as seniors."
The Wampus Cats outscored the Warriors 30-5 in the first quarter and never looked back.
Clark Fork forced 16 turnovers in the first half and held Kootenai scoreless in the second quarter. The Wampus Cats completely shut down their league foe.
"Our goal was to be the best defense we can be, not offense because we know we can score ... and I think we accomplished that," Beason said.
Carter and Barnett both shined in front of the home crowd. Carter tallied 20 points, eight rebounds, five assists and three steals, while Barnett finished with 18 points, seven rebounds and five steals.
Barnett was feeling it in the first quarter. He scored 16 points in the frame. Beason said he talked to his point guard about being more aggressive, and Barnett has taken that message to heart so far this season.
"The kid has been unstoppable," Beason said. "He has definitely stepped up his game and I'm not stopping him, I'm just letting him go."
Ethan Howard had 8 points, Nathan Shelton and Cole Sanroman each scored 6, and Reuter and Chase Sanroman both grabbed 5.
Clark Fork (5-6, 2-0 NSL) travels to Timberlake JV at 6 p.m. Monday.
Kootenai 5 0 2 2 — 9
Clark Fork 30 16 20 10 — 76
KOOTENAI — Defoort 5, Orford 0, Moore 0, Zavala 0, Hysell 0, Anderson 0, C. McGann 2, B. McGann 0, Hodges 2, Tiller 0.
CLARK FORK — Ca. Sanroman 20, Barnett 18, Reuter 5, Bopp 2, Mueller 2, Shelton 6, Howard 8, Mayorga 4, Ch. Sanroman 5, Co. Sanroman 6, Mintken 0, Ramsay 0.
Recent Headlines
---