Inside Edge: Locals impress in first Youth Ski League races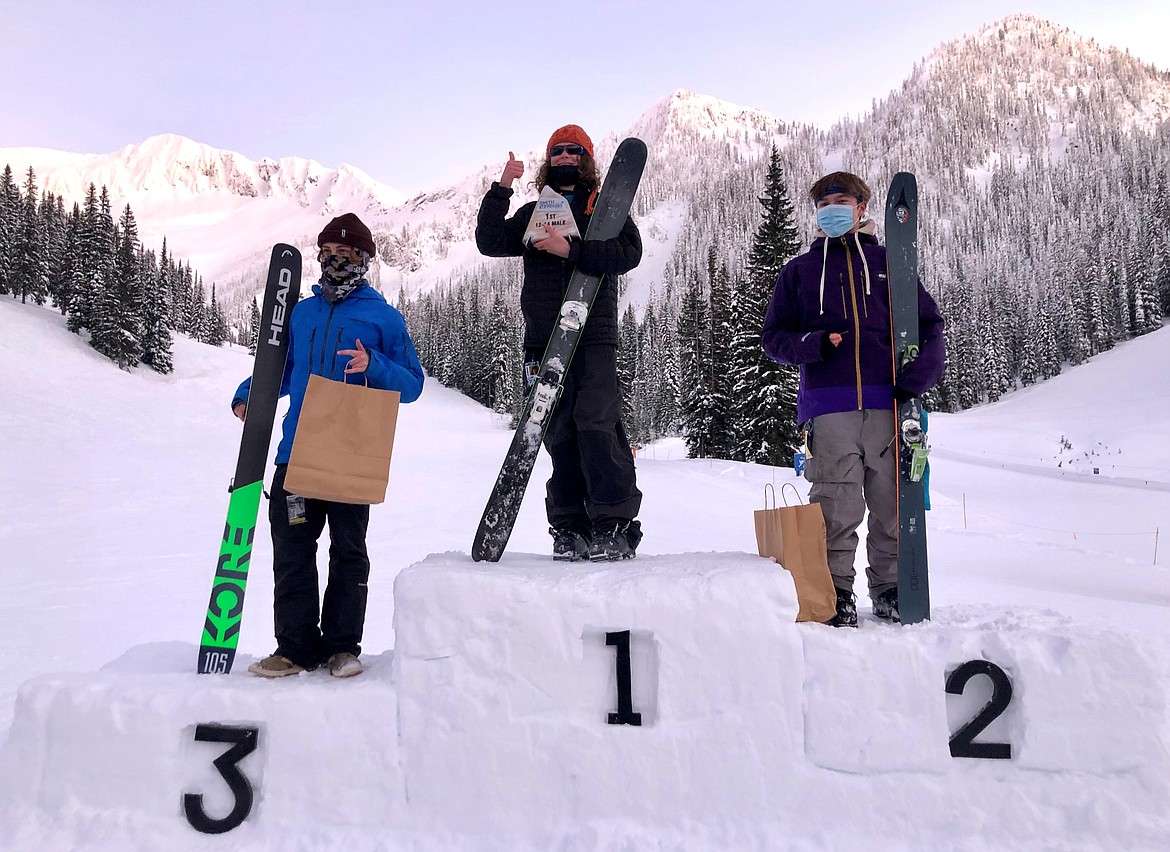 Sandpoint High School freshmen Miles Wheatcroft and Ivan Jones competed in an IFSA Junior Regional event in British Columbia this past weekend. Wheatcroft (left) took third in the boys 12-14 age group and Jones (right) placed second.
(Photo courtesy of WOODS WHEATCROFT)
by
SHEP SNOW/Contributing writer
|
January 14, 2022 1:00 AM
It's a winter sport, but sometimes there's just nothing one can do. The Northwest Cup races at Crystal Mountain in Washington were canceled this past weekend as a result of 5 feet of snow closing all the mountain passes. Likewise, snow and wind canceled the opening day of the Independence Junior Race Series last Friday.
Emerald Empire Youth Ski League — The regional U12 crowd assembled at Schweitzer last weekend for the first races of the year. Two giant slaloms were held for boys and girls, and about 95 racers competed in each event.
Despite a big powder week, the Schweitzer grooming crew put in the extra miles, providing a firm racing surface. Results for local racers (Top 15 only) are below.
In U12 girls, Elaina Stiller led local finishers with fifth and 13th place results. Zayda Ambauen was 14th Saturday. In U12 boys, Wyatt Lemon walked away with a gold and a silver. Landon Buoy was close behind with a silver and a fourth. Logan Johnston was ninth Sunday.
Libby Welker had a great weekend in the U10 girls races, grabbing two silver medals. Stella Albright took fifth Sunday and Jordan Lemon placed seventh and ninth. In U10 boys, Solen Landwehr secured two silver medals. Teammate Brig Ambauen was fourth both days.
Isla Sear was seventh Saturday in U8 girls action. In U8 boys, Summit Albright won bronze Saturday and was fourth Sunday, Logan Johnson placed fifth Saturday and seventh Sunday. Wade McCoy earned 14th Sunday. Other local participants were Clara Sherman, Faith Stephany and Cody Warwick.
IFSA regional competition — Whitewater Ski Resort in British Columbia hosted a International Freeskiers Association Junior Regional competition this past weekend. Two local boys shined in the 12-14-year-old age group. Ivan Jones finished second and Miles Wheatcroft captured third. They are both freshmen at Sandpoint High School.
Independence Junior Race Series — Competition kicks off this Friday. Racers please report to registration in the Lakeside Lodge at 5 p.m. to meet your coaches. There will be no same-day registration.
World Cup — Mikaela Shiffrin experienced highs and lows this week. She was disqualified in slalom at Kranjska Gora, Slovenia – her first in four years. But she came from behind and won big at Schladming, Austria, notching her 47th slalom win. She has now won more races in a single discipline than any other skier in World Cup history.
Paula Moltzan placed 13th at Kranjska Gora, leading three U.S. women into the points. Nina O'Brien was 25th and Katie Hensien 28th. O'Brien was the only other U.S. woman in the points at Schladming, capturing 19th.
The men head to Wengen, Switzerland, and the longest downhill on the circuit this weekend.
Potpourri — Any comments, recommendations or contributions to this column may be sent to Shep Snow by email at shep@thesnowschool.com. Negative feedback should be sent to someone else.
---