Bulldogs unable to contain Hawks in 4A IEL opener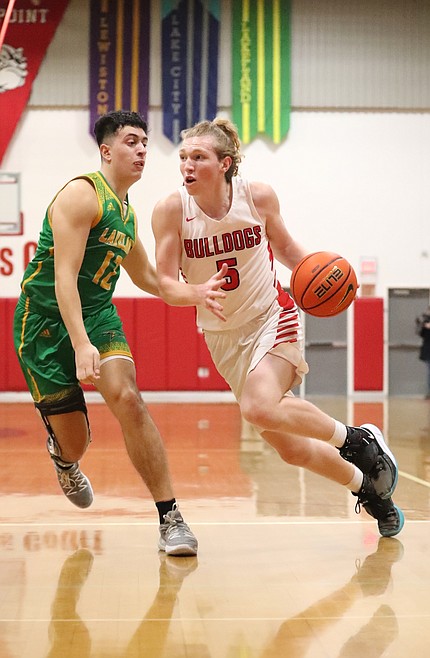 Senior Jacob Eldridge drives toward the paint during Saturday's game against Lakeland at Les Rogers Court.
(Photo by DYLAN GREENE)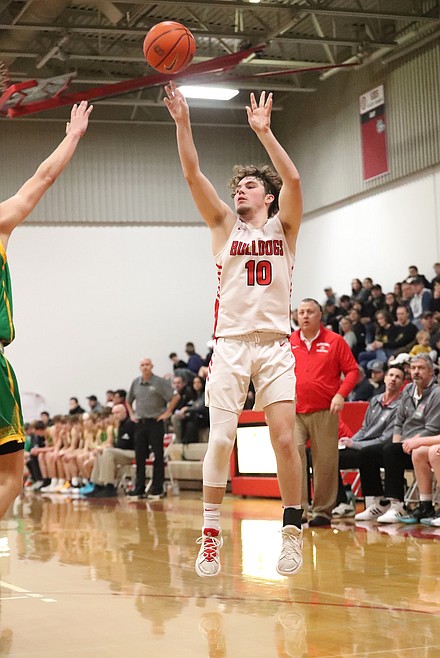 Arie VanDenBerg hits a 3-pointer during the second half Saturday.
(Photo by DYLAN GREENE)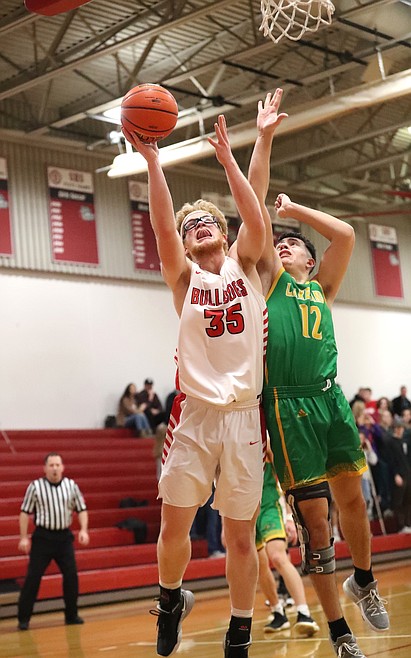 Ethan Butler fights through contact to convert a layup Saturday.
(Photo by DYLAN GREENE)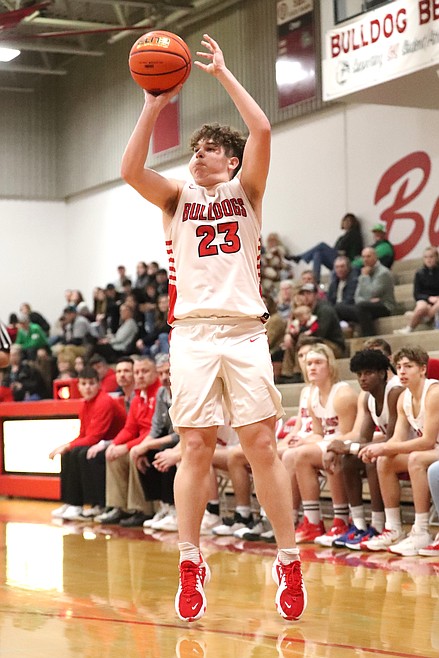 Parker Childs attempts a 3-pointer during the second half Saturday.
(Photo by DYLAN GREENE)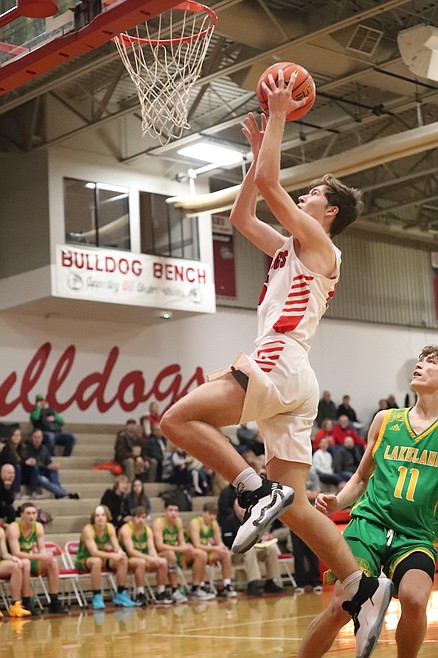 Evan Dickinson rises up to attempt a layup Saturday.
(Photo by DYLAN GREENE)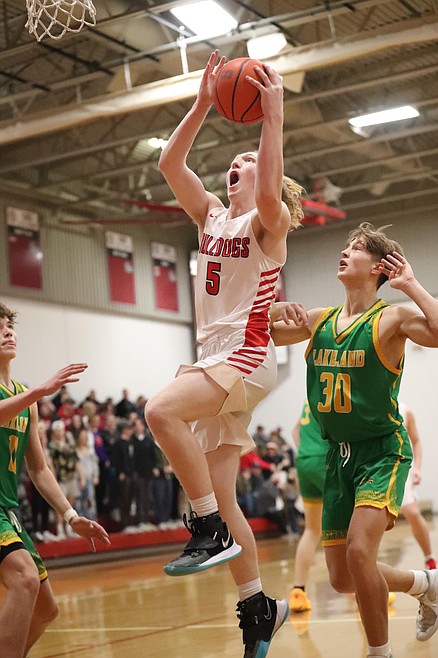 Jacob Eldridge attacks the basket Saturday.
(Photo by DYLAN GREENE)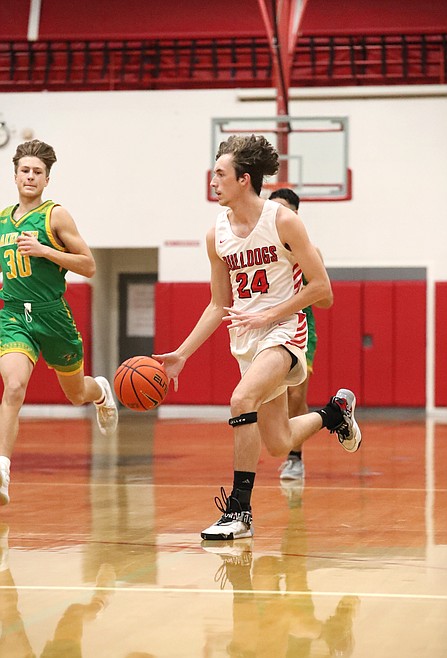 Randy Lane looks to make a play Saturday.
(Photo by DYLAN GREENE)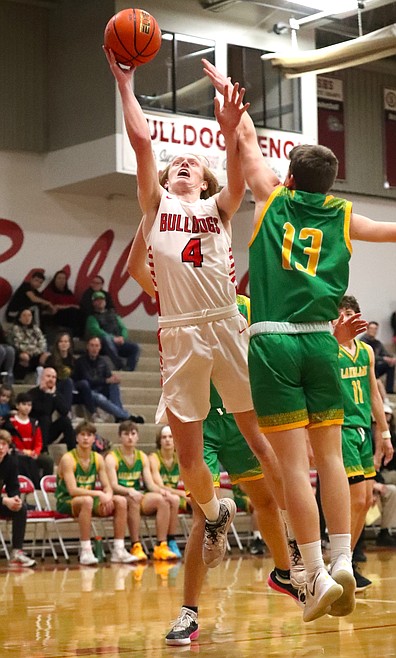 Rusty Lee elevates to convert a layup Saturday.
(Photo by DYLAN GREENE)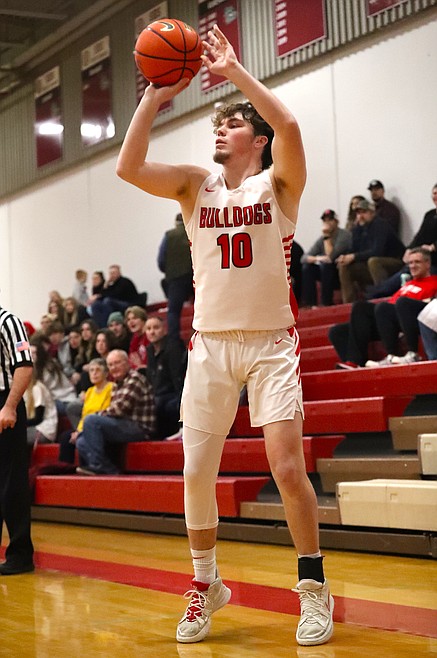 Arie VanDenBerg attempts a 3-pointer in the first half Saturday.
(Photo by DYLAN GREENE)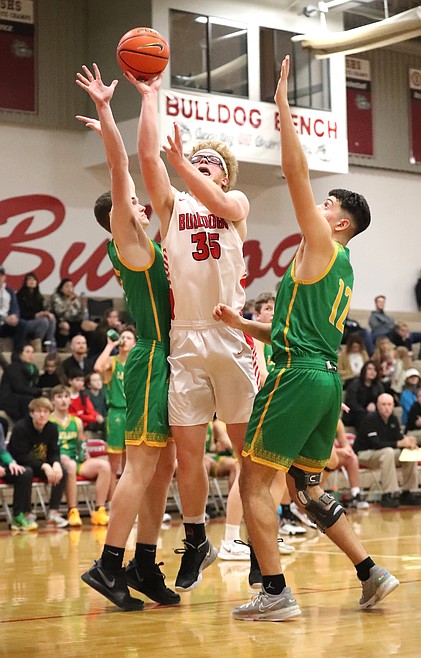 Ethan Butler splits two Lakeland defenders and attempts a layup Saturday.
(Photo by DYLAN GREENE)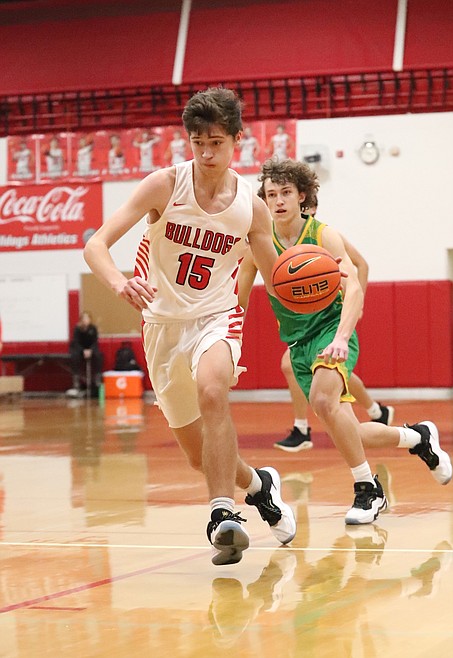 Evan Dickinson drives toward the paint Saturday.
(Photo by DYLAN GREENE)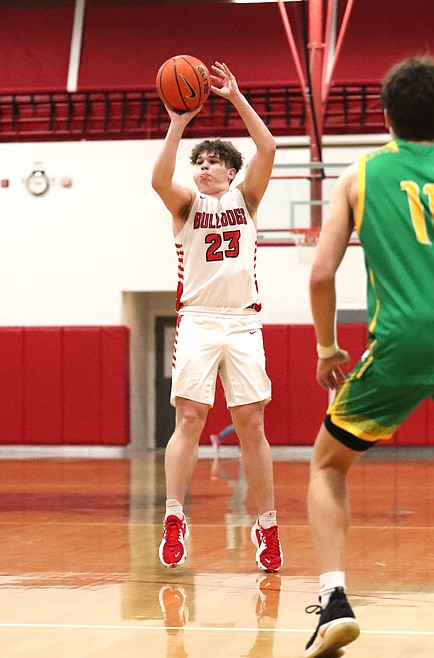 Parker Childs attempts a 3-pointer in the first half Saturday.
(Photo by DYLAN GREENE)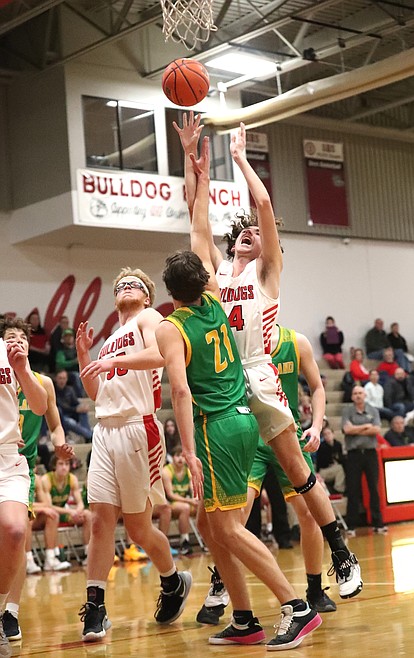 Randy Lane rises up for a shot Saturday.
(Photo by DYLAN GREENE)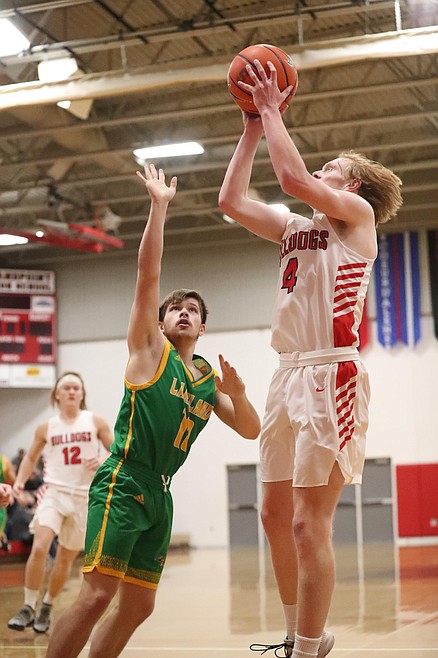 Rusty Lee rises up for a shot over a Lakeland defender Saturday.
(Photo by DYLAN GREENE)
Previous
Next
SANDPOINT — In the opening minutes Saturday, Sandpoint boys basketball appeared to be ready to grab its first win over a 4A Inland Empire League opponent since 2016.
The Bulldogs were up 7-0 less than 90 seconds into the game and already feeling it from beyond the arc with a pair of 3-pointers. But Lakeland flipped the game in an instant with a 14-2 run in the first quarter and never looked back in an 67-60 IEL victory over Sandpoint at Les Rogers Court.
The Bulldogs had nine unforced turnovers in the first half and were outscored by the Hawks 17-6 in the second quarter.
"We turned the ball over at a rate that you can't just do in a league game against a quality opponent like these guys," Sandpoint head coach Brian Childs said. "... and then things just started to snowball a little bit."
Lakeland stretched out Sandpoint's zone defense in the first half by knocking down six 3-pointers.
"Basketball is a game of momentum and we were able to grab it and kind of extend," Lakeland coach Tony Hanna said. "We had guys hitting big shots for us."
After a blistering start, the Bulldogs cooled off offensively the rest of the first half, and Childs believes that led to SHS giving up some open looks to the Hawks on the other end.
"Us going through that drought I thought affected us a little bit on the defensive end," he said. "We didn't quite have the bounce defensively and we weren't as active."
Lakeland led by as many as 18 points in the second half, but Sandpoint made a push for a comeback in the final quarter. With 6:23 left in the game, the Bulldogs cut the Hawks' lead to 7 points on a 3-point play by Ethan Butler.
But in the end, the Bulldogs just dug themselves too big of a hole.
"We played them evenly in the second half," Child said. "You just can't spot somebody two quarters."
One thing that couldn't be questioned Saturday was Sandpoint's effort. They forced several turnovers down the stretch and kept fighting until the final whistle. The Bulldogs outscored Lakeland 39-33 in the second half.
"The kids battled and they competed," Childs said. "That urgency we had in that fourth quarter, that's just kind of where we need to be for 32 minutes."
Rusty Lee and Randy Lane each scored 16 points for the Bulldogs, Butler finished with 11 points and six rebounds, Parker Childs had 9 points and Arie VanDenBerg added 6 points. Lee also tallied nine rebounds and six assists, and Lane grabbed four steals.
Bryce Henry led Lakeland with 22 points.
Sandpoint has now lost 27 straight games to 4A IEL opponents.
The Bulldogs (4-8, 0-2 IEL) head to Moscow at 7 p.m. Tuesday.
Lakeland 17 17 14 19 — 67
Sandpoint 15 6 19 20 — 60
LAKELAND — Nowell 0, Cameron 5, Kings 0, Henry 22, Munyer 8, Hocking 10, Roth 14, Haug 0, Loutzenhiser 2, Waddington 6, Pearson 0, Anderson 0.
SANDPOINT — Lee 16, Eldridge 2, VanDenBerg 6, Dunkel 0, Dickinson 0, Childs 9, Lane 16, Butler 11.
Recent Headlines
---