Clark Fork holds off Timberlake JV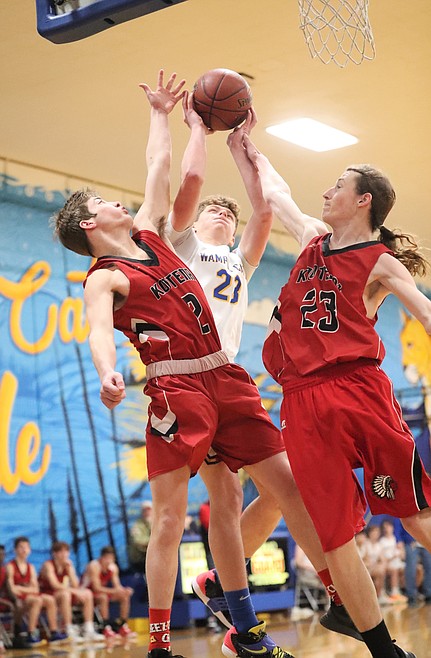 Ethan Howard (center) rises up to attempt a shot over a pair of Kootenai defenders at CFHS.
(File photo by DYLAN GREENE)
|
January 18, 2022 1:00 AM
SPIRIT LAKE — Clark Fork boys basketball gritted out a 44-32 victory over the Timberlake JV team on Monday night.
The Wampus Cats, who bested their win total from last season with a victory over Kootenai this past Friday, weren't at their best, but they did just enough to get the job done, head coach Heath Beason said.
"We struggled this game," he said. "We were tired, we weren't moving our feet and our defense was slow."
Clark Fork outscored the Tigers 30-14 in the second and third quarters.
Beason said his team made a handful of mistakes in the fourth quarter and they just squeaked out the win on tired legs.
"We had some really good moments ... We just need to stay a little more focused," he said. "I think we're going to get back to conditioning [Tuesday] and get ready for the next game."
Carter Sanroman tallied 11 points and five steals, Sam Barnett grabbed 11 points and five rebounds and Nathan Shelton finished with 10 points, nine rebounds and three steals. Ethan Howard added 6 points and six rebounds.
"This was an emotional, physical game," Beason said.
The Wampus Cats (6-6) host Wallace at 7 p.m. Thursday.
Clark Fork 9 15 15 5 — 44
Timberlake JV 8 8 6 10 — 32
CLARK FORK — Ca. Sanroman 11, Barnett 11, Shelton 10, Howard 6, Mayorga 2, Reuter 2, Bopp 0, Ch. Sanroman 2, Co. Sanroman 0, Mintken 0, Matteson 0.
TIMBERLAKE JV — Asmpirehers 0, Antone 0, Yetter 0, Paslay 0, Higgins 13, Valliers 4, Schultz 2, McArthur 12, Krupp 1.
---