Bulldogs fall short at Moscow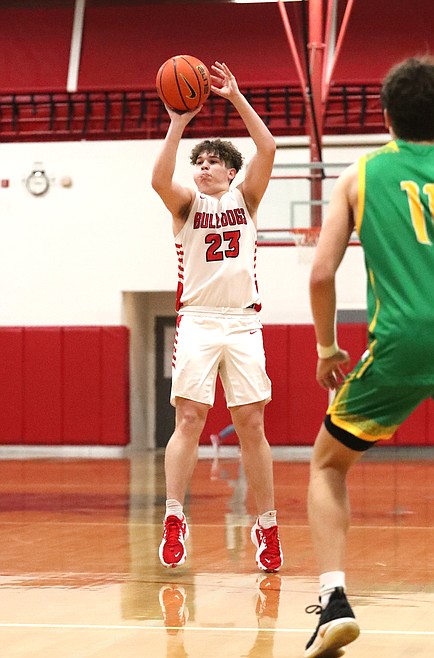 Parker Childs attempts a 3-pointer against Lakeland at Les Rogers Court.
(File photo by DYLAN GREENE)
|
January 18, 2022 10:47 PM
MOSCOW — Sandpoint boys basketball dropped its third straight game Tuesday night.
The Bulldogs lost to Moscow 71-57 in Inland Empire League action.
Head coach Brian Childs said the score doesn't reflect how close the game was.
"We had a stretch where we had a couple unforced turnovers, a couple missed shots and they capitalized," he said. "They're a good shooting team and they are obviously hard to beat down here ... It's a tough place to play."
Sandpoint got off to a great start and grabbed a 14-12 first-quarter lead. However, the Bears live and die by the 3-pointer and they knocked down 11 in the game.
"We got the shots that we wanted, we just missed some shots in the first half that could have gotten us a little bit of a lead," Childs said. "Nonetheless, we competed hard tonight."
Moscow outscored Sandpoint 18-9 in the fourth quarter and hit 9-of-10 free throws.
This is Sandpoint's 12th straight loss to the Bears.
Childs said he saw a lot of improvement from Saturday's home loss to Lakeland and he thought his squad handled Moscow's press really well.
"We turned them over quite a bit for as good of guard play as they have," he said, "and we contested a lot better than we did on Saturday ... We just have to find a way to score a few more points."
Parker Childs scored a team-high 13 points. Ethan Butler and Rusty Lee each had 11 and Jacob Eldridge added 8.
Next up for the Bulldogs (4-9, 0-3 IEL) is the Battle for the Paddle at Lakeland. Tipoff is set for 8 p.m. Friday.
Sandpoint 14 16 18 9 — 57
Moscow 12 18 23 18 — 71
SANDPOINT — Lee 11, Eldridge 8, VanDenBerg 4, Dunkel 3, Dickinson 3, Childs 13, Lane 4, Butler 11.
MOSCOW — Kees 2, Simpson 17, Rehder 15, Isakson 6, Abendroth 5, Brown 16, Strong 3, C. Skinner 0, Z. Skinner 5, Hillman 2.
---