Inside Edge: Schweitzer hosting Northwest Cup action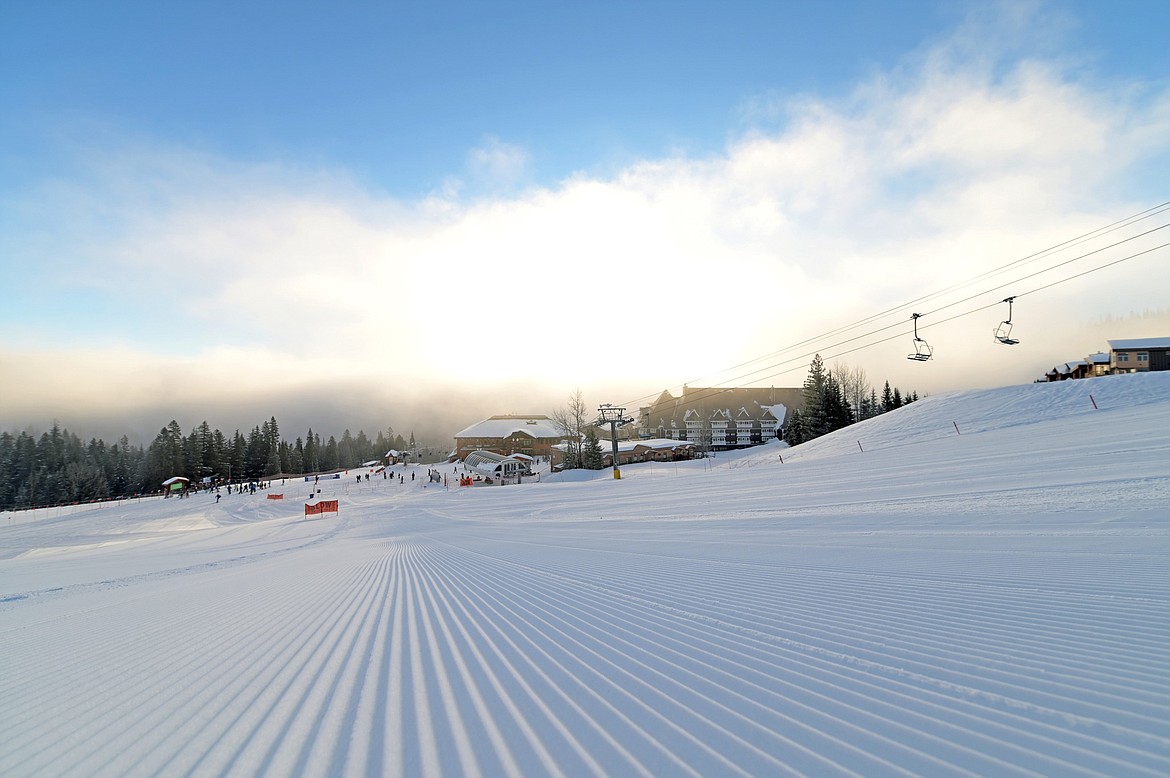 Watch for racers on the mountain as Schweitzer hosts the first leg of the Northwest Cup today and Friday.
(Photo courtesy of SCHWEITZER MOUNTAIN RESORT)
by
SHEP SNOW/Contributing writer
|
January 27, 2022 1:00 AM
The off-piste softened up a little and we may get some new snow by Sunday. Meanwhile, the groomers are ripping. Watch for racers over the next few days as Schweitzer hosts the first leg of the Northwest Cup on Zip Down.

U14 Qualifiers — Schweitzer Alpine Racing School hosted the first U14 qualifier of the year this past weekend. Three local athletes participated.
Jeru Gidley took third in giant slalom and eighth in slalom. Dakota Landwehr had a strong finish in giant slalom, placing eighth, but ran into some troubles in the slalom, grabbing 47th. Halle Wyman secured 39th in slalom and 44th in giant slalom.
Independence Junior Race Series — Competition resumed Friday under clear skies and starlight. The fastest girl was Halle Wyman at 22.24, followed by Faith Stephany at 23.22 and Oline Trygstad at 27.21.
The fastest boy was Landon Buoy at 21.65, followed by Cody Warwick at 23.28 and Olsten Trygstad at 23.38. Most improved girls were Winslow Cox at 19.69% and Savannah Ferris at 14.65%. Most improved boys were Sebastian Stiedl at 49.3% and Anders Trygstad at 28.56%.
The most improved team thus far is Aurora Borealis. The final night of competition is this Friday, followed by an amazing, eat-until-you-explode ice cream party and awards ceremony! See you at 5:30 p.m. at the Clock Tower.
World Cup — The granddaddy of them all, Kitzbuehel! This year the party was impacted by a major storm system and COVID-19. Strange to watch the finish area — normally filled with 70,000 yelling Austrians — quiet as a Sunday morning.
During the first downhill, run on a shortened track due to snowfall, Travis Ganong led the U.S. contingent with a seventh-place finish. He was followed by Bryce Bennett in 11th, Steven Nyman in 21st and Jared Goldberg in 24th. Luke Winters finished 11th in a brutal slalom where 22 men failed to finish the first run and another 11 didn't finish the second, leaving only 19 in the points.
The second downhill of the week was run full length this past Sunday, and Ganong again led the U.S. with an 11th-place finish. He was followed closely by Bennett in 12th. Goldberg placed 19th and Steve Nyman grabbed 21st. Earlier this week, the Tech men's team headed to Schladming for night slalom. Ben Ritchie placed 23rd and Winters was 26th.
The women were at beautiful Cortina, Italy, where Jackie Wiles earned 14th in the downhill and Alix Wilkinson grabbed 18th to score her first World Cup points. Mikaela Shiffrin was 16th in super-G and Keely Cashman scored points by taking 28th. The women then moved on to Kronplatz, Italy for giant slalom. Shiffrin led three Americans into the points, finishing fifth. Nina O'Brien was 15th and Paula Moltzan 17th.
Potpourri — Watch here next week for a full report on the Northwest Cup races. Any comments, recommendations or contributions to this column may be sent to Shep Snow by email at shep@thesnowschool.com. Negative feedback should be sent to someone else.
---