Grizzly bear attacks area livestock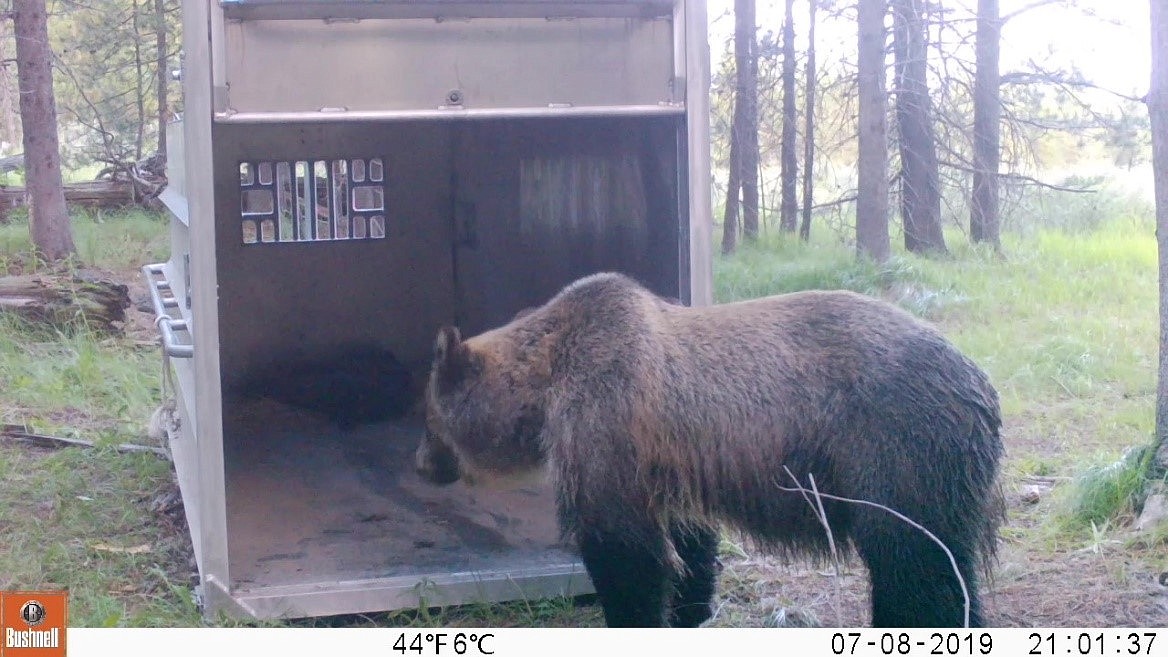 A grizzly bear looks into a trap set by Idaho Fish and Game.
(Photo courtesy JEREMY NICHOLSON/IDAHO FISH & GAME)
by
DANIEL RADFORD
Staff Writer
|
July 5, 2022 1:00 AM
▶️ Listen to this article now.
ELMIRA — Idaho Department of Fish and Game is urging landowners to take precautions following several recent bear attacks on livestock.
A domestic pig was killed by a confirmed grizzly bear near Elmira on June 28 and on the following evening, four goats were killed by a bear on a nearby property, Idaho Department of Fish and Game officials said.
While the species of the bear responsible for the second attack could not be confirmed, IDFG officials said "given the close proximity to the previous attack, it is likely the same grizzly bear."
The Bonner County attacks follow a Boundary County incident in which a domestic pig was killed by a grizzly near Good Grief just south of the Canadian border on June 24.
"In response to the incidents, Fish and Game conservation officers and USDA Wildlife Services staff provided the landowners with electric fencing to secure remaining livestock and set multiple traps in an attempt to capture the bear," officials said in a press release.
In addition, a grizzly bear was shot and killed June 8 in the Ruby Creek drainage. The shooting was determined to be self-defense by IDFG investigators.
In March of this year, Gov. Brad Little signed a petition at the recommendation of the IDFG asking that grizzly bears be delisted from the Endangered Species Act for the state of Idaho. Montana and Wyoming have already filed similar petitions.
"The goal of ESA conservation is 'to bring any endangered species or threatened species to the point at which the measures provided pursuant to [the ESA] are no longer necessary' (16 U.S. Code § 1532)," the March 9 petition states.
"When conservation efforts accomplish this point, but the formal step of delisting does not occur, or worse yet, appears unachievable, we risk conservation tragedy through loss of community support. This risk is even larger when it involves species such as grizzly bears, whose successful conservation requires ongoing intensive management," Little said in the petition.
The IDFG is working to educate the public on how to contribute to effective bear management. Among tips provided on its website:
Electric fences are the most effective deterrent for grizzly bears. If you have livestock, secure them overnight in a barn, or corral them in an electrified fence.
Properly dispose of attractants, including trash, animal carcasses, compost, livestock feed and beehives.
Securely store food, garbage and other attractants in a bear-resistant place.
Keep pet food secured as you do your own. Bears like pet food as much as your pet does.
Avoid filling bird feeders until wintertime.
Do not bury or throw garbage into the nearby woods.
Make sure to clean your grills and keep them in a building, if possible.
When in bear country, always carry bear spray and make sure you know how to use it, always travel in groups, keep a clean camp, and hang meat, food, and garbage at least 200 yards from camp and at least 10 feet off the ground, the IDFG says.
Should you encounter a bear, the IDFG advises to:
Never approach bears, always stay at least 300 feet away.
Do not interrupt bear activities.
Never feed bears.
Carry bear spray and know how to use it.
Never run if you encounter a bear.
The National Park Service urges that, in the case of a bear encounter, "if the bear is stationary, move away slowly and sideways; this allows you to keep an eye on the bear and avoid tripping. Moving sideways is also non-threatening to bears. Do not drop your pack, as this may provide protection in the case of an attack."
Additionally, the NPS warns to "stay calm and remember that most bears do not want to attack you; they usually just want to be left alone. Talk to the bear in low tones; this will help you stay calmer, and it won't be threatening to the bear. A scream or sudden movement may trigger an attack. Never imitate bear sounds or make a high-pitched squeal."
Information: IDFG Panhandle Region, 208-769-1414
Recent Headlines
---