Lakers lose but are still championship bound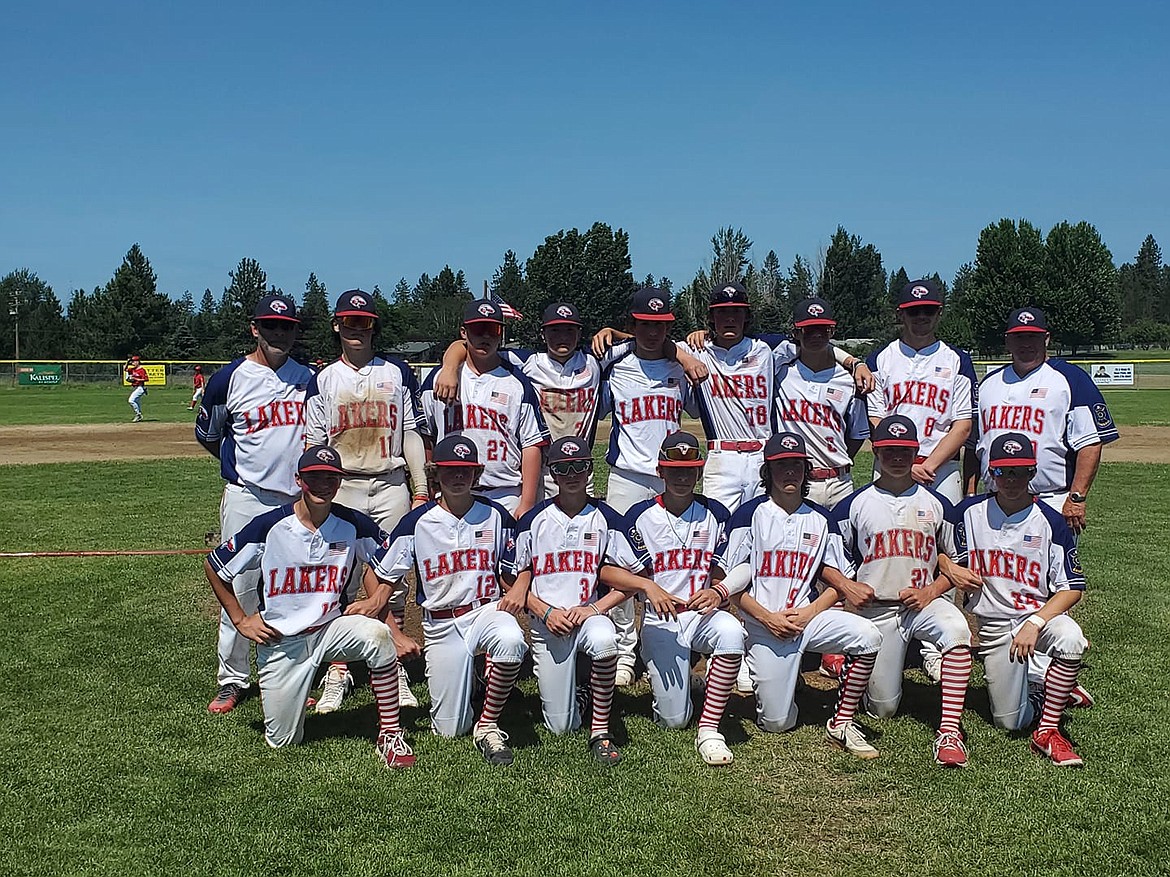 The NI Lakers 16U poses for a picture following the 2022 16U District Championship. Pictured, in the front row, from left to right, are, Jayden Kuprienko, Cooper Zimmerman, Mason Little, Parker Reichart, Cole Sanroman, Gavin Day, Chase Sanroman. Pictured, in the back row, from left to right, are, Coach Ken Oler, Jacob Hansen, Blake Atteberry, Jorden Tyler, Sage Medeiros, Dallen Williams, Soren Caprio, Coach Tyler Connolly, Coach Bill Connolly
(Photo courtesy KEN OLER)
by
TREVAN PIXLEY
Sports Editor
|
July 26, 2022 8:53 PM
The NI Lakers 16U legion baseball team was the only undefeated team remaining in the Washington State "A" Division tournament heading into its semi finals matchup against the Wilder Baseball Club.
Wilder snapped the Lakers three-game win streak with a 10-7 victory on Wednesday at Chehalis High School.
However, even with the loss, the Lakers still booked its ticket to the championship game after its win against the I-5 Jeep Renegades on Tuesday.
The NI Lakers 16U legion baseball team will receive a bye to the championship game and will face the winner of a game between two teams yet to be announced.
Wilder captured the first lead of the ball game during the bottom of the second after a Lakers error.
Williams hit a ball down the second baseline, reaching first base following an errant throw.
The error allowed two runners to score, giving Wilder a 2-0 advantage.
After two scoreless innings, the Lakers were able to get on the board for the first time during the top of the fifth inning.
Hansen notched an RBI single down the left field line to score Medeiros to put the Lakers down 2-1.
WIlder responded by scoring five runs during the bottom half of the inning.
First, Deelon hit an RBI single down the left field line to score two runners, giving Wilder a 6-1 advantage.
The final run of the inning was scored off a Sanroman error at third base, which scored Deleon to put WIlder ahead 7-1.
The Lakers finished the game with five total errors.
The final three Wilder runs were scored following walks with loaded bases in the bottom of the sixth inning.
The Lakers refused to go out without a fight, however, scoring five runs in the top of the seventh.
The NI Lakers 16U found themselves on the right side of an error to start the inning following a Caprio ground ball that scored Little.
The next run was scored following a two-run RBI triple by Tyler. Tyler popped the ball into center field and scored both Hansen and Capiro.
The next at bat, Day notched an RBI single to score Tyler for the game's final margin.
Day led the Lakers at the plate in this one, going a perfect 4-for-4.
The Lakers combined for 14 hits as a team. Little and Tyler both went 2-for-3.
Tyler also started the game on the mound, going four innings, giving up five runs on three hits, and striking out six.
Medeiros came in to finish the game for the Lakers; he gave up five runs on three hits, striking out one.
The pitching duo combined for eight walks.
Recent Headlines
---