NI Lakers 16U books ticket to championship game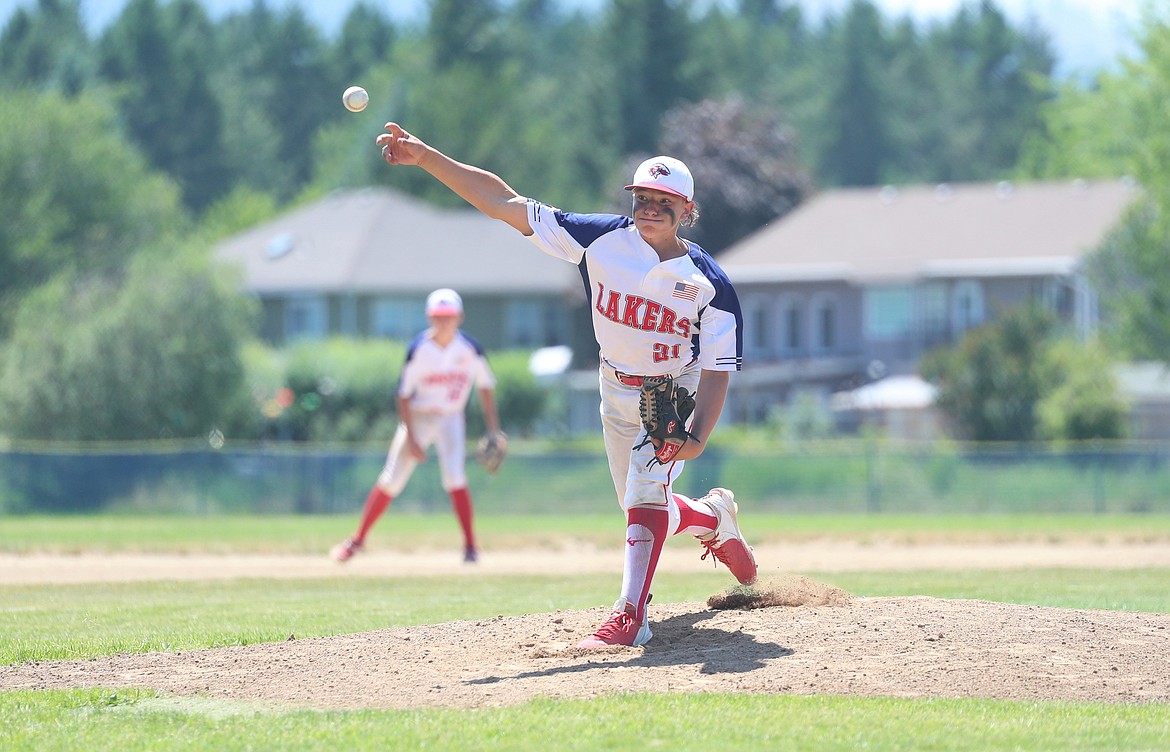 Jorden Tyler pitches during the second game of a doubleheader against Rogers at Pine Street Field in 2021.
(File photo)
by
TREVAN PIXLEY
Sports Editor
|
July 26, 2022 1:00 AM
The NI Lakers 16U legion baseball team is heading to the Washington State "A" Division championship game.
The Lakers downed the I-5 Jeep Renegades 8-5 in the semifinals to book their ticket to the championship game.
The NI Lakers 16U will still have to play one more elimination game before the end of the tournament today against Wilder.
The NI Lakers 16U wasted little time jumping on top of the Renegades, scoring four runs during the opening frame.
After back-to-back walks, Sage Mederios hit an RBI single that scored Caprio and Hansen to give the Lakers a 4-0 edge.
The Lakers combined for nine hits throughout the semi finals matchup, with Day going 3-for-4.
Mederios and Little also notched multiple hits with two apiece.
Atteberry started the game on the mound for the Lakers; he gave up one run on two hits, striking out no batters.
Williams pitched three innings, allowing no runs on one hit, striking out one batter.
Sanroman closed out the game, allowing four runs on three hits, striking out no batters.
Following the win, the Lakers will advance to play in the Washington State "A" Division state championship game today at Chewehalis High School against a team that has yet to be announced.
Prior to its semifinals game against the I-5 Jeep Renegades, the Lakers knocked off the Medical Lake Dirt Dawgs 14U and West Valley Yakima Bees.
The Lakers took down the Dirt Dawgs in the opening round of the tournament 11-1.
Williams went three and ⅔ innings in the opener, striking out four batters and allowing zero hits.
Zimmerman closed out the game and gave up one run on no hits. The duo combined for a no-hitter throughout the five innings.
Offensively, the Lakers notched nine hits throughout the contest, with Jorden Tyler going a perfect 3-for-3 at the dish.
He notched a double along with three RBI.
In the quarterfinals, the Lakers took down the Bees from Yakima 16-9.
The NI Lakers 16U combined for 12 knocks as a team, with Tyler once again taking charge at the plate, going two-for-three with a double and a triple.
Over the last three days, Tyler is 5-for-8 with a double, a triple, and six RBI.
Day also notched a triple and Mediros added a double to his stat line.
Recent Headlines
---