The Heartwood Center reopens for first time since COVID shutdown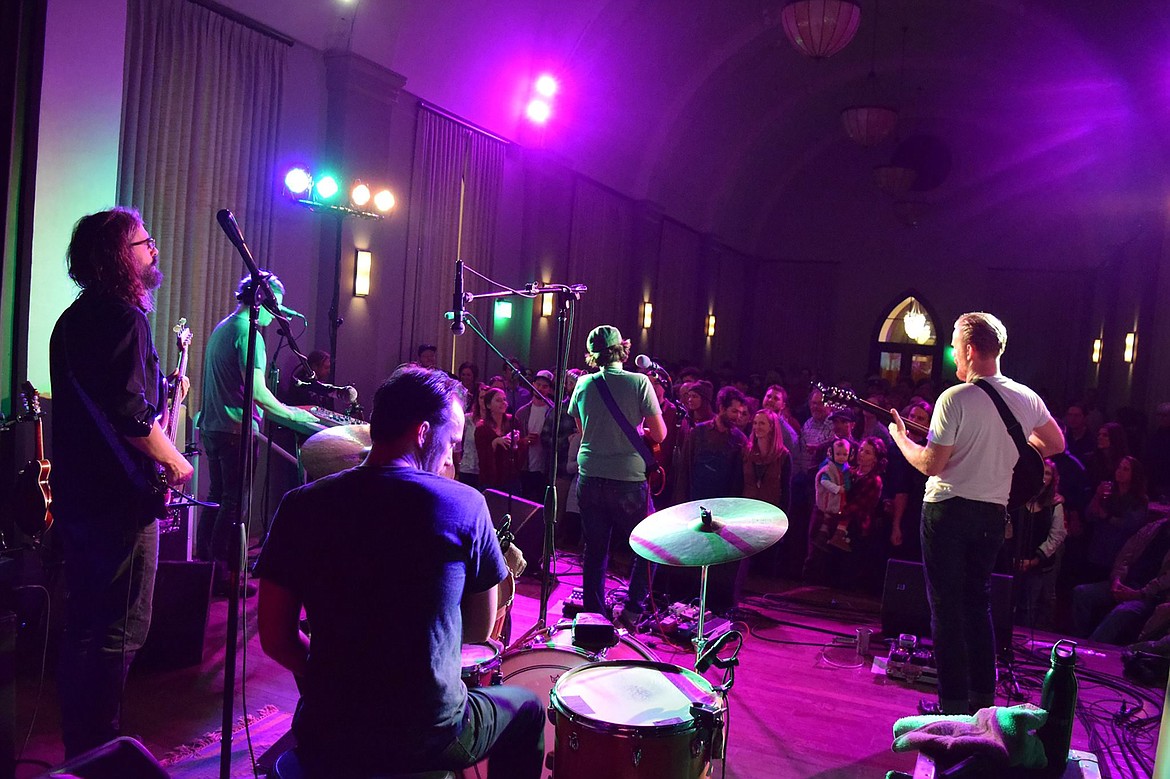 A band performs at the Heartwood Center. The facility has reopened and is kicking things off with a pair of concerts this week.
(Courtesy photo)
SANDPOINT — The sounds of music and life will soon echo once again throughout The Heartwood Center, located on 615 Oak St, near Sandpoint's Granary District.
The center, which closed to the public in spring 2020 due to the COVID-19 pandemic, will begin having public events this week.
Mattox Farm Productions, the new managers of the space, announced two concerts will be held at the center this week.
The first, The Slocan Ramblers, will perform Wednesday, July 28 from 8-11:30 p.m. According to HeartwoodSandpoint.com, The Slocans are "Canada's bluegrass band to watch. Rooted in tradition, fearlessly creative and possessing a bold, dynamic sound."
The second concert will be Sunday, July 31 8-11:30 p.m. Local artist Josh Hedlund will open for Northwest based singer/songwriter Anna Tivel. On Heartwood's website, Tivel is said to tour internationally.
"The characters and imagery that populate her writing are full of breath and vivid color," Robb Talbott of Mattox Farm Productions said in a post to Heartwood's website.
"With four full-length albums out and a fifth on the way, Anna has been likened to a short story writer and praised by NPR, Rolling Stone, Billboard, and others for her keen observations of the human condition," he said.
The Heartwood Center has long been an integral part of the Sandpoint community, Talbott said. "[T]he property underwent an extensive renovation from 2012-2014. Following this renovation, it returned to service as a gathering place for nonprofits, workshops, concerts, theater and for the community at large," until COVID hit.
Since the COVID shutdown in March 2020, Sandpoint Waldorf School has used the center for additional space.
Talbott said his vision is to build on the center's rich history of gathering and community enrichment.
Talbott said he hopes to use this week to get familiar with the space before taking August off to customize the center. Talbott said he plans to have two to three concerts each week by next spring.
"Five years ago, Mattox Farm Productions began organizing family friendly concerts in Sandpoint," Talbott said. "In those short five years, they have hosted events in nearly a dozen different venues in North Idaho including the Panida, the Pearl Theater in Bonners Ferry and the Heartwood Center. Since 2019, they have been organizing the Sandpoint Summer Music Series in Farmin Park." This month, Mattox Farm moved its fulltime operations to the Heartwood Center.
"As always, there will be a focus on curating events that are family friendly and inviting to all. Through partnering with local food vendors, a variety of tastes will be offered to go along with the music," Talbott said.
While Mattox Farm will be utilizing the facility as its base, The center will still be available for weddings, conferences, fundraisers, and other events, Talbott explained.
He added he is looking forward to hosting a variety of concerts and shows, from country to funk to DJs as well as plays and comedy at the center.
"It really just depends on what the community will support," Talbott said.
Recent Headlines
---