Bulldogs of the future faces off against the past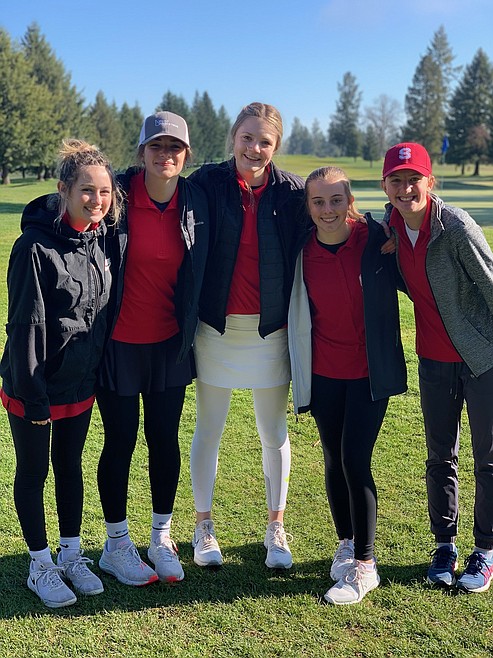 The Sandpoint girls golf team posing for a picture following a seventh place finish at the Wandermere Golf Course. Pictured, from left, are Taylor Granier, Alexa Tuinstra, Demi Driggs, Taylor Mire, and Reagan Samuels.
(Photo courtesy of ERIN ROOS)
by
TREVAN PIXLEY
Sports Editor
|
July 29, 2022 1:00 AM
Mike Deprez, Sandpoint High Schools varsity golf coach, put together a unique event to get the 2022 golf season underway.
He decided to put the past against the present with an event at the Elks Golf Course on Tuesday.
This event pinned the projected 2022 Sandpoint varsity golf teams against the 2021 Bulldogs golf squads.
It was a scramble format, where the groups of four split up into duos.
The duos would play off their best ball during each hole.
In the end, the experience is what got the job done, with the 2021 varsity Bulldogs' lineup taking the victory over the 2022 squad.
On the girls' side, it was a close matchup, with the 2021 roster just etching out 2022 by one, 21-22.
The 2022 squad had a solid showing against the 2021 team who has a state championship banner under their belt.
For the 2022 team, Tuinstra and Mire notched two and a half, with Sheffler and Driggs finishing with a 3 and a half.
For the 2021 girls, Deprez and Larson finished with a score of 6 and a half, with Kanning and Neuder finishing with a five and a half.
For the boys, it wasn't as close, with the 2021 team taking the victory 24 and a half to 11 and a half.
Aexel and Samuels as a pair mirrored the scores of Wilks and Owens with a four and a half.
Bailey and Bird finished with an eight for the 2021 boys team with Dillon and Bauck/Young finishing with a total of one point.
This matchup will help prepare the 2022 Bulldogs golf team for the season ahead, which begins soon.
The 2022 golf season is slated to begin in early August.
Recent Headlines
---