Sandpoint Sharks' season ends with high points and fast times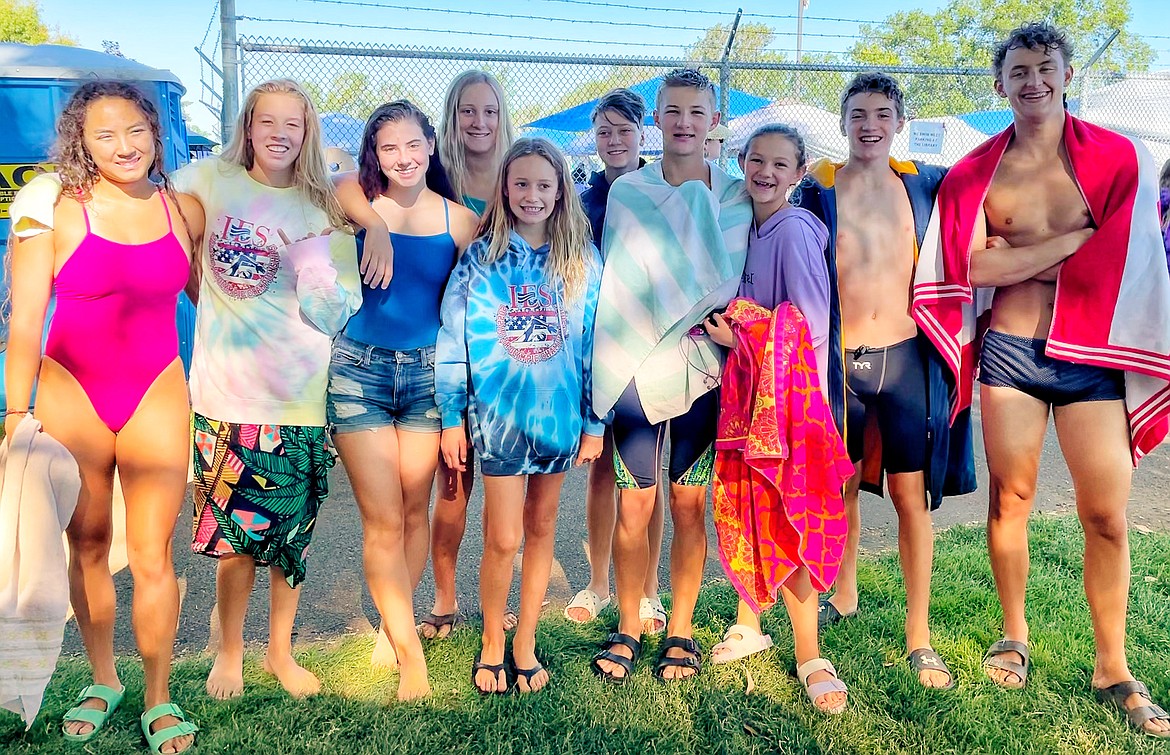 The ten Sandpoint Shark swimmers who qualified for the next meet. Pictured, from left, are Ayiana Prevost, Mia Driggs, Ryleigh Bamer, Ava DeLeeuw, Athena DeLeeuw, Terra Converse, McCoy Jensen, Myelle Jensen, Lou Foust, Caleb Norling
(Photo courtesy MEGGIE FOUST)
by
TREVAN PIXLEY
Sports Editor
|
July 29, 2022 1:00 AM
The Sandpoint Sharks wrapped up the summer season with a very strong showing at the 2022 IES Long Course Junior Olympics last weekend in Pasco.
Ten Sharks made the qualifying times necessary to compete and those ten made a strong statement in their swims.
"Last year at this meet we had a total of 17 swimmers attend," Sandpoint Sharks coach Sara Zwink said. "We came in 15 place and scored a total of 170 points. This year we had 10 swimmers attend and we placed 10 out of 17 teams and scored a total of 464 points. That's a huge difference for our small but mighty team."
Myelle Jensen contributed several points to the team's score by placing first overall in seven of her events. She received the high point award for girls 10 and under.
Also contributing quite a bit to the team score was teammate of the meet, Lou Foust.
"Foust qualified for the finals in every single event he swam," Zwink said. "He came over to the coaches table with a smile and asked for feedback from his coaches after each race. He also encouraged all of his teammates the entire weekend."
The Sandpoint Sharks have been committed all summer to their sport and their hard work and dedication is paying off.
Many on the team saw significant time drops over the weekend including Ava Deleeuw, who dropped 29 seconds for a first place finish in the 1500 freestyle with a time of 19:45.61.
Ayiana Prevost also had a big time drop of 14 seconds in the 400-meter freestyle for a time of 5:11.54, finishing eighth. Soon after that she dropped another eight seconds in the 200 breastroke with a time of 3:12.75.
"We know it's not easy to wake up early in the summer every single day and show up to the pool," Assistant Coach Emily Renzini said. "We have a strong and supportive group of kids with a passion for their sport. It's fun to watch."
Caleb Norling, a standout swimmer on both the Sandpoint Sharks and the Sandpoint High School team, qualified for the Arena Western Zones meet in California in several of his events.
He finished the meet with an exciting third place finish in the 100-meter freestyle with a time of 55.98.
"He had his mind set on breaking that 56 second time," Zwink said. "It was fun to watch his goal become a reality."
McCoy Jensen dropped 14 seconds in his 400 freestyle with a time of 5:07.71. He also broke two Sandpoint YMCA pool records for the 100 and 200-meter breaststroke.
"We might have been the smallest team at this meet," Zwink said. "But our swimmers have big goals. I am excited to see what our team will look like in the years to come."
Several Sandpoint Sharks will be participating in the Long Bridge Swim on Saturday, August 6. The Sandpoint High School swim team will begin early morning practices on Monday, August 8.
Recent Headlines
---