Festival at Sandpoint celebrates 'ENCORE' poster, artist
Local photographer Woods Wheatcroft recently the 2022 fine art poster entitled "ENCORE" for the 2022 Festival at Sandpoint season.
Upon selecting photo collage as the medium for his piece, Wheatcroft noted that photo collage, Polaroid, and instant photography remain a vital creative sidecar to the digital age as the motivation behind his selection.
At its core, Wheatcroft said that the inspiration for the poster was the concept of community.
"The people, friends, acquaintances and candid snaps are the foundation for 'ENCORE.' Every person represented in the poster signifies an engagement for me: a sighting, a capturing of human expression and emotion," Wheatcroft said.
His initial inspiration for the style of "ENCORE" was The Beatles Sgt. Pepper's album cover, but it took several hours of experimentation to arrive on process for creating the collage.
"Even after landing on a system that felt viable, I had an 'oh crap, what did I get myself into' moment," Wheatcroft said. "Basically the work required grew exponentially and became very consuming."
In the end, the piece took about 75 hours to complete.
Wheatcroft's goal for the poster is to the energy and connection one experiences at a Festival show.
"The most vital part of the piece for me is to show all of these faces as one connected core, a core that contributes to the integrity and love of a very small and precious community,"
Wheatcroft said. "And while it is seemingly impossible to include everyone, the value is to create a piece of art that reflects upon the significance of community and how we gather."
The original artwork is on display at the Festival and available for purchase by the highest bidder. Copies of the poster are available for purchase at The Festival office and venue for $10.
Information: festivalatsandpoint.com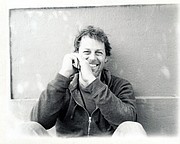 Recent Headlines
---