Summer brings the sweet scent of native roses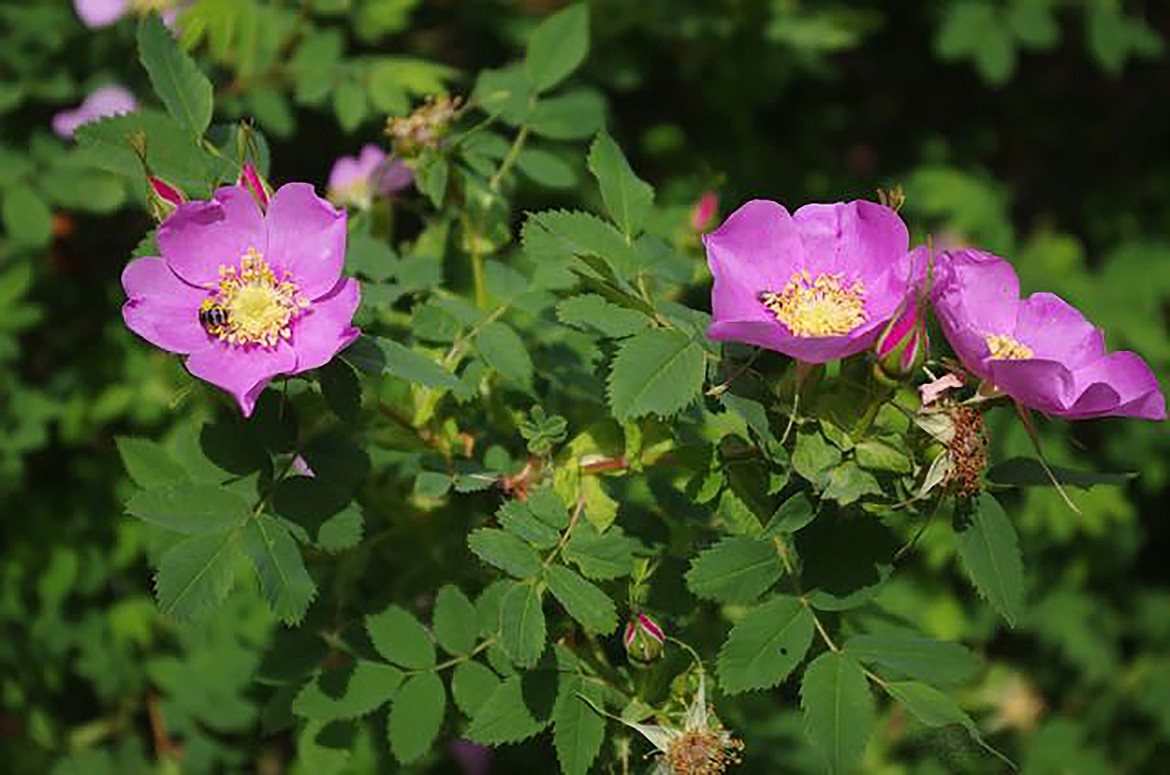 Hiking in the North Idaho woods on an early- to mid-summer afternoon you may catch the scent of roses, including that of the Nootka Rose.
(Photo courtesy OREGONHIKERS.ORG)
by
KINNIKINNICK NATIVE PLANT SOCIETY
|
July 31, 2022 1:00 AM
Hiking in the North Idaho woods on an early- to mid-summer afternoon you may catch the scent of roses. We're blessed to have several native species including the Nootka Rose (Rosa nutkana). Commonly referred to as wild rose, Spalding's rose or bristly rose, the species name nutkana is a variant of Nootka, the name of the American Natives inhabiting Canada's Vancouver Island and northwest Washington.
An erect to spreading, long-lived shrub, Nootka Rose grows at elevations below 7,500 feet in moist to dry terrain. It spreads by seeds and rhizomes to form 3-6 foot high loose thickets of stiff, erect stems which provide cover for birds and small mammals.
Leaves are light green with 5-7 tooth-edged leaflets. Armed with larger prickles than other native roses, Nootka rose thorns are straight, paired and generally appear at nodes.
Nootka Rose grows well in part shade to full sun, though it produces more prolific flowers and fruit with increasing amounts of sun. In May through July, large, solitary flowers appear on branch tips. These five-petaled pink blooms are approximately 2 inches across with a subtle, sweet rose fragrance. Their open faces and abundant yellow stamens attract native pollinators, including mourning cloak and gray hairstreak butterflies, for which it is a larval host. It also supports gall-making (non-stinging) wasps. Deer will eat Nootka Rose focusing on the new growth, but the roses recover easily from browse.
The red fruits, called hips, are round to pear-shaped maturing in August to September. They are somewhat bitter but the rind is edible; the seeds can be irritating. Hips of all wild roses are high in vitamin C and are made into jams, jellies, syrups and teas. The hips remain on the plant throughout the winter, becoming sustenance for small mammals, birds and insects.
Nootka Rose thrives in the dry rock habitat at the North Idaho Native Plant Arboretum, including the wild rose promenade leading up to the timber-frame arbor. Open to the public, parking for the Arboretum is at 611 S. Ella Ave. or on the street.
Learn more about Nootka Rose on Page 100 of the KNPS publication, "Landscaping with Native Plants in the Idaho Panhandle", available at local bookstores and the Bonner County History Museum.
Native Plant Notes are created by the Kinnikinnick Native Plant Society. For more information visit www.nativeplantsociety.org.
Recent Headlines
---