Sandpoint recognizes National Gun Violence Awareness Day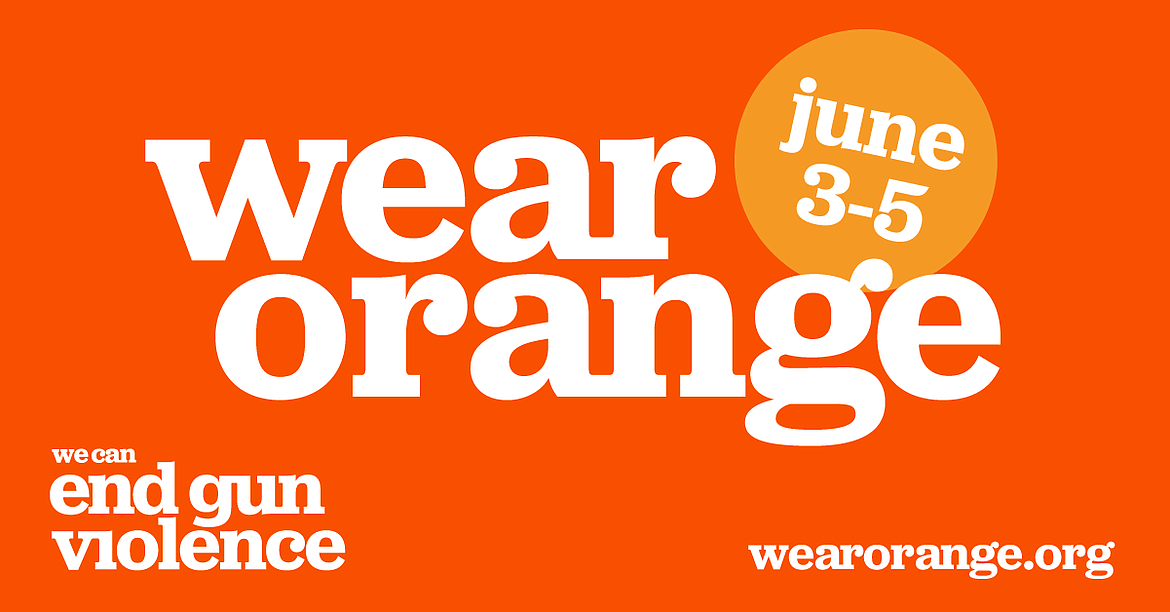 Wear Orange to remember those who have been affected by gun violence in honor of National Gun Violence Awareness Day on June 3,2022
(Photo courtesy WEARORANGE.ORG)
by
BEAUX WHITE EAGLE
Staff Writer
|
June 3, 2022 1:00 AM
▶️ Listen to this article now.
SANDPOINT – National gun violence awareness is being recognized today, a move announced by Sandpoint Mayor Shelby Rognstad at Wednesday's council meeting.
This year, National Gun Violence Awareness Day comes less than two weeks after the May 24 shooting in Uvalde, Texas, which claimed the lives of 19 students and two teachers at Robb Elementary School.
Observed yearly in June, National Gun Violence Awareness Day was founded by the friends of a gunshot victim, Hadiya Pendleton who passed away in 2013 at 15 years old.
Pendleton was a majorette at King College Prep High School, located on the south side of Chicago, Illinois, and performed President Obama's second inaugural parade. One week after the inauguration and one mile away from President Obama's Chicago home, Pendleton was shot in the back and killed while standing with friends at a local park.
First Lady Michelle Obama attended Pendleton's funeral, and the president mentioned the young woman's passing in his 2013 State of the Union address, which was attended by both of her parents.

Two young men were arrested and held responsible for Pendleton's death. Michael Ward, 18, and Kenneth Williams, 20, told police that Pendleton was not the target, they had mistaken Pendleton and her group of friends for rival gang members. Both men were denied bail and charged with first-degree murder, attempted murder, and aggravated battery with a firearm. Trial proceedings began in late August 2018. Williams was found guilty of first-degree murder and aggravated battery, while Ward was found guilty of first-degree murder. By the end of July 2021, both men had been sentenced to a combined total of 126 years in prison. According to ABC7, a Chicago-based news station.

Wear Orange Day began on June 2, 2015, which would have been Pendleton's 18th birthday, not only to honor Pendleton and her family but to honor all of those affected by gun violence. Since its inception, the day has now spread across an entire weekend starting the first Friday in June. The color orange was chosen because it's the color worn while hunting that keeps hunters safe.
Reading the proclamation, Rognstad went over a number of gun violence-related statistics specific to Idaho. Among them is that Idaho is in the top 5 in the country for gun-related suicides and that Idaho sees over 270 gun-related deaths every year. Additionally, the entire nation saw a rise in gun sales and overall city violence. Proving the importance of National Gun Violence Awareness Day.
"I encourage all citizens to support their local community's efforts to prevent the tragic effects of gun violence and to honor and value human lives," Rognstad said.
Recent Headlines
---