Chorale, orchestra present spring concerts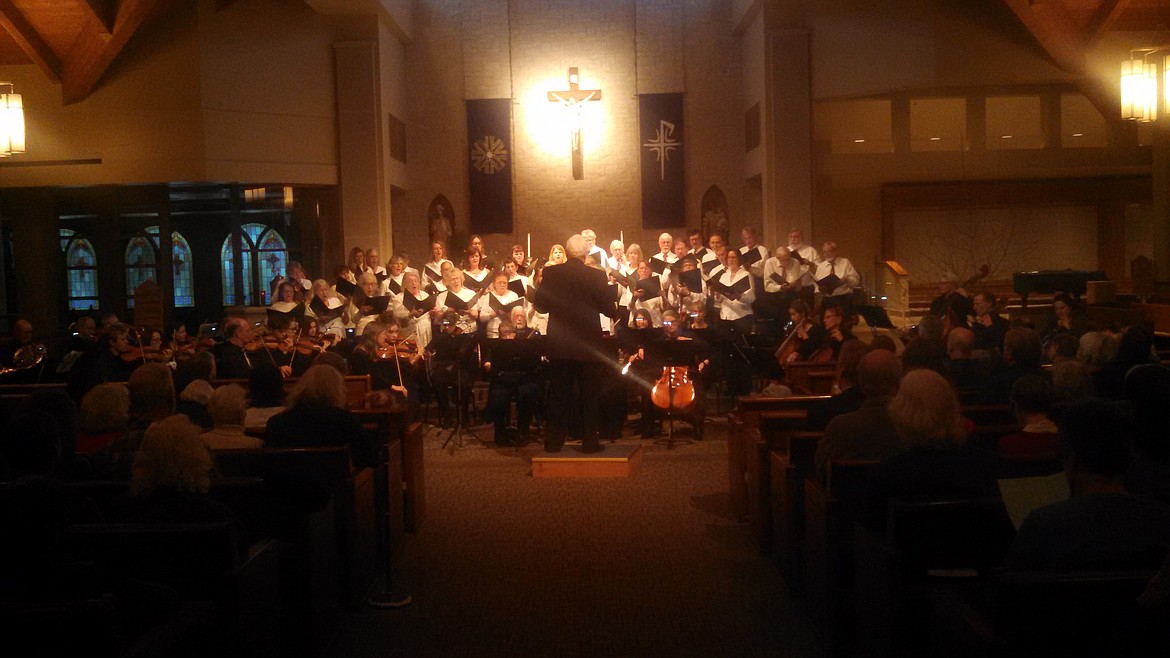 Pictured are members of the Pend Oreille Chorale and Orchestra at a past concert. The group's spring concert will be held at St. Joseph's Catholic Church, 601 S. Lincoln, Sandpoint today and Sunday.
(Courtesy photo)
The Pend Oreille Chorale and Orchestra is presenting its spring concerts beginning today, June 10, at 7 p.m., with a second concert at 3 p.m. on Sunday, June 12.
The concerts, now in their 29th year, will be held at St. Joseph Catholic Church, 601 S. Lincoln Ave., Sandpoint. Concerts will be free as always as a community service.
Pre-program music is a scherzo movement from a piano trio by Lachner, an 18th century composer. It is full of rhythm and vitality. Opening the program will be the chorale singing six selections, ranging from the 1600s to 2008. Various periods of music will be showcased including late Renaissance, romantic, contemporary, 20th and 21st century. Their titles bring forth the message: O Be Joyful, Cantate Domino (Sing a New Song), Cherubic Hymn, The Last Invocation, Time is Eternity, and Invocation for Easter.
"We are trying to uplift the audience with our concerts," said chorale director Caren Reiner. "We are in need of so much shared joy, love and deep spirituality particularly at this time. Hopefully this music will help do that."

The second half of the concert is the orchestra performing two well known pieces, Symphony No. 101, "The Clock" by Franz Joseph Haydn, composed in 1794, and "Peer Gynt Suite No. 1" by Norwegian Romantic composer Edvard Grieg.
"Haydn has a lot of subtle humor written into many of his pieces. Audiences can hear a musical reference to the ticking of a clock in Haydn's second movement," said orchestra director Mark Reiner.
The familiar "Dance in the Hall of the Mountain King" written in 1876 is the climax to Grieg's Suite. In between the two aforementioned pieces is the third movement of Reiner's violin concerto written in 2020, the first two movements were performed in the spring concert of 2021 with soloist Gayle McCutchan.
"The final movement is a cautionary piece dealing with humanity's move into the future," Reiner said.
Recent Headlines
---