Sherill competes at National Wrestling Duals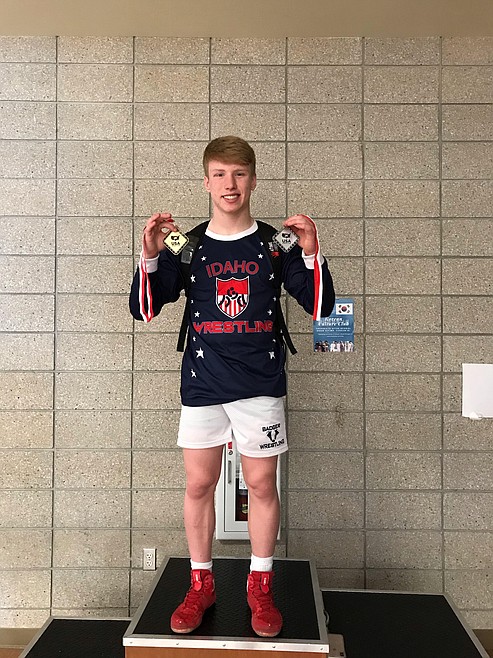 Shane Sherrill competed at the USA Wrestling Idaho State Championships on May 6-7. He was crowned 16U freestyle state champion at 152 pounds and runner up in Greco. He will represent Team Idaho at the national duals this summer.
(Photo courtesy ROB SHERRILL)
by
TREVAN PIXLEY
Sports Editor
|
June 14, 2022 9:54 PM
Sandpoint High School wrestler Shane Sherill competed at the 16U National Wrestling Duals in Loves Park, Illinois on June 7-11.
In freestyle, team Idaho opened up with a victory against Michigan Red by a score of 63-16.
Sherrill won his match in the 152 pound weight class against Michigan's Dustin Piehl 11-0.
In Idaho's semi-finals match, it fell to Ohio 53-13.
Sherrill wrestled in the opening match against Ohio's Brodie Dominique. Dominique came away with the 12-4 victory.
With the loss, the gem state was sent to the consolation semifinals against Tennessee. The Volunteer State just etched out the victory by a score of 40-38.
In the final match of the dual, Maximus Norman defeated Sherrill 11-0.
During the second day of the tournament, team Idaho won its first three duals to send them to the first and second place matches.
It defeated Georgia Red (64-17), Kansas Blue (54-12), and Wisconsin Blue (38-35).
In the championship round, Indiana gold just squeezed by team Idaho by a score of 43-32.
Sherill won his match by pinning Indiana's Benjamin Pennington in the first round.
For Greco Roman, Idaho opened up with back-to-back wins against North Dakota Blue (44-31), and Alabama (49-27).
Idaho would then drop back-to-back duals to Iowa (44-30) and Tennessee (44-34) to finish 2-2 overall. Sherill finished the first day 1-3.
During the second day, Idaho dropped its first two duals to Florida (39-35) and Wisconsin (46-31).
Sherill came away with a 9-0 victory over Wisconsin's Gabriel Larkin.
It also dropped its third dual to Michigan Blue 43-34, but bounced back in its final dual of the tournament against Oklahoma Blue.
The gem state came away with the 53-25 victory, with Sherrill defeating Christian Morales 19-8.
Sherill would like to thank his sponsors Apex Tree Service, Pierce Auto, 7B Boring, Idagon, N. ID Flood & Fire, Elite Tire, Mr. Hanson, Fry Family and Mr. Zackery.
Recent Headlines
---