Court hears appeal in Moore murder case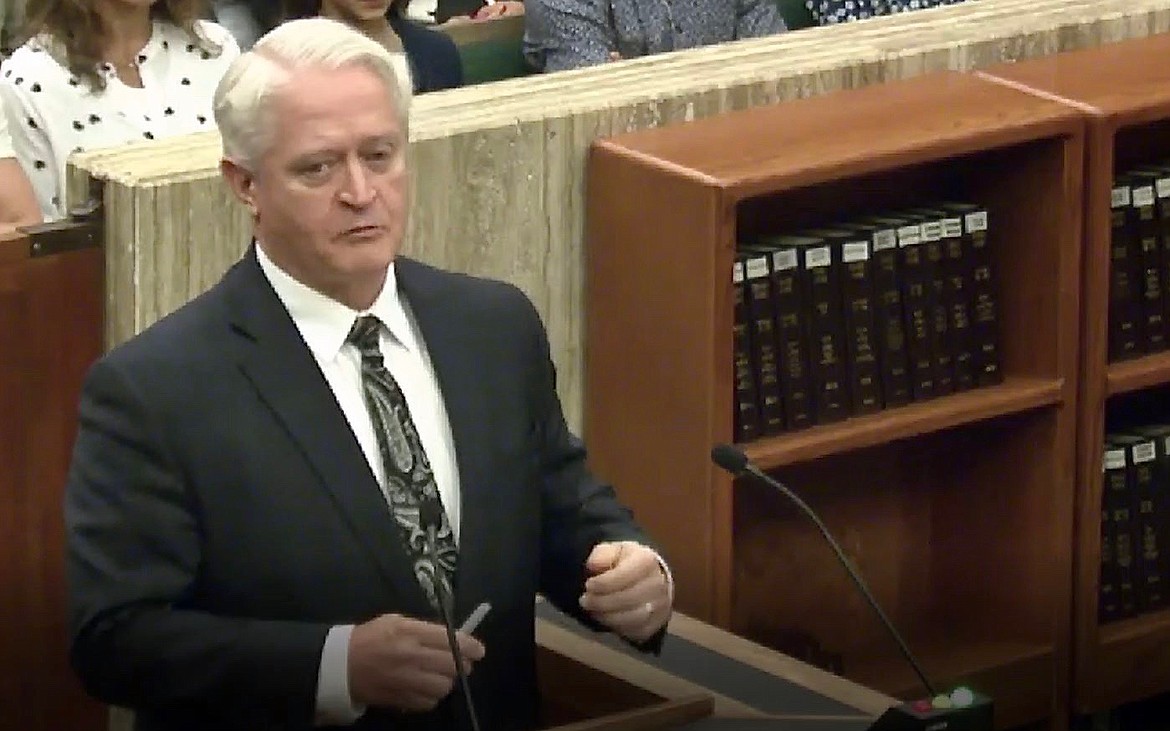 Kenneth Jorgensen of the Idaho Attorney General's Office appeared before the Idaho Supreme Court to argue in favor of the appeal in State of Idaho vs. Daniel Lee Moore for the alleged murder of Dr. Brian Drake.
(Screen shot)
▶️ Listen to this article now.
BOISE — The Idaho Supreme Court is considering a state appeal to reverse a First District Court judge's dismissal of murder charges against a Bonners Ferry resident Daniel Lee Moore in the 2020 shooting of a fellow chiropractor.
Supreme Court justices heard arguments last week and have taken the appeal under advisement.
Moore, 63, was accused of second-degree murder in the shooting death of Dr. Brian Drake, which occurred March 12, 2020.
Kootenai County District Court Judge Barbara Buchanan ruled in April 2021 that Moore's confession was involuntary and coerced. Buchanan dismissed the charges a month later.
Moore's attorney, Jill Bolton, told justices in Boise last week that the confession was not the truth, saying her client adopted the police narrative in order to avoid the death penalty.
The Idaho Attorney General's Office filed the appeal on behalf of the state and conceded there was a Miranda violation, but argued the district court's finding of a Miranda violation did not prove the confession was involuntary and coerced.
Kenneth Jorgensen, Lead Deputy Attorney General of the Idaho Attorney General's Office argued there is a difference between a Miranda violation and a due process violation.
Bolton argued the First District Court correctly found "egregious trampling" of Moore's Fifth Amendment right to counsel. She told the state high court that being held at a police station with a possible charge of first-degree murder is coercive because it carries the potential for the death penalty.
Jorgensen argued Moore did not need a lawyer present to make a voluntary statement, adding that a lack of attorney is not coercive. He argued that police comments telling Moore that if he didn't talk that he'd be charged with murder also are not coercive. Instead, he said the police were trying to determine if the shooting was premeditated or if there was another narrative.
Jorgensen said the time from when Moore walked into the police station to when he made the incriminating statements was roughly 101 minutes. The confession only happened after Moore asked to speak to Bonners Ferry Assistant Police Chief Marty Ryan.
Bolton said Moore wanted to speak with Ryan because Moore felt Ryan was the only one who could answer questions he had. Bolton said that since he was not given an attorney, Moore turned to the police, trusting they would be honest and explain the law to him.
Bolton said that once hearing he could possibly be charged with murder, Moore said, "If that's the way it is then I need a lawyer." Police took that as a request for counsel, Bolton said, and left the room. At that point, the attorney said police should have given Moore a phone call or charged him.
Jorgensen said, if Bolton's interpretation of Miranda is adopted, it could muddy the warning's guidelines. Suppression in Miranda rights violation cases are meant to be limited, he said.
If the Idaho Supreme Court agrees with the state, a trial against Moore will proceed.
No timeline was set for the court's decision.
For more information on Miranda rights, visit http://www.mirandawarning.org/.
Recent Headlines
---