Father, son 'Riding for Home' in cross-country trek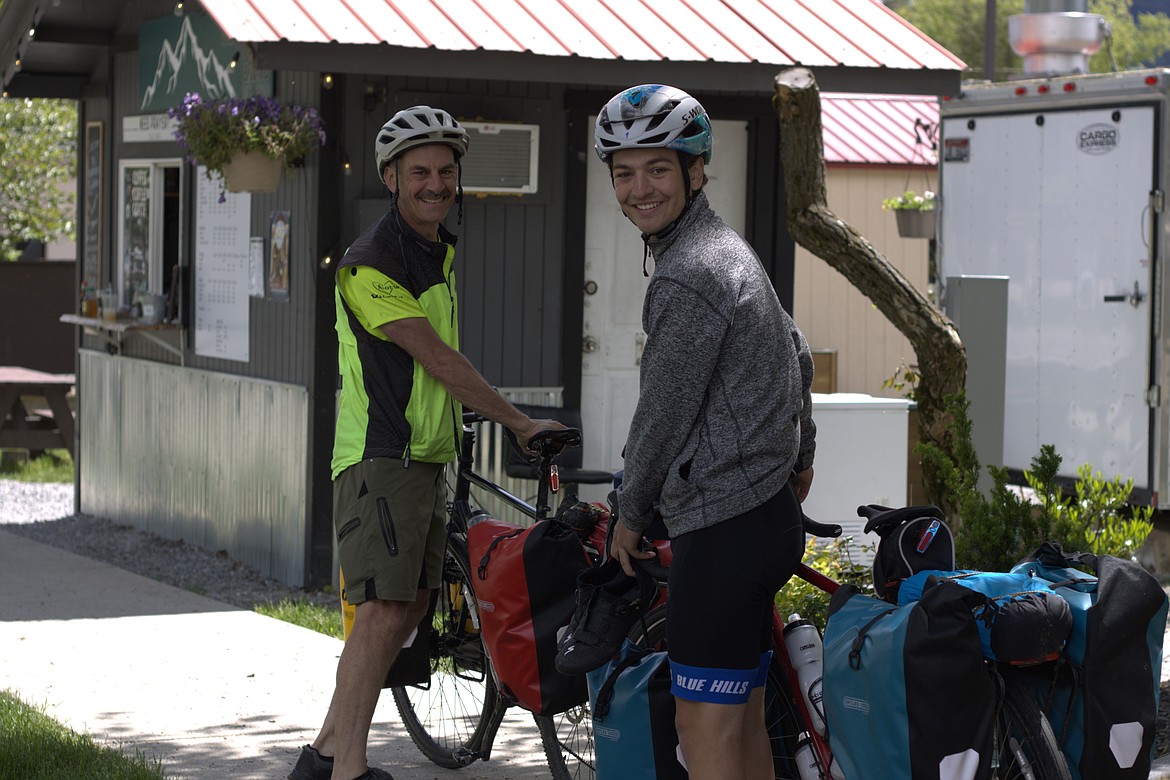 Carl Nagy-Koechlin and his Josh Nagy stopped by Oak Street Food court while in Sandpoint on a cross country bicycle trip.
(Photo by BEAUX WHITE EAGLE)
by
BEAUX WHITE EAGLE
Staff Writer
|
June 17, 2022 1:00 AM
SANDPOINT – A father and son on a cross-country bike ride, turned fundraiser recently pedaled their way through Sandpoint for the first time.
High school graduate Josh Nagy, 18, and his father Carl Nagy-Koechlin, 61, left Anacortes, Washington on May 30, to embark on a 3,600-mile bicycle trip that will end in their hometown of Boston, Massachusetts. Taking eight weeks to complete, the pair will venture across nine states before returning home.
"We're excited to see the country at about 12 miles per hour, during which we'll meet people from all walks of life," Nagy-Koechlin said.
"We are so excited to take this opportunity, as I go off to college and into the world, to combine our passion for cycling with a cause that we both connect with," said Nagy. "I genuinely can't wait to meet tons of my fellow Americans who have lived all sorts of different lives from me and get to know them well on this journey"
The father and son duo have decided to call this trip "Riding for Home" and are dedicating the ride to raising funds to end homelessness. Funds raised will go to two separate organizations, Pine Street Inn and the National Alliance to End Homelessness.
Both organizations aid the homeless in different ways. Pine Street Inn provides services to homeless men and women from emergency services to workforce development, while the NAEH advocates for national policy change that not only addresses homelessness but could put an end to it. Before the ride had even begun Nagy-Koechlin and his son had raised $10,000 for both organizations.
While raising money for a charitable cause is part of the reason for "Riding for Home," it is not the entire reason. Both father and son said the ride also is an opportunity to spend time together one last time before Nagy heads off to Connecticut College.
"This will be just a chance to get closer and to spend, it's kind of you know, it's an intense time, you know, physically challenging. And then for eight weeks to just be just two of us, is really a great opportunity to reflect," Nagy-Koechlin said.
At 61 years old. the ride is a lifelong challenge that Nagy-Koechlin said had "faded as a possibility," but not due to his age as he added that he and his son had met individuals doing a similar cross-country ride who are ten years or more his senior.
"I've kind of always wanted to do this. And I don't want to say I've given up on it. But it's sort of faded as a possibility. I talked about doing it with my wife. And we decided no, that wasn't really gonna work."
However, the possibility became real again when his son Josh Nagy got into biking and took the hobby seriously, even working at a custom bike shop.
"Josh got really super into biking. And kind of, I would say maybe last summer, started asking, 'Why not? Let's do it.' And I said, 'Yeah, why not?' Nagy-Koechlin said.
Once it was decided, the planning began in November 2021. The planning for such an adventure became complex from researching appropriate bicycles, and clothing to food and the route they would take. Nagy-Koechlin took charge of the equipment and route planning while his son, Josh Nagy, was not only the mastermind behind raising money for the homeless but organized that part of their trip.
When asked why homelessness was the cause they wanted to combat, Josh Nagy said the influence came from his father's work, running a Boston-based non-profit affordable housing agency, and his own experiences as he recounted a story about a young man who was homeless that Nagy had met on the internet. The two spoke at length about homelessness, as this young man had taken to the internet to document and educate viewers about the experience of being homeless, and his story touched Josh Nagy.
"I've learned a lot from him about what it is to be homeless and how dehumanizing it can be just to like not to have a home and also how hard, how impossible it is to get out of. So I guess that also gives me a big appreciation for it. All those factors kind of made me want to do it for this," Nagy said.
The itinerary Nagy-Koechlin planned for him and his son has them traveling 70 miles per day with a "one mountain a day" rule. Before passing through Sandpoint on June 6, the pair stayed the night in Priest River. After passing through Sandpoint they have since seen Clark Fork and Glacier National Park. Carl Nagy-Koechlin told the Daily Bee Tuesday morning that he and his son had reached Lewistown, Montana, and by that evening sent another update from Winett, Montana.

To donate or keep up with the travels of Carl Nagy-Koechlin and his son Josh Nagy visit their website
Recent Headlines
---