Lehman, Butler bound for Walla Walla CC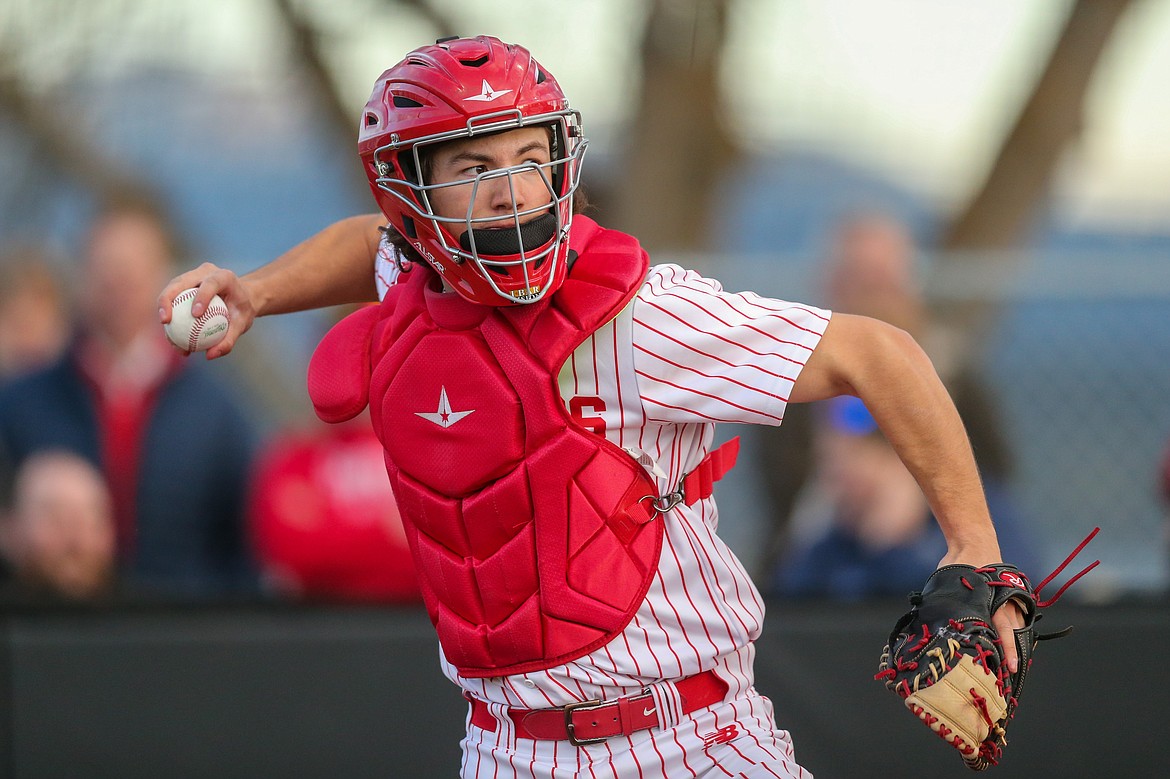 Auggie Lehman looks to throw from his catcher position against Moscow in Game 1 of its best of three series at Memorial Field.
(Photo by JASON DUCHOW PHOTOGRAPHY)
By TREVAN PIXLEY
Sports Editor
Two more Sandpoint High School athletes have chosen where they're going to play during the next level of their athletic career.
Just a month ago, Sandpoint High School graduates Ethan Butler and Auggie Lehman were leading the Bulldogs on a comeback tour that saw them go 6-4 in their final 10 games.
During the run, they also helped the baseball program win their first state tournament game in 15 years.
The Bulldogs would go on to win the consolation championship at the Class 4A Idaho state baseball tournament.
Now, after the dust has settled on their high school baseball careers, both Lehman and Butler have committed to play at the next level at Walla Walla Community College.
Both players have the ability to throw on the mound but spent most of 2022 playing different positions.
Lehman was a true utility player that lined up almost anywhere on the field.
He finished out the year mostly behind the plate as the signal-caller for the Bulldogs.
Butler spent most of his playing time at first base for Sandpoint and notched the only homerun for the Bulldogs last season.
Lehman was a part of the all-4A Inland Empire League team and took home MVP honors in 2022.
Butler missed out on an all-league bid this year but was a part of the team in 2021.
Both players had a signature moment during the season that made it evident that they were destined to play at the next level.
Lehman's big moment came on May 4, when he hit a walk-off RBI single in the bottom of the seventh inning against Lakeland to send the Bulldogs to the best-of-3 district championship series.
The Bulldogs ended up taking both games of that doubleheader 12-2 and 3-2.
Butler's key moment came on senior night against Timberlake on April 27 at Memorial Field, where he pitched a complete game.
His game against the Tigers was the only time Butler went the distance in 2022. He gave up three runs on four hits and struck out four.
Butler wanted to go out during his final game at Memorial Field on the mound, telling head coach Chase Tigert two days in advance that he wanted to get the start and he didn't want to come off.
That game and win continued the Bulldogs win streak and kept the momentum positive as they churned towards postseason play.
Recent Headlines
---