Hospital golf tournament celebrates 15 years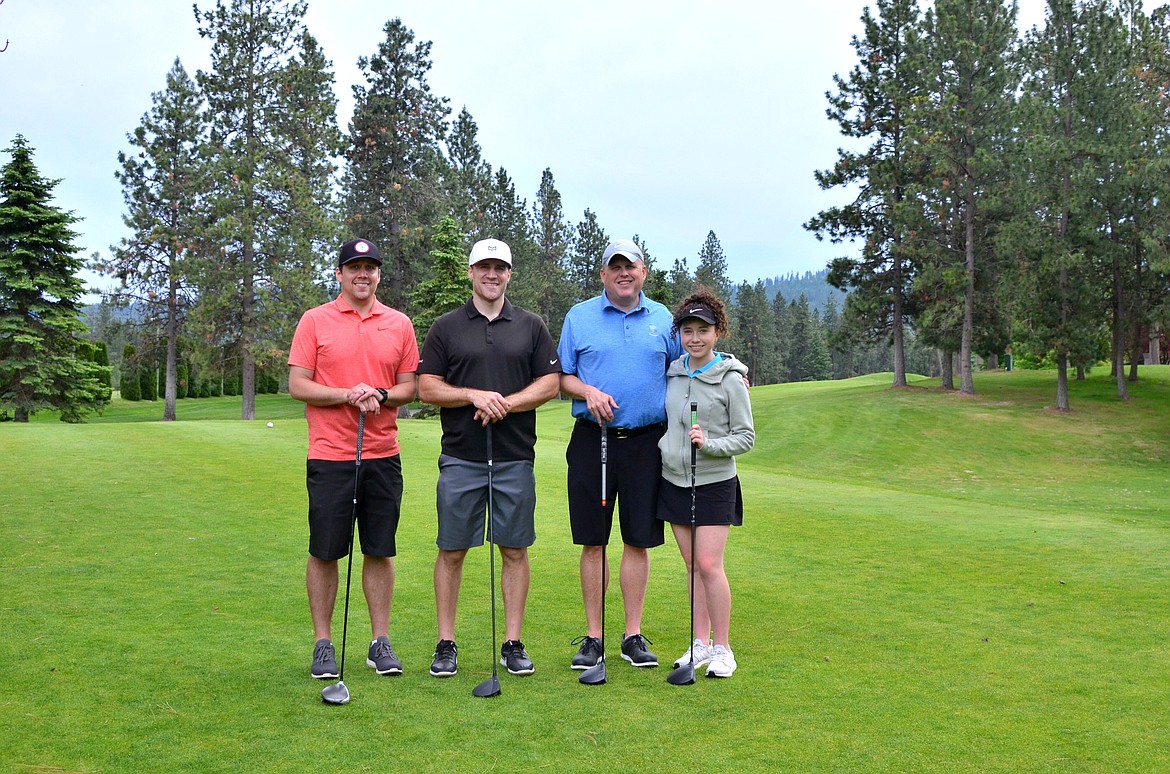 First place gross winners Mercer/Principal foursome at the Fore! the health of it! Golf tournament. Pictured, from left, are Alex Stillar, Kyle Stillar, Chris Codd, and Katie Codd.
(Photo courtesy LOIS ROBERTSON)
POST FALLS — The 15th annual Fore! The Health of It! Golf Tournament at The Highlands Golf Course scrambled 23 foursomes for the Newport Hospital and Health Services Foundation fundraiser.

The annual golf tournament continues to reign as one of the Foundation's highest grossing events, represented by platinum event co-sponsors Kalispel Tribe of Indians, Kalispel Casino, and Albeni Falls Building Supply.
Support for the anniversary tournament was evident, by not only the turnout but by the funds raised throughout the event.
The golf tournament raised over $28,000.
The 18-hole scramble included other festivites throughout the day such as dinner, followed by an awards ceremony. Throughout the tournament, NHHS CEO Tom Wilbur was recognized for his devoted 18-year service to NHHS Foundation and to Pend Oreille Public Hospital District No. 1.
Wilbur announced his retirement in 2021, although he has not yet specified his last day.
Tournament winners include: first-place gross, Mercer/Principal (Chris Codd, Katie Codd, Alex Stillar, Kyle Stiller); second-place gross, Tug Smith, Nick Mackey, Tanner Mackey, and Randy Threet; third-place gross, Albeni Falls Building Supply 1 (Chad Yount, Jace Yount, Zack Miller, and Tanner Linton); first-place net, Amerigroup (NHHS players: Todd Balentine, Aron Hutchison, Chet Scott, and Corey George); second-place net, Al Ratkewicz, Mike Butterfield, Dave Kolb, and Derek Ratkewicz; third-place net, Dingus Zarecor & Associates (Rod, Brett, Jeremy Humlicek, and Destry); women's long drive, Shelby Walker; Men's Long Drive, Nick Mackey; men's closest to pin, Tim Edwards; and longest putt, Sue Worman.
In support of the district's mission, the foundation raises money for needed healthcare equipment, supplies, healthcare delivery, and overall community health and education.
Funds raised in 2022 promote and support Foundation programs, including capital equipment purchases for Newport Community Hospital, employee higher education opportunities and community programs for local children (Healthy Kids Snack Bags and Reach Out & Read). If you're interested in more information on the Newport Hospital and Health Services Foundation and upcoming events you can find it on the Newport Hospital and Health Services Foundation's website.
Recent Headlines
---