New SHS wrestling coaches look to bring national success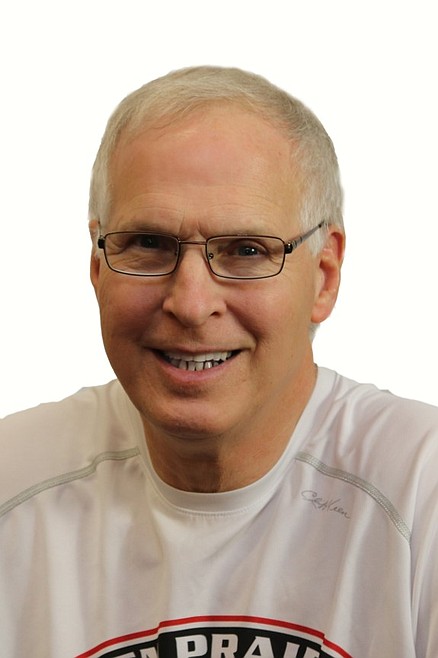 New Sandpoint High School wrestling coach Scot Davis who has been coaching for 50 years looks to bring the same level of success to the Bulldogs.
(Courtesy photo)
For a high school sports coach, it's common to have as many years of coaching experience as their athletes have been alive.
However, new Sandpoint High School Wrestling coach Scot Davis has been coaching wrestling since most of their parents have been alive.
Davis has been coaching the sport of wrestling for 50 years and is the winningest coach in amateur wrestling history.
As a coach Davis is currently sporting a 1205-209-4 record. Some of the other accolades that Davis has collected over the years include 1998 NHSCA National Coach of the Year, 2007 Wrestling USA Magazine National Coach of the Year; Top Rookie College Coach by Amateuer Wrestling News and NCAA News in 1986, and is a member of nine different halls of fames,
Davis has poured his heart and soul into the sport of wrestling over the past five decades, but his move to Sandpoint has more to do with family than anything else.
His wife Mary's family lives in Sandpoint and built their own home on 80 acres of land back in 1975.
"We'd visit on and off and talk about how fun it'd be to move here some day," Davis said. "I was messing around on the internet one day and I saw the coaching spot was open in Sandpoint and I applied."
Mary Davis has also won her fair share of wrestling awards; she was selected as the National coach's wife of the year by Wrestling USA magazine back in 1999 and is a part of the Wrestling Hall of Fame in the Minnesota chapter.
Once applied, Davis gave one of his old friends a call, Jim Jackson.
The two began as coaching rivals back in Minnesota but eventually found themselves on the same coaching staff.
Jackson has also been very successful during his tenure as a grappling coach.
He coached Apple Valley High School to two national championships, 16 team state championships, along with 63 individual state champions.
He also spent time at Shakopee High School, where it won two team state championships and had 13 individual state champions.
He has a record of 871-54-4 and had a streak of 133 straight dual wins. He was also voted National Coach of the Year by the National Coaches Association, National High School Coaches Association, and Wrestling USA Magazine.
The familiarity of the two coaches along with past national success is a recipe for greatness according to Davis.
"I asked (Jim) to Co-head coach with me because we have different talents and knowledge of the sport," he said. "We've both been successful at the national level and by combining our coaching expertise we both feel we can achieve more success sooner."
It's also a bonus to have someone you're familiar with in the coaches room when coming to a new location.
"It's nice to have someone who is experienced and successful to discuss strategy and ideas with," Davis said. ""We have worked successfully before and we look forward to this Sandpoint wrestling opportunity."
As far as coaching philosophy, Davis believes that a high school wrestling program truly is a K-12 program.
"If you don't work on that younger bunch, they're not going to be on the mat in high school," Davis said. "You have to see what's coming up and be there for them as much as you can. Also, in a community like Sandpoint, a lot of people are willing to help, whether that be parents or alumni. All those people have a real allegiance to the program more than any sport."
Another key element to his coaching style is making sure every wrestler feels important. He learned this from his coach at Augsburg college John Grygelko.
"He was a veteran coach and very successful," Davis said. "He made everyone feel important and I'm a strong believer in that. You'll have stand-out wrestlers on your team, but you can't put all your effort into them. You have to put time into everyone because you'll have a dual meet and if someone doesn't get pinned, that could win you the meet."
"There are some programs that just want to get their state titles but everyone is important, and I'm still a firm believer that if you treat everyone with the same respect and work with them, you'll have a better opportunity to have high level wrestlers."
Davis also believes that it can't be all work and no play.
"I like to have fun and we'll have some different games we'll play when we have a chance," Davis said. "We want our kids to go out and have fun, whether that's going to a camp or going on a hike. You want the team to be bonding."
Davis and Jackson aren't too aware of the talent that is currently on the Sandpoint High School wrestling roster, so they've been relying heavily on trackwrestling.
The Bulldogs will be bringing back 10 out of the 11 state qualifiers from a year ago, making the transition for Jackson and Davis that much easier.
"We're going to do a little camp in July to try and get to know the kids better," Davis said. "But it does sound like there will be a young core that's coming back and a lot of the parents and coaches want to be good and we're really excited about that."
Recent Headlines
---