NI Lakers 19U splits doubleheader with Cubs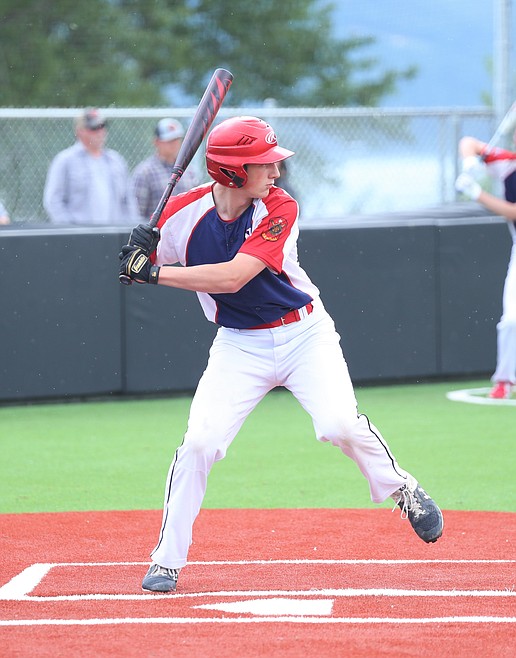 Zeke Roop prepares to swing at a pitch during the North Idaho Lakers doubleheader against the Lewis-Clark Cubs last year at War Memorial Field.
(Photo by DYLAN GREENE)
by
TREVAN PIXLEY
Sports Editor
|
June 22, 2022 9:34 PM
LEWISTON — The North Idaho Lakers 19U scored three runs during the top of the fifth inning to seal a 4-3 victory over the Lewis-Clark Cubs in the opener of their doubleheader on Wednesday.
The Lakers fell in the nightcap, 11-3.
After two walks in the top of the seventh, Kody MacDonald hit a line drive single into right field that scored both Trevor Brackett and Cameron Garcia to tie the game at three runs apiece.
Alex Leverich was next to get on base following a hard hit ground ball to second base.
Finn Mellander drove home the eventual game-winning run off a one-run RBI single into right field.
In the bottom of the seventh, Jack Ringer notched two strikeouts.
Ringer pitched three and a third innings to close the game out. He gave up no runs off of two hits and struck out seven.
Zeke Roop got the start; he gave up three runs off of four hits and struck out five.
The nightcap was a completely different game, with the Cubs exploding for six runs in the bottom of the sixth inning to take an 8-1 lead.
Lewis-Clark added three more runs in the bottom of the sixth inning for the final 11-3 margin.
The Cubs out-hit the Lakers 10-6. The Lakers also committed three errors throughout the contest.
During the opener, Roop and Ringer combined for 12 strikeouts; in the final game; the three Lakers' pitchers only managed to notch three.
Leverich got the start, pitching one and a third innings; he gave up eight runs on five hits, striking out none and walking two.
Walla Walla Community College commit Ethan Butler came in relief of Leverich and pitched three innings; he gave up zero runs on three hits and struck out three.
Garcia closed out the game, giving up three runs on two hits, striking out zero, and walking two.
Mellander notched two hits and two RBI to lead the Lakers. He also notched a double in the nightcap.
Garcia notched a triple in the top of the third inning.
Recent Headlines
---