Trail volunteer work offers fun, sun in great outdoors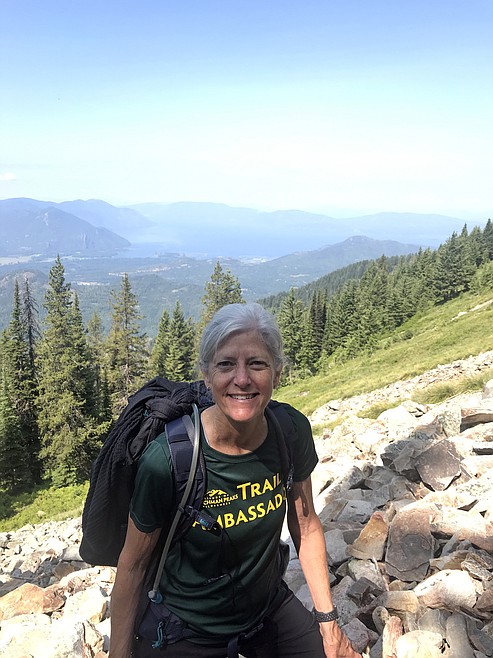 Connie Shay hits the trails as a "Goat Ambassador" to educate hikers about safe wildlife practices.
(Courtesy photo)
Summer is just around the corner, and you know what that means. That's right, it's time for outdoors fans to hit the trails and help others experience the best our wild backyard has to offer.
Every year, Friends of Scotchman Peaks Wilderness volunteers move mountains to ensure wild places are open for everyone. Sometimes that means working the trails to ensure they're free of obstructions and debris. Other times that means hiking as a trail ambassador, and educating fellow hikers on how to stay safe around the local wildlife.
It's already shaping up to be a busy trail season. FSPW Program Coordinator Cori Callahan has scheduled 17 trail projects for the season, starting Friday, May 13, working on Star Peak. The work goes all the way up to Saturday, Sept. 24, with more work on Star Peak. Just check out scotchmanpeaks.org/stewardship/trail-projects/ to find a day that works for you.
"We're looking for volunteers to come out and get dirty and give back to the lands through their work of clearing drainages, removing downed trees, and other exciting trail projects," Cori said.
If you haven't tried a trail project before, it's worth a try! A great way to get outdoors and do some real good for the community, trail volunteers get the satisfaction of keeping the trails in good shape for all lovers of the great outdoors. No experience is necessary — the trail crew leader will supply all the knowledge and tools you need.
On the other hand, if you're a natural educator and people person, consider becoming a Trail Ambassador. To ensure trails stay safe for everyone, it's vital that people practice smart behavior when dealing with the regional wildlife. Problem is, not everyone knows the best way to deal with animals — particularly the mountain goats that can seem all too friendly. They're known to approach hikers and lick the salty sweat off their skin. But when hikers get too friendly with wild goats, things can go wrong in a hurry, leading to injuries and even trail closures if authorities deem the situation unsafe.
That's where the Trail Ambassadors come in. These volunteers engage with hikers to make sure they know wildlife is best admired from a distance. Plus, you get to go out doing what you would do normally — hiking! What could be better than that?
"We need folks every weekend and holiday from early June through early October," said Cori. "People can hang out at the Trailhead, partway up the trail, or at the summit, whatever they are comfortable with. They need to be excited to chat with visitors about our wild backyard and the wild animals that inhabit it. There will be training available for new Ambassadors."
To sign up as a Trail Ambassador, simply visit scotchmanpeaks.org/you-can-help/leave-mountain-goats-wild/.
Information: scotchmanpeaks.org
Recent Headlines
---