A STEM-y kind of summer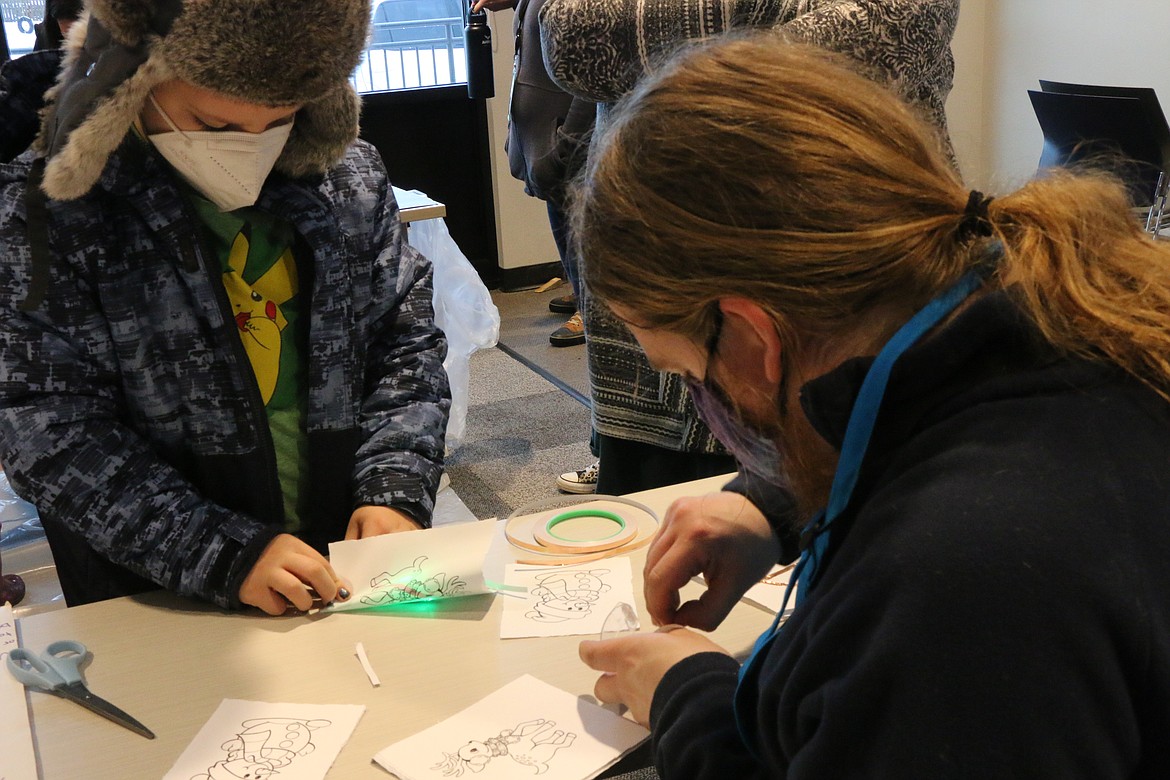 Exploration coordinator Brenden Bobby helps a participant at a past STEM trailer activity with a project.
(Photo by CAROLINE LOBSINGER)
▶️ Listen to this article now.
SANDPOINT — Now that summer has officially kicked off so have STEM activities with the East Bonner County Library District.
STEM has taken on one form or another at the library district but was eventually absorbed by its youth services department. Former youth service interim director Kimber Glidden "revitalized" the program with take-home STEM kits and afternoon activities before getting current Exploration coordinator Brenden Bobby involved. Bobby said the kits and activities were meant to be just the start, but, like many programs, activities, and organizations, STEM activities were put on hold and restricted due to the pandemic.
Having worked with the library district prior to 2018, Bobby, who had left by the start of the pandemic, said he felt a need to return after reading about the anti-masks protests that took place at the Sandpoint branch in 2020. Bobby said his intention was not to work with STEM or youth services but instead to utilize his marketing knowledge and skills. Glidden, however, had a different idea. Before her departure, Bobby said Glidden encouraged him to spearhead the STEM program himself.
"Kimber saw something in me and guided me towards rebooting STEM programs at the library," Bobby said. "I'm really glad she saw what she did because it's been so much fun."
Spending the winter researching STEM, possible activities, and gaining inspiration seem to have paid off for Bobby. Starting in May, the STEM trailer has had multiple stops being available for the public to explore such as "STEM Farmers Market" on the last Saturday of every month throughout the summer at the farmers market in Farmin Park. The STEM trailer has also featured activities at some of these stops such as making a bike accessory during Bike To School Day and miniature figurine painting during the Clark Fork STEM trailer visit this Wednesday.
"STEM is the official title, but I'll sneak the A, for art in there any chance I can," Bobby said. "I believe art helps us express ourselves and focus on being better builders while also building a community around a shared subject and opening the doors for sharing knowledge."
STEM activities have even been woven into the summer reading program fitting the theme "Ocean of Possibilities." Bobby said he has worked closely with his colleague, youth service librarian Erin Tonnemacher, on this. Together they have come up with activities such as take-home mason jars that demonstrate the density of the ocean and a presentation that will be given on July 16 by marine biologists Darren and Megan Roberts who do work with marine wildlife in Antarctica.
And more is on the way this summer, including this Friday when the Teen Lounge will spawn a brand new club, Teen Craft and Create Club. The focus of this first meeting will be to build a teen writers group that will meet regularly. More interests for this club involve working with the library's electronic repair kits, tabletop role-play gaming, and character building. Finally, the club may get use of the library's Prus i3 MK3S+, 3D printer.
The 3D printer has recently received a software upgrade that will allow the machine to print in multiple colors called filaments. Bobby said the "kinks" that come with the technology are nearly worked out and the library has added multiple new colors to its filament collection including opal green, galaxy purple, and "a very special shiny rainbow" all of which Bobby said he is expecting to be available for public use by the end of summer.
To stay up-to-date with where the STEM trailer will make its next stop or summer library events visit the East Bonner County Library District website.
Recent Headlines
---