ITA's first North Idaho Youth Project needs volunteers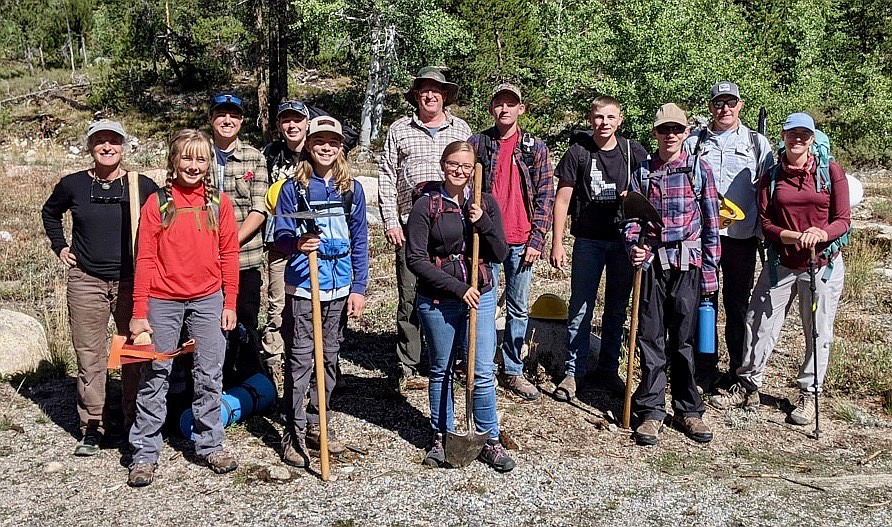 Idaho Trails Association members and youth volunteers from a previous project.
(Courtesy Photo ITA)
CLARK FORK — Idaho Trails Association is looking for youth volunteers for a three-day trail maintenance project on the Coeur d'Alene River on July 8-10.
The three-day youth project — aimed at youth between the ages of 14-18 — will be at the upper North Fork of the Coeur d'Alene River.
The itinerary includes meeting up the afternoon of Thursday, July 8, in the afternoon. ITA officials said they plan an early start Friday morning in order to leave time each day for the teens to enjoy all the amenities available at camp.
Volunteers will remove logs, cut back brush and do some tread work on the trail that follows the river and is designated a National Recreation Trail, ITA officials said. Volunteers will return each afternoon to camp, where there is a swimming hole and a pit toilet.
This is a fully supported trip and food will be supplied and prepared by ITA volunteers. The trip's difficulty rating is moderate, association officials said. Day trip trail work is performed a small to medium distance from a trailhead. Volunteers will carry a daypack and tools.
Dirt road access to the trail Via Clark Fork Road (NF 203). The last 5 miles are a bit rough but OK for passenger cars, ITA officials said. The estimated drive time to the meeting spot is 2 1/2 hours from Coeur d'Alene and 1 hour 45 min from Sandpoint.
There are five of 13 spots still left.
ITA is a nonprofit organization whose mission is to maintain Idaho trails.
"We're so excited to be expanding our youth projects to North Idaho this year," Kelly Hewes, ITA communications director, said. "Our trips provide a great opportunity for young people to spend time enjoying nature and learning how to work together on a trail crew. Unplug from technology, see the beauty Idaho has to offer, and give back to our shared public lands all while having fun, too."
For more information on the trip visit bit.ly/3xPBGH7
Recent Headlines
---