Joyce Dillon Studio ready for classes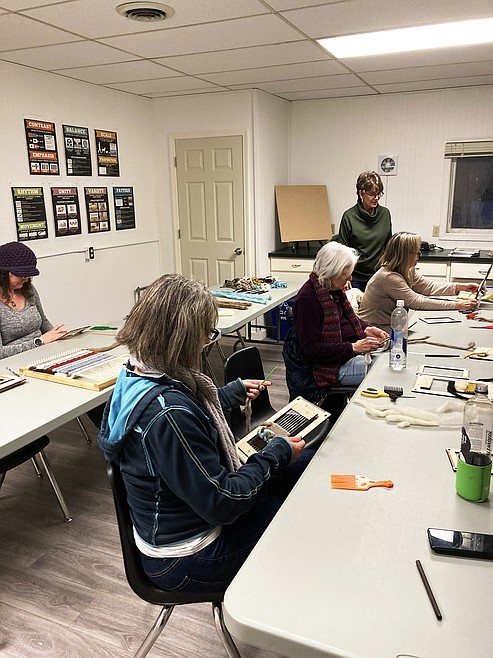 Jan Rust teaches a trial-run weaving class in the Joyce Dillon Studio with POAC members. An open house to celebrate the studio is being held Friday.
(Photo courtesy PEND OREILLE ARTS COUNCIL)
Affordable art classes for adults have arrived in Sandpoint.
The Pend Oreille Arts Council is hosting an open house on Friday, March 4, from 5-7 p.m., upstairs inside the Music Conservatory, 110 Main St. Attendees will tour the Joyce Dillon Studio, view the course catalog, learn how to enroll, and meet the instructors.
The instructor list is comprised of 10 local artists, each of which has extensive experience in their medium. They will be sharing examples of their work and answering questions about their upcoming classes during the open house.
Since classes began in January, students of all levels have gathered in the studio to learn and create together. Barry Burgess' "Drawing as a Creative Process" was the first to fill.
"I have had a wonderful time working with students who have brought a wide range of talent and experience. Students have responded favorably, enthusiastically, and all have embraced the exploration of their gifts, talents, and styles in the making of their art," Burgess said in a phone interview.
One student confirmed the class was great.
"Barry presented a cohesive program for students with varied art experience," the student said. The room was light and bright, and Barry was knowledgeable, kind, and patient."
When asked what the community members should know about the studio, another student said, "Creating art is for everyone. It is fun to try new things and, if students just relax and enjoy the experience, they will be surprised by the positive results."
Spring offerings include painting, drawing, sculpture, printmaking, photography, textile art, jewelry making, wind chimes, dream catchers, and, just in time for Easter, Ukrainian Pysanka Eggs. To find out more and register for upcoming classes, go to: artinsandpoint.org/jds-studio.
Recent Headlines
---