IDL offers free training to forestry workers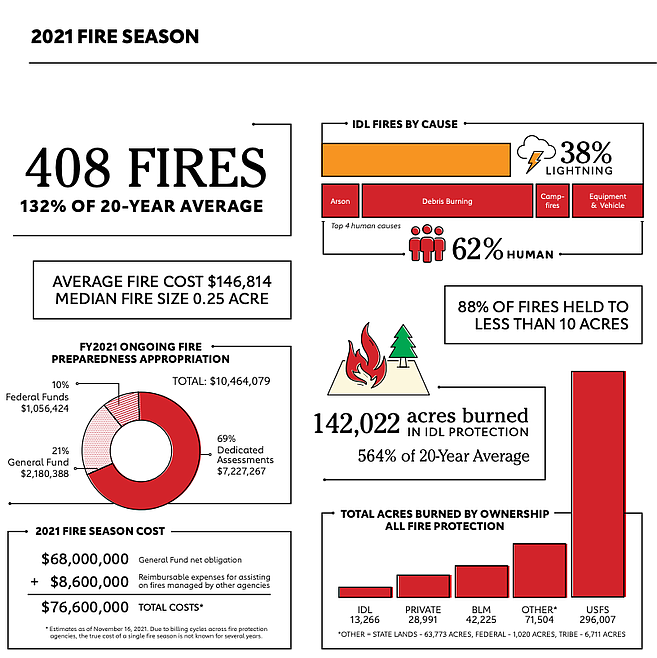 2021 fire season statistics presented in the Idaho Department of Lands' annual report.
Graphic Courtesy IDL
by
ANNISA KEITH
Staff Writer
|
March 4, 2022 1:00 AM
▶️ Listen to this article now.
SANDPOINT — In efforts to better prepare for the upcoming fire season, online training is available to citizens who have skills the Idaho Department of Lands could use in case of a time-sensitive emergency.
"It really opens the door to people who are out there doing work in the forest, and they can have the opportunity to help those forests," Sharla Arledge, public information officer for Idaho Department of Lands, said Thursday.
IDL is offering free online training for those working in forest industry occupations. The objective for IDL is to equip those working in forests with knowledge on how to create firelines and implement other fire containment strategies.
"Given drought conditions and heightened fire risks, having additional personnel and equipment available to fight wildfires is crucial." Associated Logging Contractors of Idaho Executive Director Shawn Keough said. "Our logging contractors and crews are usually close by and can provide initial attack before others can even arrive thus putting out fires or keeping them small and controlled. They also have the skills and equipment to continue working on containing a fire."
Training is limited to those who are within an IDL fire protection district, which contains over half of the land area in Bonner County. Significant portions of Boundary and Kootenai counties are also within respective IDL fire protection districts.
Before, training used to be only in-person. But now those interested in training courses can do so at their own pace. Traditional and online training options remain available through IDL.
"What this really does is opens the door to classes and certifications more easily," Arledge said. "It's really about working together and getting that equipment on the ground."
Training is free to those who are interested in participating. IDL is in search of those with experience using heavy equipment, or those working in forestry. Training can take anywhere from 2.5 hours for equipment operator training, to 31.5 hours for industry forester training.
When asked if personal landowners with heavy equipment experience could take part, Arledge recommended they reach out to their local fire district, provided that they are within an IDL protection area.
Efforts to better equip Idahoans are a part of IDL's plans to modernize the department. After the significant 2015 fire season, IDL commissioned a study to look at the economic and environmental impacts caused by wildland fires, and what they could do to prevent them from causing as much widespread damage to Idaho's natural resources.
"I think it's a great move forward," Arledge said. "The associated logging contractors, they are really excited about this. If they're out in the field and they see a fire, and they have that certification, they can possibly get it out right then. … It's part of the bigger picture of really modernizing our wildfire suppression program."
Governor Brad Little supports IDL's efforts, saying the move cuts red tape and helps protect the state when a fire strikes.
"Building wildfire suppression capacity by empowering loggers, industrial landowners and foresters to fight fires on their land is a priority for leading Idaho to greater self-sufficiency," Little said.
For more information on training, visit IDL's website at idl.idaho.gov, select the "Fire" tab, then select "fire training for loggers landowners and foresters" from the drop down menu.To look at a fire protection map, go to, idl.idaho.gov/fire-management/idaho-fire-map.
Recent Headlines
---