Lessons from Mike: Faith, family, community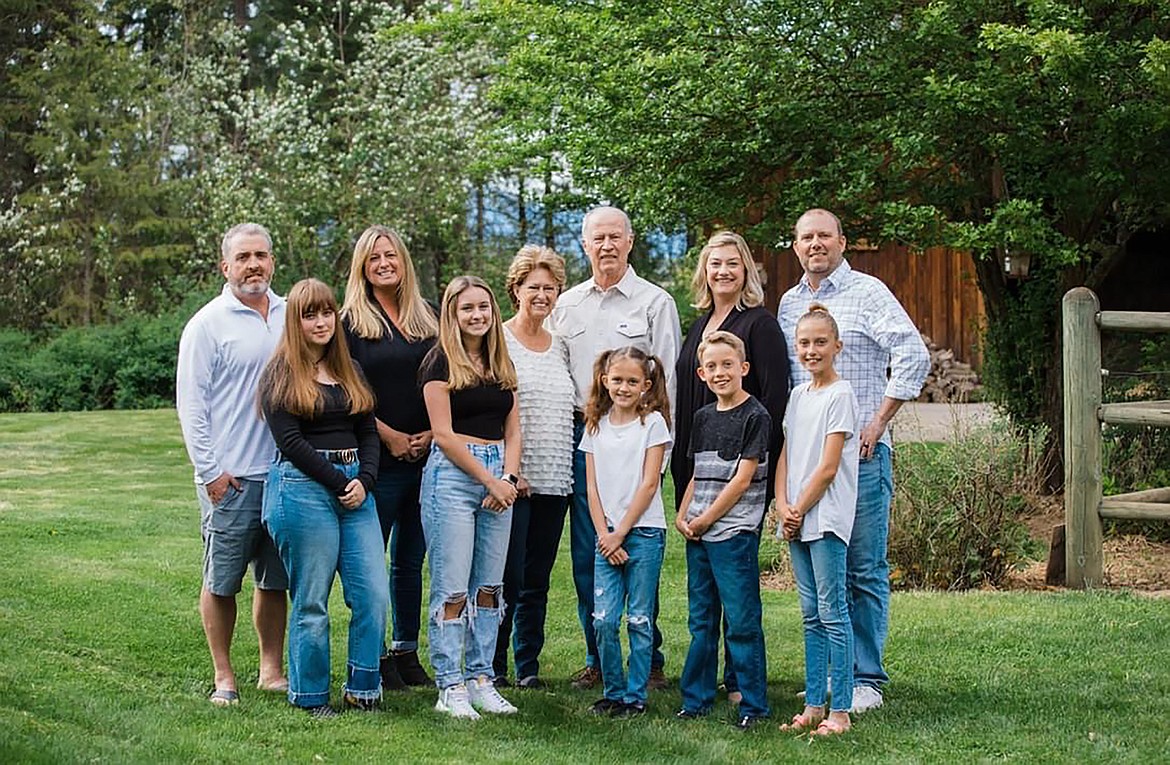 Mike and Karen Gunter, their children, Clint Gunter and Kari Granier, and their families, pose for a family portrait.
(Courtesy photo)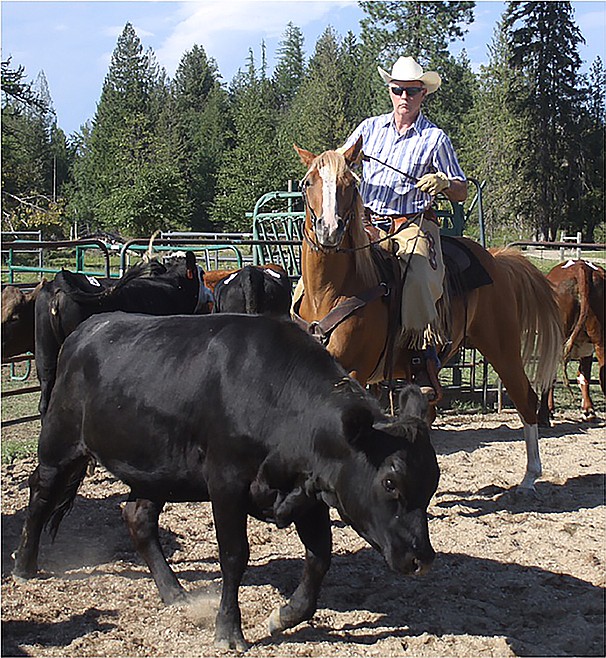 Mike Gunter maneuvers cattle around a pen on his horse. Spending time on horseback and supporting the community's agriculture industry were among the things he loved to do, his family and friends said.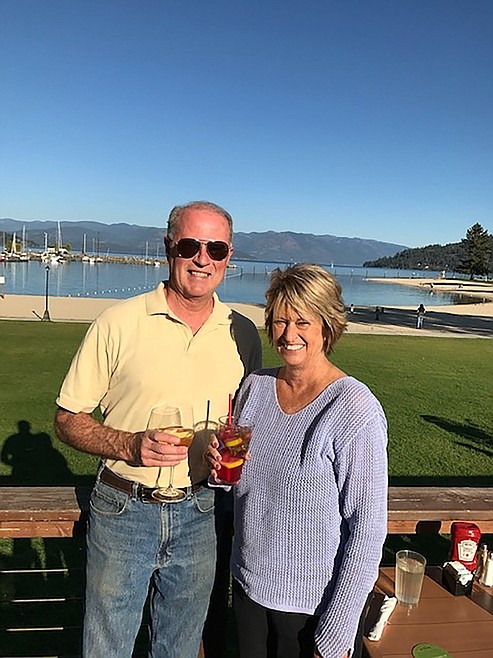 Mike and Karen Gunter are pictured at City Beach.
Previous
Next
▶️ Listen to this article now.
SAGLE — Faith. Family. Community.
Those three things are at the core of who Mike Gunter was — and the legacy he leaves behind.
Gunter, who passed away Feb. 16 at the age of 70, grew up on the family farm, hanging out with friends — including lifelong friends, later business partners Dale Jeffres and Dwight Sheffler. He would meet his future wife, Karen, on a blind date — captivated by the young girl in cowboy boots. A three-year long-distance courtship followed with Mike hitch-hiking down to Lewiston to spend time with his future bride.
He was kind, attentive and never left her in doubt of how much he cared, Karen Gunter said.
"It just got so after about the first year there was just no doubt," she said. "No doubt. This is my man. This is who I'm gonna marry."
The more she got to know him, the more she was impressed by his values, by his dedication to what mattered — his faith, his family, and those around him. His work ethic and dedication to being the best he could also impressed but he had a strong sense of where it belonged.
"When he worked with Kmart, they had told him that he wasn't spending enough time there," Karen said. "Mike says, 'I'm here 50 hours a week. [His supervisor] goes, 'But you should probably be here longer.' And Mike said, 'I work hard when I'm here to get everything done so I can leave. And so as they were kind of chastising him, the supervisor goes, 'Number one should be your job with Kmart.'
"And Mike said, 'No, I think it's about fourth. The supervisor asked what comes before your job and Mike goes, 'Oh, my God, my family, basketball, and then I'll do Kmart."
When it became clear cooperate life was not for him, the couple looked for an opportunity to move back home, back to Bonner County. When his uncle Bob Farmin, let him know he needed an appliance manager at Sandpoint Furniture, Mike jumped at the chance and home they came.
Like when he was with Kmart, when he was at work, he worked hard and poured his considerable talents into building the business, only truly retiring in January of this year.
Gunter was a man of principles, dedicated to his faith, his friends and his family, Sheffler said.
"He liked to refer to himself as a local Sagle farmer and he always was true to that," he added. "Just a great guy."
Gunter loved the community, and loved the people who lived here. Growing up on a Sagle farm, he was serious about supporting the next generations of farmers and ranchers, becoming a fixture at the Market Animal Sale to support 4-H youth selling their livestock at the fair.
He was serious about his faith and was grateful for the blessings and opportunities he'd been given. While he worked hard, he knew his life was blessed and wanted to pass on what he'd learned and to offer a hand up.
He was free with advice and an ear to listen, he reveled in being a mentor, passing along business tips, support and the tools to branch out on their own to any number of people, Clint Gunter said.
"He did that with many people, anybody, and he would take the time to do that because he always felt that if he had something that he could give somebody else that will help them to success, better themselves, that's what he wanted for them," Karen Gunter added. "If he could help that, not ever saying that I'm perfect because he'd be the first one to say, I'm not perfect, but I have some experience that, if you're interested, I can share it with you."
He had simple needs and tastes, putting his focus on the people and places he loved, on creating memories, his friends and family said. Being a part of the land his grandfather first farmed was important, and served to anchor his life.
"He was just basic, just flat-out basic," Jeffres said. "He liked to say he loved the outdoors, he loved this community and he liked backcountry trail rides. He loved his friends. He loved people. And we were blessed, and he knew that."
Mike Gunter believed in doing, not watching. He didn't sit, he did, whether it meant going on a backcountry horse trip for an extended period or invited his daughter Kari and a group of kids to the furniture store's warehouse for extra basketball practice.
He believed in helping, with a hand up but not a hand out.
"He wanted to make sure that people were accountable for their actions," Clint Gunter said. "He always talked about accountability. And you take a step wrong, you admit it, you step up, and you right your wrong, and you learn from your mistakes. But don't blame anybody else. And don't lie. And don't asking for a handout. You have to earn everything."
Having gone through some tough times, Gunter was a firm believer in helping others, in being there for his community. He felt since he had been blessed, it was his responsibility to give back when he could. However, he rarely did so publicly; many of his efforts were behind the scenes or in the form of mentorship to the many people he came into contact with.
"He was not looking for applause," Sheffler said. "He was just doing what he knew was right."
Karen Gunter remembers her husband volunteering to help at a church bible camp not too long after they returned home. He discovered a talent of guiding them, helping them get off on the right footing in life.
"That's kind of where he really started solidifying his love of working with kids, getting them on the right step," Karen Gunter said. "'Take this step, and if you do this step, the next step comes easier. But if you go the wrong step, it gets hard.'"
As a friend, you couldn't find anyone better, Sheffler and Jeffrey said. Their childhood growing up in Sagle formed the foundation for a lifelong friendship, with the trio meeting daily for coffee to plot their next moves, talk, and stay connected.
"Mike was always, always there," Sheffler said. "We always like to say we stood shoulder to shoulder, with none of us being in front of the other, but just there helping support the other."
There isn't a time when they didn't know each other. Sheffler was 6 months old when he met Mike, then an infant a few days old. Jeffres was born just six hours before Mike, with their mothers sharing the same hospital room.
They went to school together, graduating in the same class — 1969 — at Sandpoint High School — and roomed together at the University of Idaho. They built what they referred to as their "fort," making it their hangout from the seventh grade until they went off to college.
They learned to ride bikes together, played ball on every team they could, and hunted together in the fall.
"We just grew up, side by side, all those years," Sheffler said.
Their parents and grandparents were friends. Newspapers were only found on paper and phones were party lines. When you went to a parade or downtown shopping, you knew everyone and grange dances and pinochle parties were filled with laughter and fun, Jeffres said.
"It was a lot simpler life," he added. "It sounds like Mayberry, but to a certain extent it kind of was. It was idyllic."
Having that kind of a childhood bonded the trio — and served to ground them with strong values and a sense of what was important — family, friends, faith and community.
About 40 years ago, the friends went into business together at Sandpoint Furniture, purchasing the business in 1984, with each finding a role in the business and helping it grow. Among his roles, Gunter managed the furniture side of things as well as the marketing — and would become known as "the voice" in the company's ads. They would grow the store into six businesses, which are now run by the next generation.
While he enjoyed life, Gunter was serious about business and believed in doing things right, his longtime friends said.
"He was good in businesses," Jeffres said. "You know, that was his major, he loved advertising, he loved marketing. He just go full bore."
That same drive extended into his other pursuits — after ankle surgery meant an end to his running, Gunter switched to biking and backcountry horseback riding. And put the same drive and dedication into those sports as well.
Sheffler and Jeffres said they feel blessed to have known him, and hope his legacy of family, faith and community inspire others to follow in his footsteps. They hope current and future residents follow their friend's path, working to support the community, to get to know local groups and businesses, to get involved in their church or a service group.
"If you're not involved in your community, you're really doing, and I want to make this point, you're doing a disservice to yourself," Sheffler said. "You are not living a life that could be so much more. By giving part of yourself to the community, you get so much more."
That spirit of giving, of doing so because it is the right thing to do, is part of what make the community what it is, what makes it special, the pair said.
"[Helping others] has been our philosophy," Jeffres said. "It's something that we've always done. And these guys, the second generation, they do the same thing, from benefits to things at the fairgrounds to some people need something, that's what they do. And that's what we're supposed to do. And so, we've been fortunate … and we're a drop in the bucket. There are some major players in our community that do a lot of the same things."
After being diagnosed with cancer and beating it, Karen Gunter said her husband felt he'd been given extra time to make a difference in other's lives.
"And, by golly, he put his heart into it," she added.
But for all his dedication to work, Clint Gunter said his dad was a well-rounded individual, from being there as a father and helping with 4-H projects to being a hard-driving coach in sports, to his faith and to sitting around the campfire singing a song.
"He had that hard-driving side, but he could also be very tender," he added. "And I think that was like kind of what made him special."
"Whoever he was with, he was with," Karen Gunter added. "He didn't look past, or through you."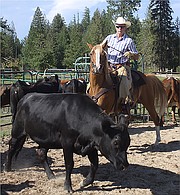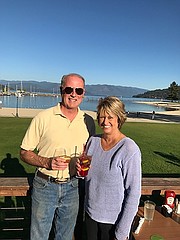 Recent Headlines
---