Davis reaps the fruits of his labor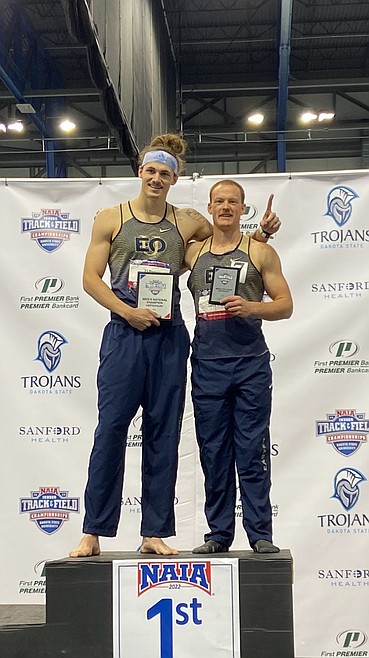 Sandpoint alum TJ Davis (left), celebrates with teammate Sam Roddewig (right), following the NAIA Indoor Track and Field National Championships meet.
(Photo courtesy of TJ Davis)
by
TREVAN PIXLEY
Sports Editor
|
March 7, 2022 9:52 PM
Sandpoint High School alum TJ Davis is a national champion.
The Eastern Oregon junior finished first in the heptathlon at the NAIA Indoor Track and Field National Championships this past weekend March 4-7.
En route to Davis' national championship, he set seven personal bests in overall points, the 60 meter sprint, long jump, shot put, the 60 meter hurdles, and pole vault.
"(TJ) Davis had a tremendous performance," Eastern Oregon track coach Ben Welch said. "To come in ranked number one and to have a stellar performance in all seven events is an impressive feat."
Davis did all of this under extreme pressure from the runner-up, Lee Walburn from Carroll.
Davis managed to get the victory by 55 points.
When Davis stepped onto the podium to receive his first place plaque, everything became a blur.
"We finished the 1000 meter race not even 20 minutes before we went up to the podium," Davis said. "I was still in a daze after that. I don't even remember hearing my name. I just remember stepping up and grabbing the plaque. The 1000 takes a lot out of you."
Davis competed in the 110 meter hurdles in high school and started his college track career at Spokane Falls Community College.
Spokane Falls was where Davis got his start in the heptathlon event.
Davis' only prior experience with field events was in the high jump. In college, he had to add pole vault, shot put, and the long jump.
"It was all totally new to me," Davis said. "But I had a great throwing coach, Betsy Rawls, who made the transition much easier."
Davis showed significant improvement in the shot put event in just a year's time.
He had thrown eight meters in his first heptathlon event. In the same year, Davis finished first at the Conference meet.
A big reason for Davis' success on the track has been the coaches he's been surrounded by during his trek to becoming a national champion.
Davis labeled the coaches he's been around as "world class".
He noted Dave Demers (Sandpoint High School), Linda Lanker (Spokane Falls Community College), Rawls (Spokane Falls CC), Ben Welch (EOU) and Rebecca Rhodes (EOU) as coaches that made it possible for him to become a national champion.
Davis texted Demers moments after he received his first place plaque.
"He had a huge influence on me during high school," Davis said. "He really wanted me to go onto the next level and compete in the multi events."
Davis' basketball coach his sophomore year, Kent Leiss, got him connected with Lanker, the hurdles coach for Spokane Community College.
"He asked me if I knew (Linda) Lanker," Davis said. "I responded with no, and he asked how are you a hurdler and don't know Linda Lanker?"
From there, Lanker and Davis connected and began going to work. He committed the rest of his high school career to working with Lanker..
Demers and head Sandpoint track coach Matt Brass encouraged Davis to learn as much as he could from Lanker.
"They (Demers and Brass) knew what I was capable of," Davis said. "They wanted me to work with her and do whatever she said."
Spokane Falls Community College was the only school that had shown interest in Davis out of high school. COVID-19 shut down Davis' final outdoor track season at Spokane Falls.
From there, Davis traveled six hours to compete with Eastern Oregon.
"He's a hard working young man," Welch said. "He's shown a great deal of improvement this year."
Davis felt a little less excited than expected once he stepped on the podium.
He knew that he had to stay consistent, but when his hard work finally paid off, it didn't really surprise him.
"I don't think it means as much as I thought it would," Davis said. "I just wanted to stay consistent. I just needed more and more practice. I think speed and strength were never a problem. It was just about how I used it."
Davis' advice to future athletes that want to compete in the heptathlon event, or any kind of athletic competition is to just practice and practice often.
"All you could do is practice and practice," Davis said. "I knew I had the body type to compete in the event, but I was able to learn a lot by just practicing."
Recent Headlines
---