Kachel pleads guilty to accessory to murder
by
ANNISA KEITH
Staff Writer
|
March 9, 2022 1:00 AM
▶️ Listen to this article now.
SANDPOINT — A Bonner County man has pled guilty to a charge of accessory to murder.
Scott Thomas Kachel, 63, pleaded guilty to accessory to first-degree murder on Tuesday in connection to the 2020 death of Brandon Hurst.
The guilty plea is part of a plea agreement filed on Monday.
Kachel was implicated in the November 2020 murder of Hurst, whose body was found a mile-and-a-half away from Kachel's property near Upper Pack River Road.
According to court records, an autopsy concluded that Hurst died of multiple gunshot wounds to his neck, torso and hands.
In a criminal complaint, Kachel is accused of transporting and concealing Hurst's body hours after Hurst was repetitively shot by Neal Mouser, who was convicted of second-degree murder on Jan. 21. Mouser was originally charged with first-degree murder, but convicted of second degree murder later on in court proceedings. Mouser, 59, was arrested in December 2020 by the U.S. Marshal's Fugitive Task Force.
Kachel was made aware to the death by a third party who will remain unnamed, as they were not charged involving the murder.
According to an interview with sheriff's deputies, the individual told investigators that Mouser hid in the tree line and emerged when Hurst arrived at the location, Hurst was shot while sitting in the vehicle he arrived in.
The individual had reason to believe Hurst was still alive when they left the scene. Some time later that same day, the individual led Kachel to where Hurst was located on Caribou Creek Road. However, Hurst appeared to be dead by the time they returned to the scene.
According to a probable cause affidavit, the individual watched Kachel wrap Hurst in a camouflage tarp, place him in a utility sled fixed to an ATV, and drive out of sight.
Kachel was arrested on Dec. 23, and cried when he was informed by sheriff's deputies that he was suspected to be involved in Hurst's death.
Kachel has 12 other cases in the Idaho court database. Further court proceedings have yet to be filed in court documents.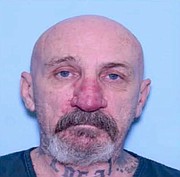 Recent Headlines
---