Duck Derby returning after two-year hiatus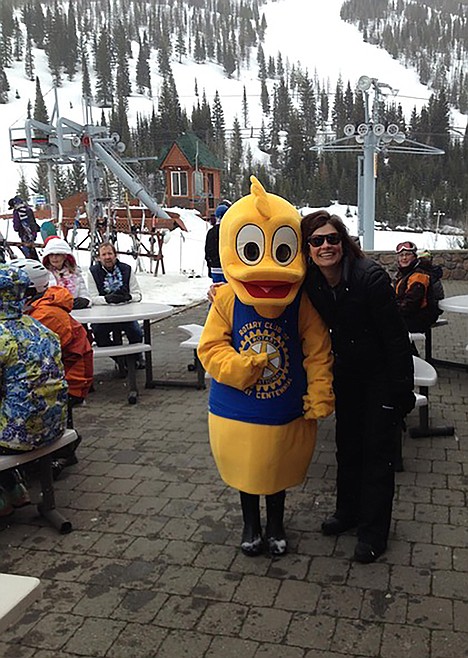 Tiffany Goodvin poses with Lucky, the Rotary Club of Ponderay Centennial's mascot, at a past Duck Derby.
(Courtesy photo)
What the duck?
Get ready all kids and adults! The Duck Derby is finally back! After two years of the derby being canceled due to the COVID-19 pandemic, the Duck Derby is back on during Schweitzer Mountain Resort's Spring Fling weekend.
Buying tickets early is a better bargain and gives you more chances to "hunt" ducks than buying them at the event.
The Duck Derby is a fundraising event sponsored by Ponderay Rotary where participants purchase "Derby hunting tickets" (raffle tickets) and search for rubber ducks scattered throughout the lodge area. You don't have to be a skier to "hunt" ducks.
Proceeds benefit Rotary's Educational Scholarship Program and its community health and wellness programs.
You also don't have to be present at the Derby to win big. All raffle tickets sold get the opportunity to win any of the multiple grand prizes with a total value of over $5,000. Grand prizes include, but are not limited to, a seven-night stay at Pend Oreille Shores, a Schweitzer season pass, a Litehouse YMCA membership, a round of golf for four at The Idaho Club, two rounds of golf at the Elk's Golf Course plus $100 at Trinity, a molded cooler filled with all sorts of tailgate fun, and a gourmet multi-cooker collection. New grand prizes are being added all the time.
At the event, "hunters" take their found ducks to the Ponderay Rotary tent to see if they have found instant-winning ducks for a variety of prizes, including the opportunity at a Schweitzer ski pass. Over $3,500 in instant prizes will be available for the "hunters."
All raffle tickets will be put in the raffle for all the grand prizes. You don't have to be present to win one of the grand prizes..
The Duck Derby is on Saturday, April 2, at Schweitzer Mountain Resort. "Hunting" starts at 9 a.m. and runs through noon. Grand prize selection will happen soon after. Tickets are 10 ducks/one raffle ticket for $5 prior to the event. At the event, the cost is seven ducks/one raffle ticket for $5.
Tickets can be bought from any Ponderay Rotary member. One can also go to PonderayRotaryClub.com and buy tickets on the Duck Derby page. Finally the attached QR code will send you directly to buy tickets. If bought electronically, the club will make sure to get the tickets to the buyers.
Call 208-290-0213, email PonderayRotaryClub@gmail.com or go to PonderayRotaryClub.com for more information.
Recent Headlines
---